 Conan Fights Sea Monsters and Crushes His Enemies [Exclusive Previews]
Dark Horse's
prestigious Conan franchise continues to crush its enemies and hear the lamentations of their women with two new series chronicling the brutal exploits of Robert E. Howard's legendary warrior. We've got exclusive covers, sketches, and interior art from the bone-crunching barbarian in honor of his 25th anniversary at Dark Horse. Submit to Conan's will after the jump.
Seen here for the first time ever are two covers for
King Conan: The Scarlet Citadel
#1 by Darick Robertson and Gerald Parel, the latter of whom celebrates Dark Horse's 25th anniversary in the best tradition of Conan (i.e. really bloody and brooding).
We've also got exclusive sketches by Tomás Giorello of Conan as as seen in The Scarlet Citadel, in which Tim Truman writes the stories of Howard's violent King in his later years; preview art from Roy Thomas and Mike Hawthorne & John Lucas's Conan: The Road of Kings #1 and an exclusive first look at Doug Wheatley's amazing cover artwork for Road of Kings #3.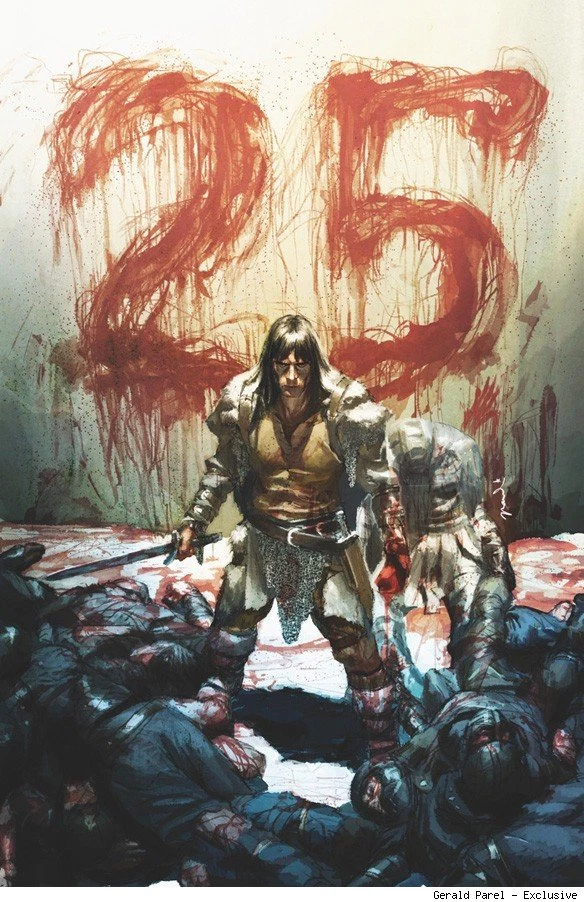 King Conan: The Scarlet Citadel #1 (of 4)

Writer: Tim Truman

Artist: Tomás Giorello

Colorist: José Villarrubia

Cover: Darick Robertson, Gerald Parel (25th Anniversary cover)

On sale: February 23, 2011



A thrilling new era begins, as Dark Horse launches its first mini-series devoted entirely to the trials and exploits of Robert E. Howard's King Conan! Timothy Truman, Tomás Giorello, and José Villarrubia-the monthly team behind the critically acclaimed Conan the Cimmerian run-jump many years forward in the barbarian's life to a time when he's already crowned himself ruler of Aquilonia, as they adapt the beloved King Conan story, "The Scarlet Citadel." With covers by fan-favorite Darick Robertson, this fast-paced, standalone mini-series is sure to please fans of breathtaking artwork and edge-of-your-seat adventure-and it's a great introduction to Howard's tales of King Conan!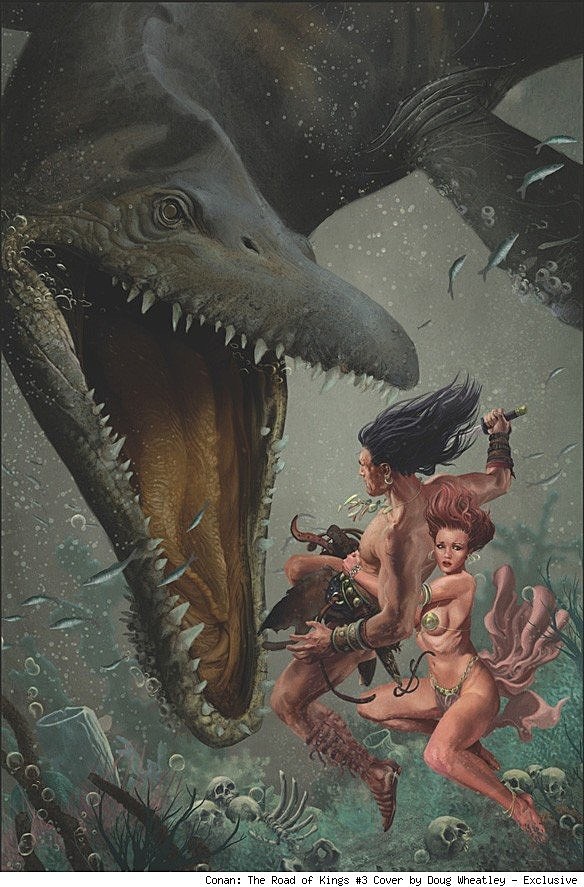 Conan: The Road of Kings #1 (Doug Wheatley cover)

Writer: Roy Thomas

Penciller: Mike Hawthorne

Inker: John Lucas

Colorist: Dave Stewart

Cover Artist: Doug Wheatley

Genre: Action/Adventure

Publication Date: December 15, 2010

Format: FC, 32 pages

Price: $3.50

UPC: 7 61568 17525 7 00111

The pirate world is about to get 100 percent more savage as Conan and his crew of brigands ravage the seas in search of treasure and glory. But when the beautiful Olivia appears aboard one of the captured ships and starts speaking of prophetic dreams and king's fortunes, Conan and his crew head in another direction--one that leads straight to the ROAD OF KINGS!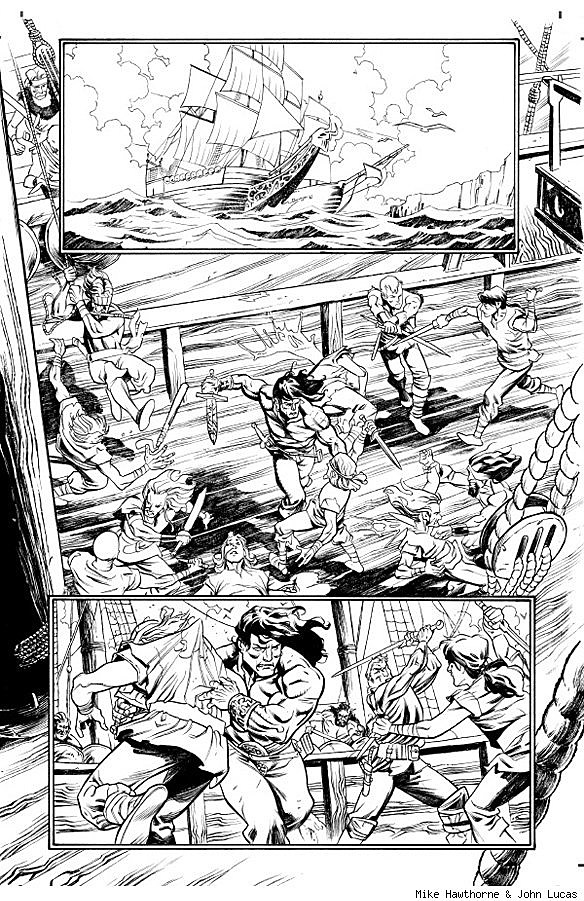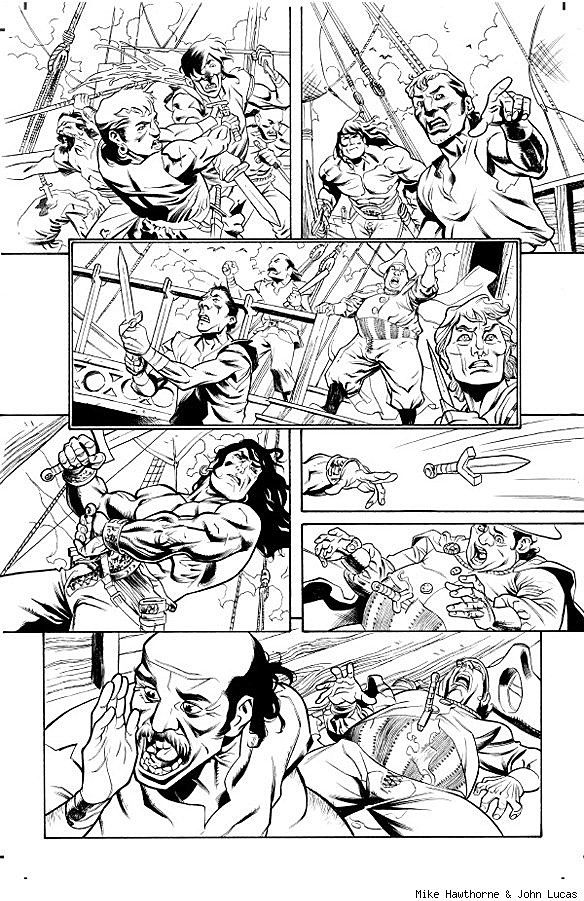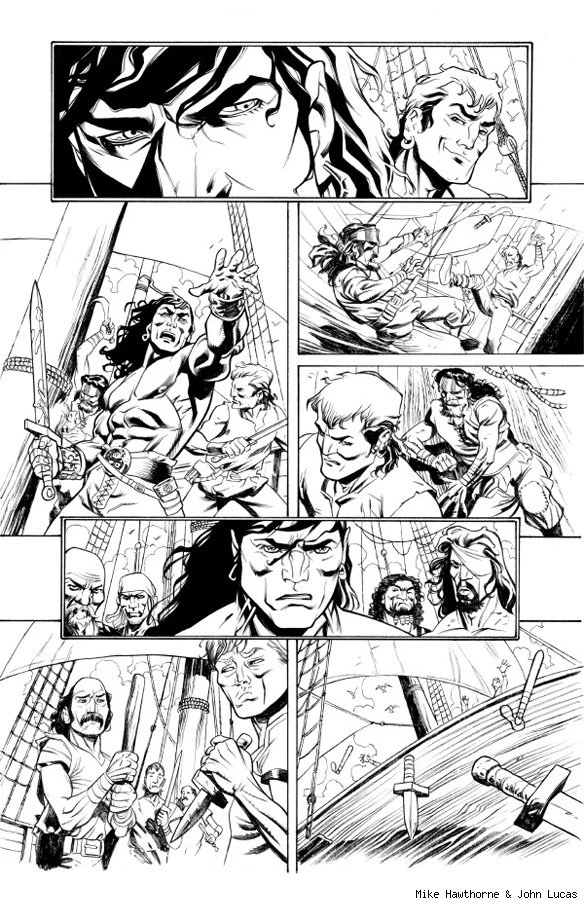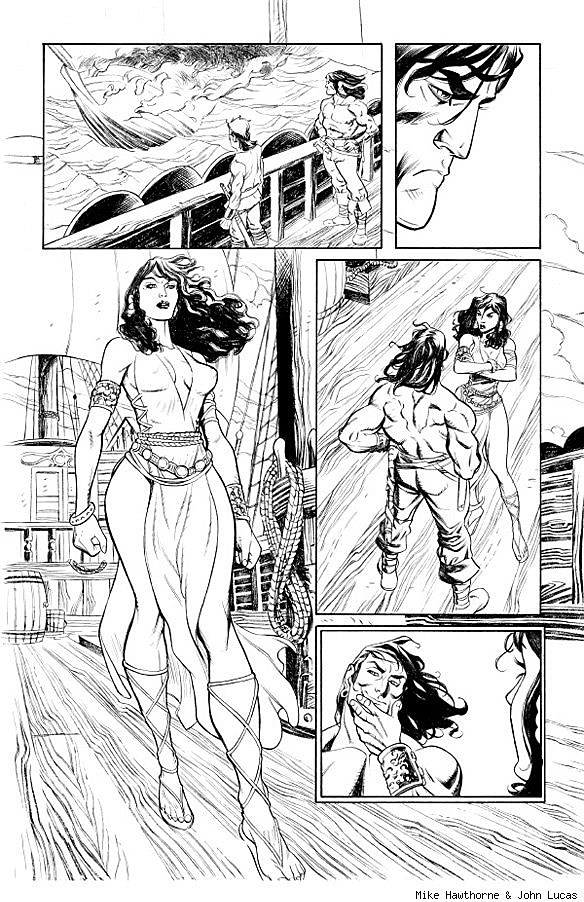 Conan the Cimmeran #25

Writer: Tim Truman

Penciller: Tomas Giorello

Colorist: Jose Villarrubia

Cover Artist: Cary Nord

Variant Cover: Geof Darrow

Genre: Action/Adventure

Publication Date: November 17, 2010

Format: FC, 40 pages

Price: $2.99

UPC: 7 61568 15367 5 02511
The thrilling, battle-filled finale to Robert E. Howard's "Iron Shadows in the Moon"-and Dark Horse's final Conan the Cimmerian issue! With the threat of pirates and a centuries-old evil at his heels, Conan's troubles triple when he and Olivia are confronted by the jungle creature that's been stalking them. The island where Conan once sought refuge has become a battleground with constant surprises and death in every dark corner. Tim Truman, Tomás Giorello, and José Villarrubia conclude their adaptation of one of Howard's strangest stories in their final issue of Conan the Cimmerian. Fear not, faithful readers, as this Conan creative team will be returning next year to chronicle the exploits, adventures, and woes of an older King Conan!