 Converse's New DC Comics And ThunderCats Sneaker Designs For Fall/Winter 2012 [Fashion]
Converse revealed their latest Fall/Winter collection at an exclusive event at Converse SoHo during New York Comic Con, featuring their latest DC Comics designs including Superman and Teen Titans but also a selection of ThunderCats kicks, as that 1980s favorite is also part of the Warner Bros. family that includes the DC characters. The collections includes low-tops and high-tops, and footwear available in men's, women's, and children's sizes.
Over the past few years, Converse has been expanding their designs to include limited edition footwear featuring a variety of DC's finest including Batman, Superman,
Wonder Woman
,
Catwoman
, and more. During New York Comic Con I was invited to an event at the Converse store in SoHo, where I got a sneak peek on the latest and upcoming additions to the Converse x DC Comics collection. The shoes that immediately caught my eye were the Teen Titans Chucks, based off of the designs from the
Teen Titans Go!
cartoon series. While I wasn't an avid fan of
TTG!
, I'm thrilled that Converse finally released kicks featuring my favorite sidekick. Unfortunately, these Teen Titans sneakers are only available in youth sizes at the moment. Now, I know that I can't be the only adult who wants Robin sneakers, right?
RIGHT
. Anyway, you can expect more about that event -- including my latest
customized DC designs
-- sometime in the near future.
Some of these items aren't on sale just yet, so if you don't see a link in the price just keep your eye on Converse and Journeys., where they'll be going on sale soon.


Thundercats, $59.99

(click image to enlarge)


Cheetara, $59.99

(click image to enlarge)


Mumm-Ra, $59.99

(click image to enlarge)


Superman, $59.99

(click image to enlarge)


The Joker, $59.99

(click image to enlarge)


Aquaman, $59.99

(click image to enlarge)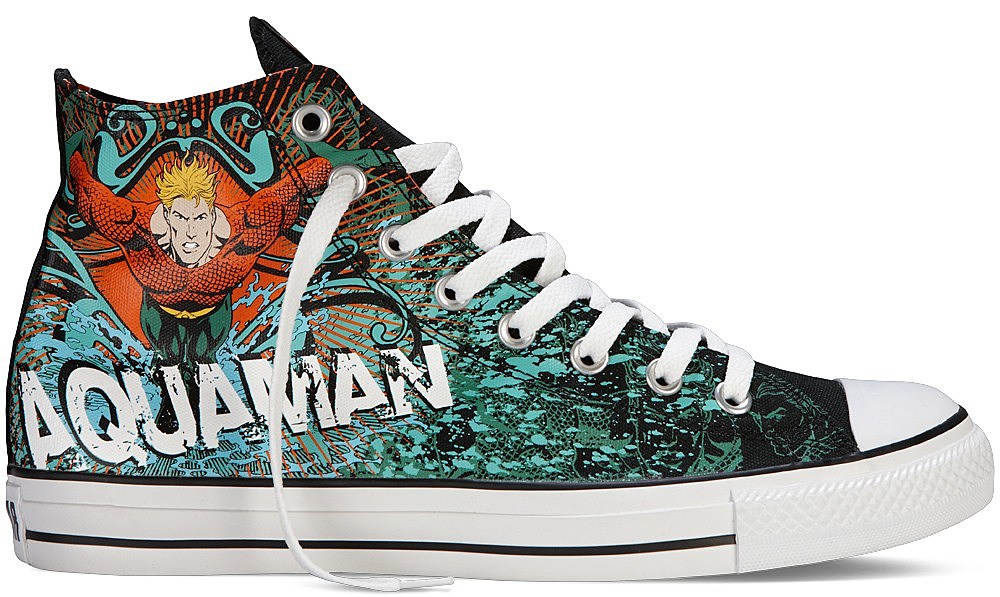 Teen Titans, $35.99 -- youth sizes only! Boo!

(click images to enlarge)


Teen Titans Robin, $37


Bane, $59.99