The Dark Horse Digital Comics App: What Works and What Doesn't
There are two ways to access Dark Horse Digital. You can access it on your iOS device -- iPad, iPhone, iPod Touch -- via a free app, or on your computer through your web browser. An Android app is due soon, but at a currently unannounced date. I tested the web interface on my Nexus One smartphone and found that Dark Horse Digital has a fully functional mobile version of its website. Bravo! This is something that is lacking in our app-driven digital comics ecosystem. It's low maintenance, doesn't require any installation, and works great for browsing.

Comics generally cost $1.99, though there is a healthy selection of free comics. If you're buying on an iOS device, you are going to have to use Apple's In-App Purchase system. You're already familiar with it, I'm sure, and charges will go directly onto whatever card is tied to your iTunes account. If you purchase on the web, the process will be familiar, but there's one twist that the iOS software doesn't have: bundles. Certain comics come bundled with other, related comics. You can purchase BPRD: Hollow Earth's three issues separately for two bucks each, for example, or buy the bundle and get a dollar or two knocked off. Most long-running series have this option, which makes buying comics easy. This option is only available on the web, however, so if you're going to be purchasing comics in bulk, pull up the browser.
From the Dark Horse Digital FAQ:
Do I own the digital comic I purchased?

You do not. As with Amazon, Nook, and other e-book companies, you don't own the book you buy; you license the right to read it on supported and authorized devices.
This is business as usual for digital comics, sadly.
The iOS interface is predictably easy to use. There are three tabs that you have to work with, and a Browse button. The first tab is the Bookshelf, where comics you've downloaded wait to be read. Next to that is your Collection. Everything you've ever bought? It's right here. Both menus have a similar look where comic covers represent your books, giving you a very visually-oriented way to browse your collection. Little number badges show how many unread items you have in each tab, and you can tap a cover to transfer a comic from your Collection to your Bookshelf for reading.
If you have so many comics that browsing is unwieldy (which is easier than it sounds -- on the iPod Touch/iPhone, covers appear approximately four to a screen before you have to scroll), click Browse. You'll get a more traditional menu that will let you search for comics, or select a series or genre. You can also view free comics or log out from this screen. If you've just installed the iOS app... go here first. This is how you have to login, too, and it isn't immediately clear when you crank up the program for the first time. I'd like to see sorting by creator on this page, too, as that would be very convenient.
Finally, there's the Store tab. Surprise! This is where you go to buy comics. It has three more tabs, all of them self-explanatory (Free, New, and Series), a Browse button that functions similar to the one in the other tabs (with the addition of a New Releases option that shows books less than two weeks old), and a carousel of titles. The carousel is nice. It has three sections, one large rectangle up top and two smaller squares below. At the moment, four series (The Goon, Hellboy, Mass Effect, and Conan are cycling through the top rectangle. The two lower squares are cycling through three series, Axe Cop, BPRD, and The Guild. We've got a nice mix of content there, and you can tap an image to go to the appropriate page. According to our resident Batmanologist Chris Sims, the iPad layout is slightly different. Rather than being two squares, the bottom row is three squares, although the content is the same, however.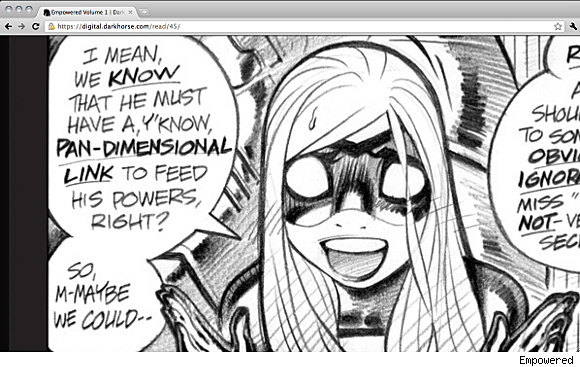 Reading comics works exactly as expected, and exactly as it does on basically every other digital service. There's a panel-by-panel view, where you can tap or swipe to change panels, and a full page view. If you have an iPad, the full page probably looks pretty nice, but otherwise, stick with panel-by-panel. If you've ever read a digital comic before, you'll understand how this works. Dark Horse isn't out to reinvent the wheel here. They're just trying to attach it to a car that moves faster.
I like the app. It's visually attractive, easy to navigate, and does exactly what it needs to do. I don't have any real complaints, other than the login page being hidden in the browse menu. I believe if you purchase or attempt to view a comic, it will prompt you to login, so it isn't a huge issue, but my first instinct is to login, and then shop. I can tell from my experience with the app that it will be more pleasant on the iPad, but that's the entire point of the iPad, isn't it? The bigger screen works wonders. This is perfectly fine, though.
Outside of the interface, though, there is one problem: when you first open up the Store, you get a message that says, "No comics have been found in the Dark Horse Store. Check back later." I got a handful of people to double check on their iPads, and they all reported the same problem. A loading circle shows that something is happening, but as far as error messages go, that's the absolute worst one to send to a new consumer. Even a change of language to something like "Dark Horse Digital Comics are loading..." would be preferable. It took somewhere around 5 minutes for the entire store to load on my device, while my dedicated team of testers reported times of a couple minutes to ten minutes. So, y'know, just kinda wait it out if you get this message.
The web interface has one thing going for it right off the bat: It's a regular website. There's no fancy Flash to impair your linking and browsing. As a result, the website is fast. It speeds along (presumably due to HTML5?), and I didn't notice any major organizational issues.
There are six tabs on the website. New Releases stocks new comics, Free displays freebies, Specials shows whatever comics are currently discounted, Browse lets you look at the books (sorted by series), Blog shows Dark Horse's official blog (which doesn't exclusively cover Dark Horse Digital), and My Collection shows what you've purchased.

Simple, right? New Releases, Free, and Specials have the same layout. There is a non-animated banner advertising a related title, a header letting you know which section you're in and how many comics are in it (Specials has 63 comics right now, for example), and a series of covers sorted by series. You can switch to a list view (which will tell you page numbers) or change the sorting to Recent or Creator. All of this is pretty intuitive and easy to use. It's modeled after pretty much every other gallery on the internet, of course.

Rather than a simple list, the Browse menu treats you to a number of icons representing each series. This is a nice visual way to show what's on deck, and different enough from ComiXology or Graphic.ly that it's pretty interesting for its sheer novelty. It's easy. A nice bonus for the web interface is the fact that you can see a three page preview for each book. This is sorely needed for digital comics, as far as I'm concerned, and a more than welcome addition to Dark Horse Digital.
One thing I was worried about, perhaps unnecessarily, was longform series like BPRD and Hellboy. Let's say you want to read John Arcudi, Mike Mignola, and Guy Davis's BPRD. It's one of the finest comics on the stands, and you've finally decided to make some time and just binge. Where do you start? It turns out, you just start in order when browsing. The comics are listed according to where they fit in the series, with their bundles alongside them. It's not optimal, not yet -- there's not a direct correlation to the trades, which is a little frustrating. It would be nice if the descriptions for the bundles mentioned which printed trade they were a part of, if only because "Oh, it goes in Hellboy 3" is easier to parse and mentally sort than "This bundle contains four Hellboy stories: 'The Wolves of Saint August,' 'The Corpse,' 'The Iron Shoes,' and 'A Christmas Underground.'"
There are a couple annoying issues: You can't skip to a certain page when reading. You've got to scroll through the whole book if you want to visit a certain page. Sometimes, when scrolling too quickly, you'll hit a page that hasn't loaded yet. This is minor, but still a little frustrating. Finally, when you finish reading a book... a little box pops up and says "The End." There's no option to read more books in the same series, or (much more preferably) go directly to the next issue. What's up with that? If the series are going to be kept in periodical format, at least let us skip directly to the next periodical.

Also, some of the art really suffers at a large resolution. There's a brief moment as the image loads where it looks blurry, and then it snaps into high res and doesn't necessarily look any better. This is mostly true of older comics, but a few new books have the same issue. Sometimes the lettering suffers and looks grainier than it should. It would be nice to have a little more control over the full page view, as well. Give us a flexible zoom slider and let us scroll using the arrow keys, rather than having it automatically fit to the window's height. Sometimes it's hard to read at that size, and sometimes you don't necessarily want the panel-by-panel view.
Interface: Android (sorta)


If you're willing to put up with a minor bit of annoyance, you can read Dark Horse comics on your Android. I opened up a comic and found that the reader worked perfectly fine, if a bit touchy due to the smaller touchscreen. There was one small problem, as you can see in the screenshot. The "submit" button on the search bar remains on-screen at all times, in both portrait and landscape mode.
This seems like something that could be easily fixed via CSS or a slight rearrangement of how the mobile version is formatted. If you use an Android phone, feel free to drop a comment below whether or not this works for you. This could be a great interim fix until the Android app drops.

Let's give Dark Horse Digital a thumbs up, with a few caveats.
Right now, there are 330 comics on Dark Horse Digital. There are forty-four different series represented, everything from Conan and Jill Thompson and Evan Dorkin's Beasts of Burden to Mike Mignola's Hellboy. This is a more than respectable start, as most of Dark Horse's major series are represented, as well as other media tie-in material (video game comics, for instance). It's fair to assume that as time goes on, this will be fleshed out with Dark Horse's other major series, like Frank Miller's Sin City (and hopefully Tales to Offend!).
We don't currently have any data on how many books will be added to the store each week or what schedule they're following. Dark Horse has reported that certain books will be day-and-date titles while others won't, but no specifics. Considering solely what we have on hand, though, I'm pretty pleased. There are a few snafus that should've been caught before release, but they seem like easy fixes.
On the plus side, Dark Horse has the best web interface I've seen for digital comics thus far, and it does it by simply doing what other people have done well. If it ain't broke, don't fix it, and Dark Horse Digital is a pretty good example of them not trying to fix anything. The fact that it's in HTML, rather than Flash, is a huge pro, too. Marvel's HTML5 experiment is actually just their regular old unwieldy Flash app with an HTML5 wrapper. File that one under "clever marketing." That makes Graphic.ly the only other major site with a true HTML5 interface, doesn't it? I think this is where digital comics apps need to go, if only for compatibility reasons.
Looking for some comics to read? I can help you with that. Here are three:

1. Name: Beasts of Burden

Creative Team: Evan Dorkin (script), Jill Thompson (art)

Link: Bundle

Why: Evan Dorkin and Jill Thompson have been pumping out great comics for years, whether the mean comedy of Milk and Cheese or the sweet-but-macabre Scary Godmother. Together... they created something I wasn't expecting at all. It's like the funny talking animal comics of old, only the animals are all drawn realistically. And there are jokes, sure, but Beasts of Burden is a stone cold adventure comic. There are heroes, villains, tragedy, triumph, and everything else that makes these stories great. And make no mistake: Beasts of Burden is great. It isn't as soul-destroyingly sad as Grant Morrison and Frank Quitely's We3, but as a dog person? I'm a big fan of this series. It's good.

2. Name: Empowered vol. 1

Creative Team: Adam Warren

Link: Graphic Novel

Why: I've spilled ink on Adam Warren's "sexy superhero comedy" before, and even got to interview the man a couple years ago now. I'm a big fan, but with good reason: Adam Warren is talented. Empowered, in lesser hands, would be just another trashy comic where people get almost naked. Thanks to Warren's sense of humor and sheer craft, though, Empowered is great fight comics, funny comics, drama comics, and romance comics. Who knew? "Sexy superhero comedy" is pretty much the perfect description for it, and it's remarkably self-aware, too. Empowered is free of pretension and loaded up on comedy.

3. Name: Lone Wolf and Cub vol. 1

Creative Team: Kazuo Koike (story), Goseki Kojima (art)

Link: Graphic Novel

Why: Lone Wolf and Cub is a proud member of what may be the best genre of comics on the planet: murder comics. You know murder comics. They come in many forms: war comics, crime comics, and even a few of the better cape comics. In this case, though, it's come wearing samurai clothes... and it's got a child with it. Ogami Itto is a sword for hire, and while his son Daigoro is but a boy, he is still lethal when he needs to be. Lone Wolf and Cub is probably the manliest comic you'll ever read. Pick it up if you want to put some hair on your chest. Great fight scenes, interesting tales, and all of the killing you can take.