 Dark Horse Superheroes: New Ongoings, Pulp Revivals and DC Refugees [Exclusive Art]
Dark Horse kicked off its Emerald City weekend with a panel dedicated to its new line of superhero characters, a push that turned out to be quite a bit more substantial than we initially thought. While the publisher had already released revivals of the Dark Horse-owned Ghost and X, the ancient pulp hero Captain Midnight and the original characters The Victories, the new year will see all of those graduated to ongoing monthly series alongside several more projects including more Black Beetle and the return of BloodHound, a lost DC Universe series that will finally be collected and continued by Dark Horse.The Victories by Michael Avon Oeming
An ongoing series will follow the in-progress shorts in the Dark Horse Presents anthology. The new title will expand on the approach of the original Victories miniseries, delving deeply into the characters' motivations for becoming costumed crime fighters. Oeming cited Steve Rude and Mike Baron's classic indie space opera Nexus as a primary influence on this work, as it too dealt explicitly with its hero's emotional well being.


The Black Beetle by Francesco Francavilla
Obviously this has been a big success for Dark Horse, and Director of Public Relations Jeremy Atkins and Francavilla assured the Seattle crowd that the Black Beetle isn't going anywhere. The first storyline, "No Way Out," will be collected in a characteristically lovely hardcover volume in August.
Here's the wraparound cover for the collected edition as well as some some pages from Black Beetle: No Way Out #3, which is on sale March 27:
BloodHound by Dan Jolley, Leonard Kirk and Dave Johnson
Originally published by DC Comics in 2004, BloodHound is the story of Travis Clevenger, an ex-cop and current convict whose sentence is commuted when the FBI needs this non-powered, morally dubious man's singular talent: tracking down superhuman criminals. The book was not marketed particularly strongly during its DC run, sold very poorly, and was never collected. Writer Jolley was able to recover the rights to the character and bring BloodHound to Dark Horse, who will finally publish a collected edition of this lost series. New BloodHound stories will appear in Dark Horse Presents.


Catalyst by Joe Casey and Dan McDaid, Paul Maybury and Ulises Farinas
This title sees Joe Casey telling new stories about characters from Dark Horse's reawakened superhero library such as the Agents of Change. Their histories probably aren't that important given Casey's tendency to re-imagine things from the ground up, but the book is structured as a nine-issue miniseries divided into three-issue sections that will be drawn by Dan McDaid, Paul Maybury and Ulises Farinas. Covers will come courtesy of Rafael Grampa and Paul Pope.
Another comic book resurrected by its original creator, Trekker was a cult favorite science fiction series about a woman bounty hunter in a dystopian future. The book was notable at the time not just for its great artwork, but for starring a strong female lead who was distinct from the over-sexualized "bad girls" of the '80s and '90s. Dark Horse will collect all of Randall's previous Trekker stories in an omnibus edition and bring out new stories in Dark Horse Presents. Here's a Trekker cover from back in the day: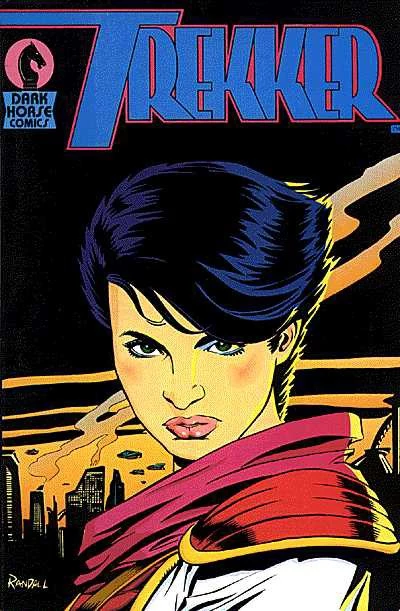 Ghost by Kelly Sue DeConnick and Phil Noto
At once slick and moody, this re-imagining of the Dark Horse heroine has been successful enough to prompt a new ongoing series. DeConnick will continue to write the title when it beings anew in October but the panelists could not confirm Noto's involvement going forward. The title character is (was?) a journalist whose work found her running up against very bad and powerful people, and the almost literal hell that crashed down on her as a result. DeConnick said that the character's strength, ethics and bravery were inspired by Anna Politkovskaya, the Russian journalist and human rights activist whose widely acclaimed work was critical of Russian President Vladimir Putin, and who was murdered, possibly as a grotesque kind of gift, on the leader's birthday.


X by Duane Swierczynski and Eric Nguyen
Another revival from Dark Horse's company-owned cast of superheroes, X is a straight up vigilante justice comic that made its return in rent issues of Dark Horse Presents. Duane Swierczynski and Eric Nguyen will be taking X ongoing in May. Atkins said Swierczynski was born to write the character. Here's a variant cover by Paolo Rivera:
Captain Midnight by Josh Williamson and Victor Ibanez
This character has also been appearing in recent issues of Dark Horse Presents, but is not an original creator-owned concept nor one of Dark Horse's '90s stable. Captain Midnight dates all the way back to the 1930s, when he was the star of comic books, radio serials and Ovaltine commercials. Back then the character was a genius inventor who fought Nazis and sought to improve the world through technology. As Williamson's story goes, the Captain disappeared for decades before returning in the present day. Unfortunately he's disappointed to discover what who've done with the time and decides to "retrace his steps" and help to fix the world. This character's ongoing series begins in July, and was said by Williamson to be influenced in part by James Robinson and Tony Harris' Starman.
Blackout by Frank Barberie and Micah Kaneshiro
Created and designed by Dark Horse President Mike Richardson, this hero was introduced by writer Frank Barberie as an everyman character in the tradition of Peter Parker. The hero discovers a special suit that grants him access to a mysterious "Blackout" dimension, and Barberie's story attempts to depict what would really happen to a normal person in such an extraordinary circumstance. Barberie cited Brian K. Vaughan and Tony Harris' Ex Machina as an inspiration, being a superhero story that deals primarily with the character behind the mask. Here's a peek:

Brainboy by Fred Van Lente and Freddie Williams II
Another pulp revival, Brainboy has the power to manipulate people psychically, which he exercises at the behest of various organizations. The panelists said this is an especially amusing and well drawn serial that will begin in Dark Horse Presents in the summer. Here are a couple of in-progress pages:
2 Past Midnight by Duane Swierczynski and Eduardo Francisco
This project finds Captain Midnight, Ghost and X crossing over, but is only available as a reward for members of the ePlate credit card service. While no confirmations were made, it was strongly hinted that the material would eventually become available by more traditional means. Here's a cover by Paolo Rivera: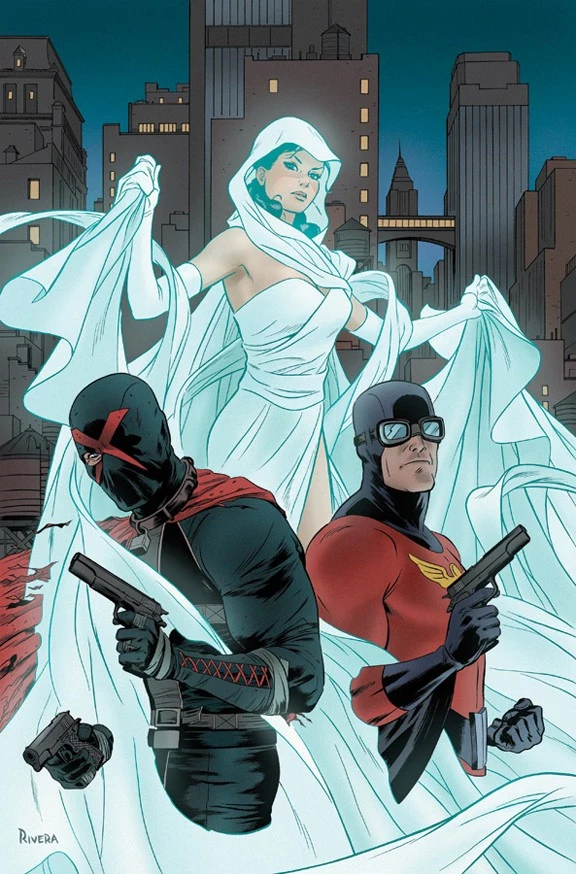 The Answer by Mike Norton and Dennis Hopeless
The panelists were all big fans of this in-progress creator-owned series by Hopeless andNorton, which tells the story of a nerdy librarian and expert puzzle-solver whose success on a gaming website led to her being recruited to a team of the world's smartest people. Unfortunately, her bosses are less than noble in their pursuits and the mysterious hero known as the Answer attempts to rescue her from their influence.