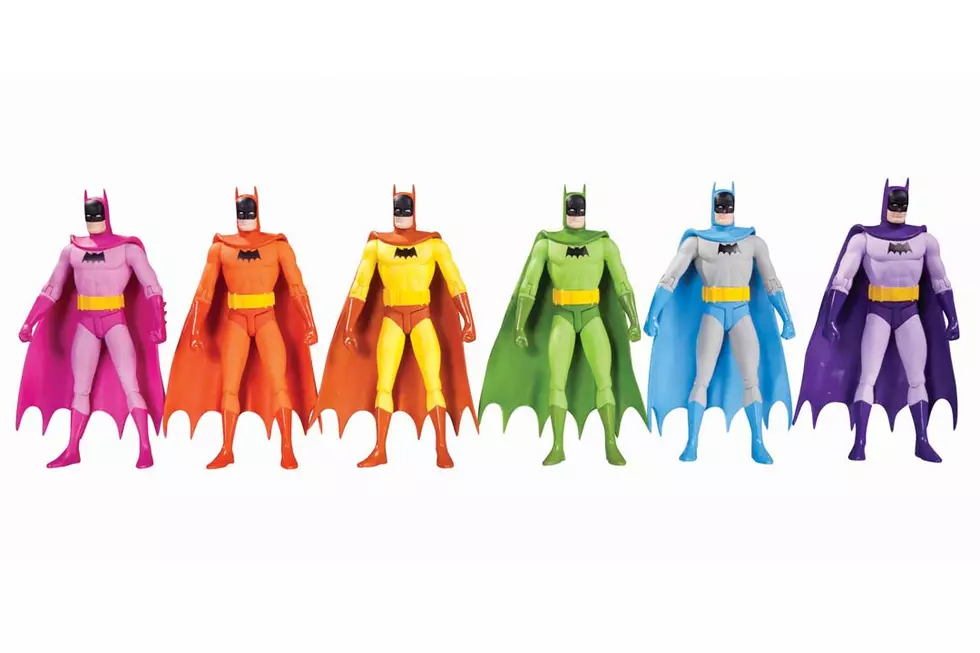 Like a Rainbow in the Dark, DC Collectibles Announces New Batman Figure Set
DC Collectibles
One year ago, DC Collectibles opened its "vault" of unproduced prototypes in celebration of hitting a social media milestone. Included therein were figures based on DC Universe Online, statues for Ame-Comi Mary Marvel and a Black Manta bust, among others. Instead of leaving all of these first-party collectibles locked away forever inside the archives, DC Collectibles asked fans to vote for which item they'd like to see finally be produced. Then there was silence... until today when the dull winter sky was broken by a glorious rainbow in the shape of Batman.
Yes, that's right; the Sheldon Moldoff-inspired Rainbow Batmen are coming and there's nothing you can do to stop it now. You had your chance to vote for 3.75" New 52 figures, and you blew it. Unless you voted for these, in which case, congratulations, all of your dreams are coming true in amazing technicolor fashion!
CNET, the paragon of comic book action figure news, released the first details on the set late last night. There will be six figures in the set, so this rainbow won't be following the traditional Roy G. Biv arrangement. Instead you'll get one pink, orange, yellow, green, blue and purple Batman in the set, each of which has nine points of articulation. The only way to get this collection will be as a full set, which is probably smart. The last thing anyone needs to see is a lime green Batman in the discount bin.
I'll admit, I'm a little bummed the DCU Online figures will still never see the light of day, particularly now that the game is celebrating its fifth anniversary and coming to a whole new platform this spring. I always thought those Jim Lee (and Wildstorm Studios) redesigns were fairly stylish, but I guess there are enough figures of those classic characters around already.
The Rainbow Batman box set will be available this August for $70. It's not up for pre-order just yet, but will likely be in the usual spots after DC's solicitations go live by the end of the month.