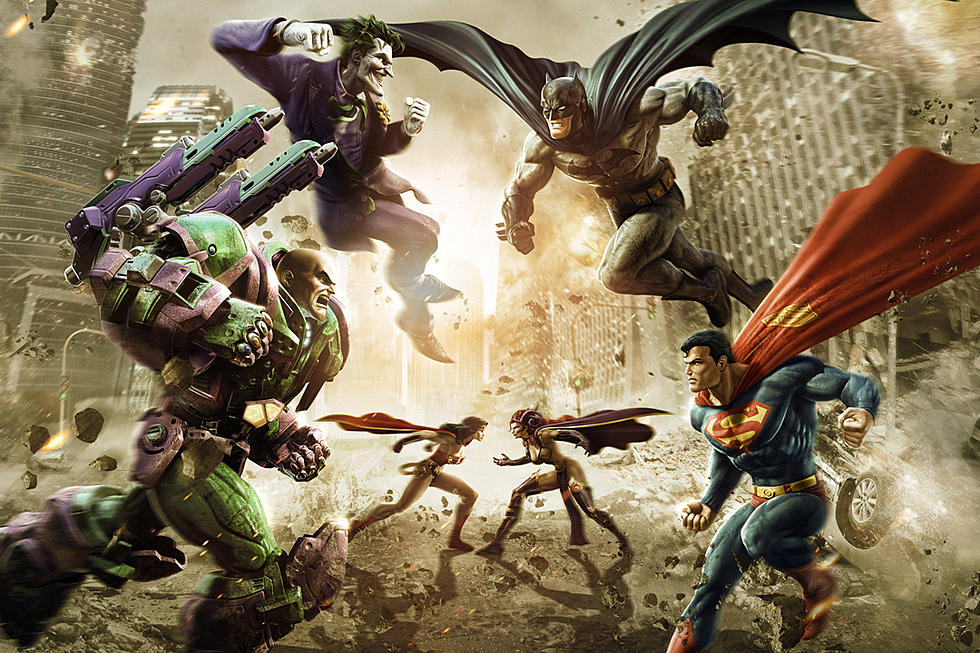 Five Years Later, 'DC Universe Online' is Heading to Xbox One, Adding Superboy and Darkseid Too
Daybreak Games
Five years ago, Daybreak Games (nee Sony Online Entertainment) unleashed the first official comic book massively multiplayer online game on the world, and the DC universe was never the same. Originally released only on PlayStation 3 and PC, and later revamped for PlayStation 4, DC Universe Online has been chugging along steadily on those platforms ever since. While you couldn't actually play as the marquee heroes or villains of the DC canon (in PvE anyway), the game's story introduced the idea of nanomachines that gave normal people powers across the globe. That's where you came in.
In DCU Online, you could create your own character with powers reminiscent of your favorite comic characters to battle alongside heroes and villains like Wonder Woman and Lex Luthor against the main big bad, Brainiac, to prevent a terrible future from befalling the planet. Along the way, you'd encounter other famous DC faces, and battle across cities like Metropolis and Gotham before exploring the further reaches of the DCU. As a former player from the PS3 launch, I can attest to how fun and addictive it was to live vicariously in the DC Universe through my handful of characters. I've been away from the game for a long time, but as part of Daybreak's new multiplatform mentality since breaking away from SOE, DC Universe Online is finally coming to Xbox One and it might just be time for me to suit up once more.
The announcement came via a livestream on Kinda Funny Games with Daybreak's creative director, Jens Andersen. Where once it would have been impossible for a product developed by an in-house Sony development studio to release on a rival's console, Daybreak's emancipation from the home of PlayStation opens up all kinds of possibilities for the developer's portfolio of past and future games.
Since launching in 2011, DCU Online has gone through quite a few changes, including adding more powers, costumes, customization options and mission content. Most recently, DCUO added in Bombshells content which transported you to the alternate world the Bombshells stories take place in to adventure alongside that universe's versions of Supergirl, Batwoman, Catwoman, and the rest of that gang. There was also some Blackest Night action, which included letting players get some Green Lantern abilities (finally). All of that should be coming to the Xbox One version of DCU Online, though you'll have to level up substantially to enjoy any of it.
Currently, DC Universe Online is available free-to-play, with a substantial number of add-ons you can purchase, such as the episodic content and PvP items. There are some pay bundles that give you more of the game at the start, and it's likely those same options will be incorporated when DCUO hits Xbox One this spring.
It's also worth noting the livestream revealed Superboy would finally be coming to the DCU Online universe, and he'll be voiced by Kinda Funny's own Greg Miller. There aren't many details on just what role Superboy will play in the game's ongoing narrative, but he will appear in the new Superman episode that features adventures in a Phantom Zone prison, Fort Roz. Brainiac, Luthor and the Bottled City of Kandor will make an appearance, as will the Phantom Zone's most infamous denizen, Zod. Legends of Tomorrow will also get its own add-on, but it won't be based on the show so much as inspired by the upcoming series.
Also, Darkseid is going to be starring in a raid event so... time to start leveling up, heroes.
More details are being shared via Daybreak and Kinda Funny's Twitch stream, which is revealing a wealth of the developer's 2016 plans for DCU Online.