DC NOW! Panel: Dystopian DC Future in 'Rotworld', 'Trinity War', and Still No Wally West [SDCC]
The third and final DC Comics panel of Thursday's San Diego Comic-Con schedule, covering a wide array of creators and topics, was moderated by VP - Marketing John Cunningham and featured Geoff Johns, Scott Snyder, Brian Buccellato, Scott Lobdell, Rob Liefeld, Amanda Conner, Jimmy Palmiotti and editors Bob Harras and Bobbie Chase. Cunningham clarified that the panel was titled "DC Now!" before the recent announcement of Marvel's post-Avengers vs. X-Men "Marvel NOW!" initiative. Within the panel slideshow many new pieces of information were disseminated, including that the "Rotworld" event would take place in a dystopian future DC Universe; the incredible secrecy around next year's "Trinity War" event; Silk Spectre tripping balls in San Francisco; and the continued nonexistence of wayward speedster Wallace West.

Geoff Johns talked about the recently released original graphic novel Batman: Earth One that he created with Gary Frank, describing how he started thinking about the book years ago, extrapolating from the opening scene of a Batman missing a jump and saying "ow" to a Batman who does things for the wrong reasons. Regarding Justice League, Johns stated that the first year is about what the team is, while the second year will be about what the team will be. The zero issue in September will feature the new Shazam, who will join the Justice League in the second year, and then with #13 a two-parter will begin featuring the Cheetah that leads into next year's Trinity War event, which Johns says only three people know the full details of at the moment.
Regarding Green Lantern, Johns discussed the new Green Lantern glimpsed in the Free Comic Book Day issue and who will be introduced in the #0 issue, explaining his gun as a failsafe for when the ring runs out of power. This will follow this year's Green Lantern Annual, which will be drawn by Ethan Van Sciver and reveal a lot of secrets about the history of the Green Lanterns, and lead into the "Rise of the Third Army" event that's preluded across the #0 issues.
Johns praised Ivan Reis's work on Aquaman, calling him one of the most underrated artists in the business.
Amanda Conner talked about her work co-writing and drawing Before Watchmen: Silk Spectre with Darwyn Cooke. The book takes place in San Francisco just before the Summer of Love, and deals with proto-hippie culture, including experiences with hallucinogens. The all-female Ame-Comi universe was then discussed, which was created by Justin Gray and Jimmy Palmiotti based on the variously cute, sexy and eyebrow-raising Ame-Comi statues from DC Collectibles. The first two chapters, focusing on Wonder Woman, are drawn by Conner; future ones will feature a variety of artists, building towards a shared universe.
Palmiotti then talked about the future of All Star Western, largely reiterating what he stated in the Dark/Edge panel, and then moved on to the new Phantom Lady miniseries he's co-writing with Justin Gray that's drawn by Cat Staggs. He compared his rework of Phantom Lady and Dollman to their earlier rework with The Ray. He said the key word of the book is "fun."
Snyder talked about Batman, reiterating much of what he said in the Batman panel about the #0 issue (although he did add we will see a new base of operations and mission for early Batman in this) and the "Death of the Family" storyline. He also talked about Talon, again describing his excitement over Tynion's work as the book's writer, with Snyder will only be co-plotting.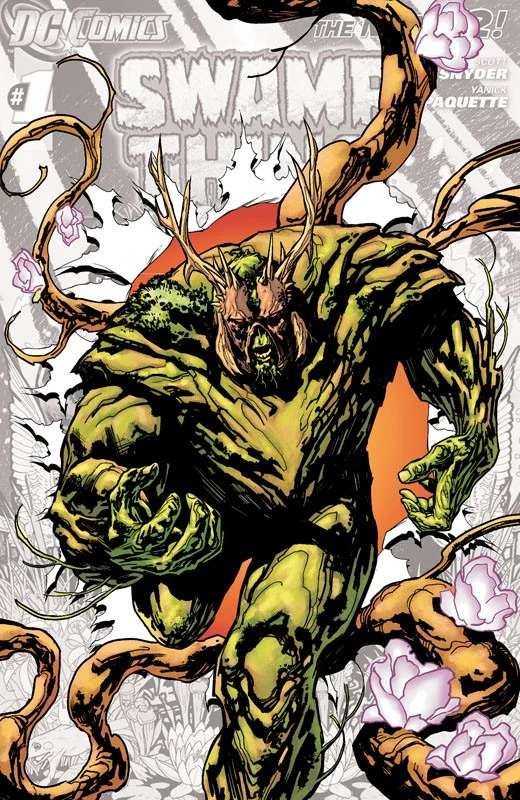 Snyder then moved on to Swamp Thing, joking that Swamp Thing's new antlers remind him of Gus from his friend Jeff Lemire's Sweet Tooth. The zero issue will explain the history of Alec Holland, and the situation that led to the explosion that should have turned him into the Swamp Thing, but the story is told from the point of view of the villain Anton Arcane, who will play a major role in the upcoming "Rotworld" event Swamp Thing is sharing with Animal Man and Frankenstein, Agent of S.H.A.D.E. Issue #13 takes place in a sort of dark future, where Swamp Thing fights alongside Deadman and a more warrior-like Poison Ivy, who has an arm infected by the Rot. There will also be a Swamp Thing annual in October that's partly drawn by Becky Cloonan, which delves into Swamp Thing and Abby Arcane meeting for the first time, as well as exploring the fates of Swamp Things before Alec and how long Anton Arcane has been declaring war on them.
Switching over to Snyder's Vertigo title, American Vampire, he talked about the upcoming arc, "The Blacklist," which takes place in the 1950s and features Pearl and Skinner killing secret vampires in Hollywood, echoing the Communist witch hunts of the same time period. He also stated that the arc was a midway point for the book, since it does have a planned ending. Snyder praised Rafael Albuquerque's art hugely, and then talked about the American Vampire: Lord of Nightmares miniseries, which focuses on the human side of the vampire stories, and also introduces the American Vampire version of Dracula.
Rob Liefeld then talked about Savage Hawkman, stating that he was brought on to give the book a "sense of urgency," talking about how Hawkman's origin will involve the founding of Thanagar and Carter's Thanagarian origins. Carter will discover he is an intergalactic criminal with a price on his head, leading to the "Hawkman: Wanted" crossover with Green Arrow. Regarding Deathstroke, Liefeld talked about how Deathstroke went after Lobo to prove he was the biggest and baddest, and as of the end of #11, got the crap kicked out of him, because Deathstroke doesn't care whether he lives or dies after the loss of his wife. Liefeld also reiterated much of his discussions of the zero issues of Deathstroke and Grifter, adding that he would introduce a new character, Warwick, as Grifter's "Mister Miyagi."
Lobdell talked about his zero issue of Superman, featuring Jor-El and the death of Krypton, describing Kenneth Rocafort's designs of Krypton as like nothing you've seen before. Starting with issue #13, Lobdell promised a lot of both Superman and Clark, and said that he was going to explore the difficulty inherent in being the most powerful man on the planet and having to pretend to be ordinary. The issue will also feature a revamp of an existing Superman villain.
Lobdell confirmed he's leaving Superboy, but moving on to Teen Titans. He promised that Raven will return to the book soon and said "if I get my way" Supergirl will also be joining the team. Lobdell talked about how the team was almost getting too big for one book, encouraging the fans to yell if they wanted a spinoff Teen Titans title.

Buccellato finished the panel by talking about the Flash book he's co-writing with artist Francis Manapul, saying that the writers are adding "subtle new dynamics" to Flash's origin, such as explaining his strong sense of justice and need to do what's right, while maintaining the broad strokes such as being a police scientist struck by electrified chemicals. As of issue #13, gorillas led by Grodd will be attacking Central City, forcing a battle between Flash and the Rogues to end mid-fight, possibly leading to a team-up. Since there was no Q&A section due to lack of time, Buccellato took the initiative to inform the audience that Wally West, the long lost Flash of the pre-52 universe, would not appear in their run.