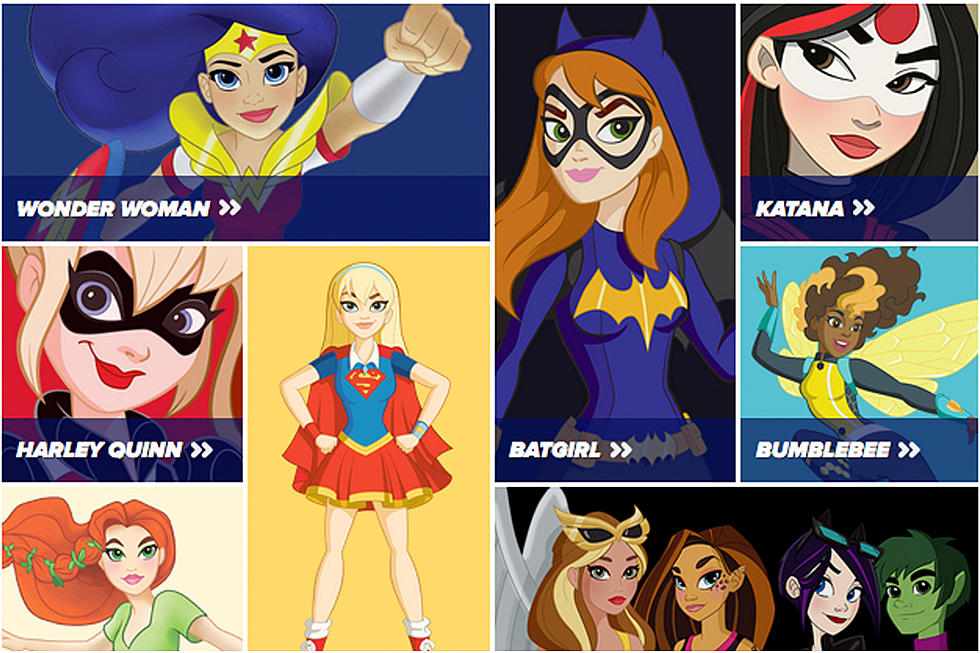 Providing Role Models For Young Girls Could Make DC Super Hero Girls a Billion-Dollar Brand
DC
I want to let that sink in for a second. DC Entertainment, Warner Bros. Consumer Products and Warner Bros. Interactive Entertainment president Diane Nelson believes that strongly in DC Super Hero Girls. The only other current billion dollar brands in the dolls/action figure arena? Barbie and Disney Princesses.
For years, all we've heard from major toy makers, including DC's own partners at Mattel, is that girls don't buy toys, and they especially don't buy toys you'd consider to be action figures. While the truths of that matter have been relentlessly shattered over the past few years, particularly with regard to the likes of Marvel and Star Wars toys, there are still very few companies willing to go out on that ledge and buck outdated stereotypes. Fortunately, Diane Nelson is just as tired of those ill-conceived notions as the rest of us.
"In the last few years, girl empowerment has come to the fore, and the consumer products department saw this opportunity," Nelson said in an interview with Fortune this week. "We have strong female characters in the DC universe, and decided that creating a program around female teenage super heroes could give young girls role models they've never had before."
If those words sound familiar, believe me, they've been echoed in some form or another from a lot of DC fans. DC's Super Hero Girls line is incredibly important, not just for Mattel's and Warner's bottom line (though that's certainly a factor), but specifically for those young girls whose only entry point into the comic heroes they love is through what's traditionally been marketed as "boy toys." Putting the blame solely on the toy makers isn't entirely fair however, as they're not the only ones still subscribing to gender norms from the '50s.
If you don't recall the Kevin Smith/Paul Dini conversation about the cancellation of Young Justice, it turns out the show was attracting too many girl viewers compared to the intended boy audience, and Cartoon Network and Mattel couldn't sell enough of the action figures to girls to make the show viable. "They don't buy toys. The girls buy different toys," Dini related. Rather than accepting that young girls might actually be a market worth pursuing, the show and the toys were completely abandoned. It's fortunate then that the strategy for DC Super Hero Girls eschewed the idea of worrying about boys at all.
"Girls in our research groups wanted action stories with heroes, so we started with animated shorts on YouTube, an hour-long animated special on Cartoon Network and Boomerang, and a website of adventures available in various languages," Nelson said. "Now come the dolls, action figures, and books, with animated shorts, direct-to-video and apps underway."
In October 2015, a few months after announcing the line, the first DC Super Hero Girls short hit YouTube. Over the course of the last seven months, new episodes were slowly doled out, building up the universe and characters of this high school landscape. The second season just kicked off, finally introducing Supergirl into the academic fold. Here, every DC character is still learning where they fit into the world. The setting was another key point of Nelson's and her team's strategy.
"In some of our comic books, Poison Ivy and Harley Quinn are villains, but in high school, the characters are discovering their strengths and weaknesses while sitting alongside Wonder Woman and Supergirl," Nelson related. The characters would be instantly familiar, but also potentially going through some of the same everyday problems as the girls watching the episodes, albeit without the superpowers.
Despite this hook and the characters already having specific style, development of the toys wasn't an easy process. "Mattel's perspective on what's historically worked for girls made them a great collaborator," Nelson said. "At the same time, there were points of constructive tension about everything from the form of the figures to their costumes."
While the specifics of these discussions about what the likes of Wonder Woman and Bumblebee should wear weren't offered by Nelson, she did go on to explain how crucial it was that these toys reflect the DC Universe incarnations. That meant practical costumes akin to what we've seen in the pages of the comics, though given that modern, youthful twist. Additionally, all the dolls have articulation for posing so they can stand on their own. Your mileage may vary with that in the final products, but it's a definite change from Mattel's Barbie line.
As it stands, DC Super Hero Girls hasn't hit that billion-dollar mark just yet. That would be almost impossible given the line's tightly controlled launch. Currently, the DC Super Hero Girls collection (including action dolls, action figures, roleplay gear and clothing) is only available at Target. As Nelson explained, 30 different product categories (less than half of what's planned) are out on shelves. This July however, the figures will be available at a greater number of retailers around the world, as will the remaining 40 product lines, including notebooks, skateboards, and more. We'll have a much better idea of just what the DC Super Hero Girls are truly capable of once it goes global.
Things are off to a great start though, as anyone who's walked into a Target since the spring launch can attest. It's almost impossible to find the full range of dolls, figures or accessories anywhere. Granted, DC Super Hero Girls takes up a very small portion of the Mattel aisle (at least locally), but it's the one section that's constantly barren. Unlike the lack of Black Widow or Gamora toys, this isn't Mattel skimping on characters. These toys do exist, they just don't stick around for very long.
Currently, DC's entire brand brings in roughly $3 billion of Warner's consumer product business. While its in-house merchandising is only available through specialty stores (ie - your local comic shops), partners like Lego, Mattel and more all have a hand in delivering that bottom line. Nelson sees the DC Super Hero Girls as being able to account for at least one-third of that business in the future, which based on the current sample size (small as it is) isn't entirely unrealistic. And again, it won't just serve the company's investors, it'll also serve all those girls previously scoffed at by suits who haven't gotten with the times.
"I hope that young girls get the things I hear about from every fanboy — an incredible sense of empowerment and aspiration," Nelson said. "It's about getting hope and inspiration from powerful role models. It's about saving the day, alongside men."