Devil's Due September Releases
Drafted #1
Author: Mark Powers
Artist: Chris Lie
Cover Artist: Chris Lie
It begins as a day like any other. However, in a heartbeat, everything changes... Today, we learn we aren't alone in the universe. Governments cease to exist. Borders disappear. Old hatreds are forgotten -- and the people of earth, finally united as one, are drawn into a conflict of unimaginable proportions – Today, WE HAVE BEEN DRAFTED!
Sheena #4
Author: Robert Rodi (Rogue, Loki, Elektra)
Concept by Steven E. De Souza (Die Hard screenplay writer)
Artist: Matt Merhoff
Cover Artists:
A – Joe Linsner
B – Frazer Irving
C – Tim Seeley
With forces pursing her from every side, Sheena makes a run for the only place she knows she'll be safe – and once she makes it into the embrace of the jungle, her pursuers will come to know firsthand what the call of the wild really sounds like! All-out steamy jungle action issue! Don't miss the unbelievable twist on the last page of this issue!
Hack/Slash #5
Author: Tim Seeley (Loaded Bible)
Artists: Emily Stone & Courtney Via
Cover Artists:
A – Crank!
B – Tim Seeley
It's the dream of every man to date a beauty queen, right? The fantasy of pressing flesh with a real-life supermodel can be hard to resist... Would it matter to him if the flesh being pressed was no longer attached to a body, though? Uhm... Ew? Plus: Cassie... the night nurse?!
Xombie #6 [of 6]
Author: James Farr
Artist: Nate Lovett
Cover Artists: A – Tim Seeley
B – James Farr
The series conclusion! The last bastion of humanity is being swarmed by a tidal wave of zombies! Can Dirge, Nephthys, Zoe and Co. even hope to save the last of the human race? Do they even stand a chance against Gallows, the sentient zombie? When the dust settles, will anyone be left among the living?
G.I. Joe Special Missions: ...The Enemy
Authors: Andrew Dabb, Mike O'Sullivan
Artists: Vincente Cifuentes, Mike Getty
Cover Artist: Kalman Andrasofszky
The war has been raging for years – G.I. Joe vs. the seemingly endless army of men wearing Cobra blue. Who are those men? How do they come to don the symbol of Cobra and fight against democracy? What can be gained from knowing the other side? Plus: A deadly back-up story featuring Blackout, the G.I. Joe traitor!
G.I. Joe: Storm Shadow Series POSTER
Artist: Sean Murphy
Out of his solo tales and onto your wall! The incredible image from the STORM SHADOW series is now available in poster format! This striking image by artist Sean Murphy is perfect for any frame!
G.I. Joe: Storm Shadow #5
Author: Larry Hama (G.I. Joe, Wolverine)
Artist: Michael Bills
Cover Artist: Kalman Andrasofszky
When his travels take him to Germany, Storm Shadow finds himself stuck in a situation with an angry, fanatical patriot and his army of incredible – and deadly – battle androids! Seems that not everyone was happy when the wall came down... It's ninjitsu vs. technology!
G.I. Joe: America's Elite vol. 4: Truth and Consequences
Authors: Mike O'Sullivan, Mark Powers
Artist: Tim Seeley, Javier Sicilia, Mike Bear
Cover Artist: Clement Sauve Two intense quests, each with drastically different goals in mind: General Philip Rey -- a man desperate to get answers for the lies of his life; The Baroness -- a woman driven to gain bloody revenge on all the enemies that have wronged her. Two quests that will rock the G.I. Joe team once the Truth and Consequences of each come to light...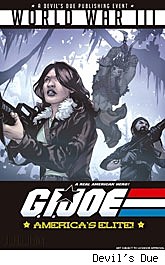 G.I. Joe: America's Elite #27 WORLD WAR III part 3 of 12
Author: Mark Powers
Artist: Michael Shoyket
Cover Artist: Kalman Andrasofszky
Small skirmishes around the entire globe are starting to burn hotter as the third World War looms on the horizon! Amidst it all, the G.I. Joe team continues their intentional campaign against known Cobra agents! Their current target: the deadly Skull Buster! Also: Duke gets the spotlight and we learn more about his past than ever before!
Dragonlance Chronicles Vol. III: Dragons of Spring Dawning #7 [of 12]
Writers: Margaret Weis and Tracy Hickman
Adapted by: Andrew Dabb
Artist: Julius Gopez
Cover Artists: A – Julius Gopez, B – Tyler Walpole
As the War for Krynn escalates to undreamed levels, the mysterious mage Fizban returns! But is he an ally – or an unstable element that could destroy the last remnants of hope? Meanwhile, the Companions embark on their most dangerous mission yet: to penetrate the Dark Queen's stronghold in Neraka!
Sheena: Queen of the Jungle Poster
Artist: Mike Huddleson
Right out of the jungle and into your room! Sheena, the ever-sexy queen of the jungle erupts from the pages of her steamy hot series onto this amazing poster – perfect for any wall!