Devil's Due Publishing November 2007 Solicitations
Sheena #6
Frequency of Publication: Monthly Ongoing Series
Retail Price: Cover A/B/C - $3.50
Author: Robert Rodi (Rogue, Loki, Elektra)
Concept by Steven E. De Souza (Die Hard screenplay writer)
Artist: Matt Merhoff
Cover Artists:
A – Joe Jusko
B – Ryan Odagawa
C – Tim Seeley
Her identity established, the enemy identified, and the goal set... Sheena's ready to conquer a whole new jungle: The city itself! Only this time, the natives fight back with the worst kind of weapons: corporation and paperwork! Will the boardroom be the one wilderness that the original Jungle Queen can't rule?
"The art by Matt Merhoff is rich in detail. Sheena is a series to look out for. It's definitely an interesting start to a character worth revamping." cinema-crazed.com
"This new incarnation of Sheena kicks ass. I'm pleased to see the fine tradition continue. 4/5" ~silverbulletcomicbooks.com
"One part Tarzan, one part Paris Hilton, this new Sheena is something to behold, literally and physically . . . well, with that thin loin cloth, mostly visually. Simply put, she represents where comics have been and where they could be going." ~acomicaday.blogspot.com
If you're looking to stray from the mainstream books this week, Sheena is something to take a look at." ~comicpants.com
Sheena: Trail of the Mapinguari
Frequency of Publication: One-Shot
Retail Price: Cover A - $5.50 B - $9.50 (Premium Collectors Cover)
Author: Steven E. De Souza (Die Hard screenplay writer)
Artist: Anthony Castrillo
Cover Artists:
A – Fiona Staples
B – Emily Stone
An academic studying the jungle is murdered, and all signs point toward the impossible – the legend of the Mapinguari is real! Does the 'boogeyman' of the jungle actually exist? An expedition deep into the uncharted jungle for answers to the murder causes Sheena to get involved... Can the quest be completed before all who are on it die horrible deaths?
Sheena: Queen of the Jungle Poster
Retail Price: $5.99
Artist: Mike Huddleston (Coffin, Memnovor)
Right out of the jungle and into your bedroom! Sheena, the ever-sexy queen of the jungle erupts from the pages of her steamy hot series onto this amazing poster – perfect for any wall!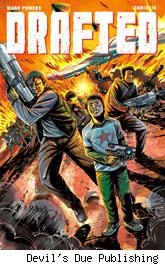 Drafted #3
Frequency of Publication: Monthly Ongoing Series
Retail Price: $3.50
Author: Mark Powers (G.I. Joe: America's Elite)
Artist: Chris Lie (Eberron, Sigma 6)
Cover Artist: Chris Lie
In the space of mere days, the world has irrevocably changed! Before, we were divided by many things. Now, all we have is one purpose: to stop the invasion of Earth! Gathered in small groups to train as units, we must forget our previous lives – whatever they may have been – and become soldiers. Amidst all this is a chilling discovery made beneath the shattered streets of Berlin...
"You will not be disappointed. Pick up an issue of what promises to be one thrill ride you will never forget. 4/5" ~jazmaonline.com
"I really will be seeking out this title on shelves near me. I'm beaming with excitement." ~cinema-crazed.com
"Mark Powers is a great writer; capturing moments of desperation and fear perfectly. Artist Chris Lie adds a soft, almost 'old school' feel to his work, yet makes it look fresh and electric. Drafted deals with some heavy subjects, many that affect all of us! This series could be the most important comic in 2007! 5/5" ~secretidentitypodcast.com
"[DRAFTED] plans to be one heck of a ride. if you're looking for a comic to jump on board to from the very beginning then I highly recommend giving this series a try. I recommend that you visit your comic book shop and pick this one up. 4/5" ~comicnews.info
"Powers presents an effective, believable look at how mysterious phenomena might upset the political balance, and Chris Lie delivers solid, emotionally effective artwork while promising much more with impressive black and white sketches of the aliens and technology in the back." ~comicpants.com
"Aww, **** yeah!" ~silverbulletcomicbooks.com
G.I. Joe: Storm Shadow #7
Frequency of Publication: Monthly Ongoing Series
Retail Price: $3.50
Author: Larry Hama (G.I. Joe, Wolverine)
Artist: Mark A. Robinson
Cover Artist: Kalman Andrasofszky
Pale Peony is back! But is she back as a friend, foe or competitor? Storm Shadow's misadventures take him to London this issue... is the United Kingdom ready for commando ninja action?
"This is a truly entertaining and exciting book that packs a whallop of a punch. Shouldn't be missed." ~ comicpants.com
G.I. Joe: America's Elite #29 World War III (part 5 of 12)
Frequency of Publication: Monthly Ongoing Series
Retail Price: $3.50
Author: Mark Powers
Artists: Mike Bear & Jean-Francois Beaulieu
Cover Artist: Ryan Odagawa
The world – and the team – are shocked by what happened last issue... Those events draw the major world powers into the war! Can the nukes be far behind? Amidst all this, the team is sent on a desperate mission that brings them face to face with Agent Delta at last! Will he help them or destroy them?
"Now THAT's what I'm talking about! The spirit of G.I. Joe has finally been awakened. Bravo, Mr. Powers! Bravo! Like a proverbial phoenix rising from the ashes, G.I. Joe: America's Elite promises to deliver a bold unabashed vision of G.I. Joe that hasn't been seen since the best of the Marvel run. 5/5" ~joebattlelines.com
G.I. Joe: The Data Desk Handbook Collection N-Z
Frequency of Publication: Mini-series
Retail Price: $5.50
Author(s): Mike O'Sullivan, Sam Wells
Artist(s): Various
Cover Artist: Various
The final installment in the encyclopedia guide to G.I. JOE: AMERICA'S ELITE! The perfect companion to the series and a perfect introduction to the world of G.I. Joe! Profiles of characters from Neurotoxin to Zartan plus the second half of the expanded list of every G.I. Joe and Cobra agent from the past 25 years!
G.I. Joe: Storm Shadow TPB Vol 1: Solo
Frequency of Publication: Trade Paperback
Retail Price: $18.99
Author: Larry Hama (G.I. Joe, Wolverine)
Artists: Mark A. Robinson, David Hueso
Cover Artist: Sean Murphy
Friend and enemy. Hero and villain. Criminal and victim. The life of Thomas Arashikage has taken him down paths that have allied him with both G.I. Joe AND Cobra. Now he's away from both sides of the war, and getting into trouble all his own!
"What's great about this book is that it doesn't matter if you have been a G.I. Joe fan your entire life or if this is the first time you have ever heard of Storm Shadow. With this book you don't need to know the history of G.I. Joe in order to understand what's going on." ~comicnews.info
"The art is some of the best that I've seen come from Devil's Due Publishing. I'm looking forward to seeing more of Mark Robinson's work." ~silverbulletcomics.com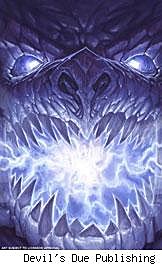 Dragonlance Chronicles Vol. III: Dragons of Spring Dawning #9 [of 12]
Frequency of Publication: Monthly Limited Series
Retail Price: Cover A - $3.50 Cover B - $5.50 (Prestige Cardstock cover)
Writers: Margaret Weis and Tracy Hickman
Adapted by: Andrew Dabb
Artist: Julius M. Gopez
Cover Artists:
A – Jeremy Roberts
B – Tyler Walpole
There were times that they thought they'd not survive the journey, but the Companions finally arrive in the Dark Queen's stronghold in Neraka – only to face perils greater than they faced in the travels! And to save Laurana, Tanis surrenders himself to Kitiara! Can his submission save the lives of the friends he has come to love?
Forgotten Realms vol. 5: Streams of Silver HC
Frequency of Publication: Hardcover Graphic Novel
Retail Price: $29.99
Writer: R.A. Salvatore
Adapted by: Andrew Dabb
Artist: Val Semeiks
Cover Artist: Tyler Walpole
An oath sworn in friendship takes Drizzt Do'urden on a quest like no other – to find the legendary Mithril Hall, birthplace of Bruenor Battlehammer and his dwarven ancestors! But even as Drizzt searches for the key to Bruenor's past, he is forced to confront his own tragic history all over again...
Hack/Slash #6
Frequency of Publication: Monthly Ongoing Series
Retail Price: A - $3.50 B - $3.50
Author: Tim Seeley (Loaded Bible)
Artists: Fernando Pinto with Stefano Caselli
Cover Artists:
A – Tim Seeley
B – Ross Campbell (Wet Moon , The Abandoned)
A self-contained issue! The town of Haverhill is populated by the innocent – especially the wholesome, all-American kids at Haverhill High. But the idyllic community is threatened by the return of the holy terror of Father Wrath! Can Cassie and Vlad stop the slasher priest, save the town from corruption and still find a date to the Spirit Dance?! Probably the most off-beat HACK/SLASH story ever!
"Totally unpredictable. Just when you think 'Seeley wouldn't do that'...he does! A shocking start that will be hard to top! Horror comics - and movies for that matter - don't get any better than this!" ~thecomicfanatic.com
"May be one of the best titles of the year, especially in terms of the horror genre. There's an insanely great amount to love about this title. As someone who isn't a fan of the horror genre, this series is definitely worth the money. You also don't necessarily need to read the Hack/Slash saga from the beginning.4.5/5"
~silverbulletcomicbooks.com
Xombie Vol 1 TPB: Reanimated
Frequency of Publication: Trade Paperback
Retail Price: $18.99
Author: James Farr
Artists: Nate Lovett
Cover Artist: James Farr
The incredibly popular online animated series makes its jump into comic books! Dirge is an undead man with a mind of his own, who struggles to find the meaning of unlife -- all the while fighting to protect human lives from evil zombies! Don't miss this epic quest to save humanity!
"2007 is not the year of the zombie. It is the Year Of The Xombie!" ~ geeksofdoom.com
"Xombie: Reanimated isn't your typical zombie comic story. a lighter, more action-oriented story. Xombie Reanimated is light and fun. 8/10" ~thecomicsreview.com
The artwork captures the feeling of the flash series. And, as it's done by the creator of said series, there's no chance of it not maintaining the feel that made it such a hit on the internet. If you're a fan of the series, or just curious, definitely add this to your pull list. ~215ink.com
XOMBIE is an altogether different book than most zombie books around. The story is entertaining. The fast pace and quick action really helping this book stand out in today's decompression-palooza. We need more fun books – Xombie supplies that. The art is dynamic, exciting, and most importantly – fun! In conclusion, Xombie is a fun book. If you're tired of the dark, depressing books out today, or just want a little break from the death and suffering – Xombie is the book for you. ~SilverBulletComics.com
Right off the bat, this is the most fun I've had reading a comic in a long time. There are parts of this book that are just flat out funny. Things start off at a fast pace and it's one long entertaining sprint to the end. Xombie Reanimated #1 is action-packed and innovative. It's a healthy mix of classic zombie movies like Re-Animator, Army of Darkness, and Lucio Fulci's Zombie. The artwork by Nate Lovett is eye-popping and loose. Characters come to life on the page. His visuals serve as the perfect complement to James Farr's tightly scripted scenes. This is a great first issue. 10 / 10 ~comicaddiction.com
The triumph of Xombie is that it can appeal to both young and older readers. The art and the young protagonist skews the tale to a younger audience while the action, post-zombie apocalypse setting and more philosophical connotations of life and duty make Xombie worthwhile material for an older audience. ~comicreaders.com
I thought it was going to be just one more story of mindless flesh-eating art. I was wrong. I am completely hooked on this one. Give this title a chance. I think you will be pleasantly surprised. ~comicsalliance.com