Digital ComicsAlliance: The Very Best of Amazing Spider-Man
Welcome to Digital ComicsAlliance, your headquarters for digital comics news and recommendations. We're switching gears a little this week and bringing you three of the very best Spider-Man stories in recent memory, with some of the most touching writing and incredibly appealing art you'll ever see out of a Marvel comic.
1. Name: Amazing Spider-Man: Keemia's Castle

Creative Team: Fred Van Lente (writer), Javier Pulido (artist), Javier Rodriguez (colorist), Joe Caramagna (letterer)

Platform: ComiXology/Marvel (iOS, Web, Android)

Price: $1.99 each

Format: Two-part story: #615 and #616

Why: "Keemia's Castle" is probably the best story Marvel's published in years. I don't mean that in an "everything sucks!" way, either. This story is very, very good. Pulido's art shines as he renders several different types of Sandmen, but he nails the character of Keemia, the little girl the story revolves around, and Spider-Man, too. Pulido's Spider-Man wears socks and a scarf when it gets cold, which is the sort of "Oh, that's so obvious" development that makes you smile.Van Lente's story begins like any other Spider-tale before spinning off in an intensely personal and small-scale direction. There's no world-threatening menace in this story, but the world of a little girl is in severe danger, and that matters so much more than the possibility of everything being nullified. That's what gives this story such a punch, and it doesn't go anywhere you might expect. It's sad and touching and genuinely one of the best, if not the best, Spider-Man story you'll read.
2. Name: Amazing Spider-Man: Old Huntin' Buddies
Creative Team: Zeb Wells (writer), Paolo Rivera (art), Javier Rodriguez (color art), Dean White (color art), Cory Petit (letters)

Platform: ComiXology/Marvel (iOS, Web, Android)

Price: $1.99

Format: #577
Why: This was the point where, for me at least, Paolo Rivera went from a pretty cool painter to a really, really great penciller. As much as I prefer him as a character who exists in a more real world context, Punisher can be a fun guy to bounce off a superhero or two, as long as you don't dig too deep into his methods and why no one ever puts him out of commission. This story is a textbook example of how to do that right. Punisher kills gangsters, and Spider-Man stops him from killing others, but the tone of the issue is light enough to make it enjoyable, rather than a polemic on the morality of shooting murderers in the face. Wells kills on this script, with the perfect amount of banter and anger, and Rivera's art--it's easy to see why he's launching Daredevil with Mark Waid. The artwork here is stunning, from the way Spider-Man nonchalantly maneuvers about the ceiling in one scene to the creepy, unkempt Frank Castle that lurks about the book.
3. Name: Amazing Spider-Man: Rage of the Rhino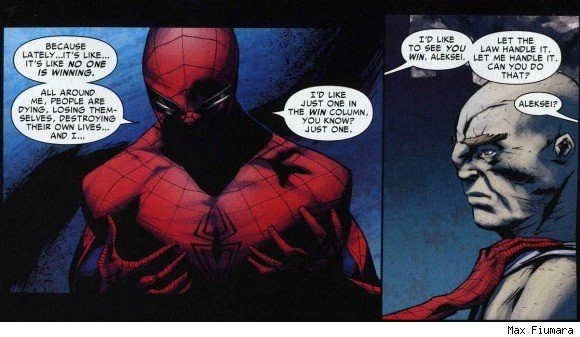 Creative Team: Joe Kelly (writer), Max Fiumara (artist), Fabio D'Auria (colorist), Joe Caramagna (letterer)

Platform: ComiXology/Marvel (iOS, Web, Android)

Price: $1.99

Format: #617
Why: One of the best aspects of Spider-Man isn't his powers, it's his villains. Peter Parker's joking nature and the fact that he became a hero while still in high school means that he has a long history with all of these villains. In a particularly messed up way, they're some of his oldest friends. One of my most favorite stories ever is Peter Parker, Spider-Man #44-47, and it ends with Spider-Man and Green Goblin sitting down after a fight, taking a breather, and talking it out. This issue works in a similar way, as Spider-Man goes up against a new Rhino while simultaneously having to deal with the old one. His first instinct is that the old Rhino is trouble, but things don't quite work out like he expects. What makes this issue move is the history between Spidey and the Rhino, and the fact that, when it comes down to it, they're both men with a history with each other, men who know each other well, and they can stop and talk things out. Add in a sweet, as in saccharine, post-script drawn by Javier Pulido and colored by Matt Hollingsworth and you've got an issue that is wall to wall excellent.

-ComiXology runs Marvel Mondays sales (wait for it) every Monday. Certain Marvel comics, usually ones from a specific series or united under a theme, are offered for half off. You can check their blog for the current sale on Monday mornings, and sometimes Sunday nights. Once Monday is gone, though, so is the sale. Keep an eye on their blog for other sales, too.

There are a few different ways to get digital comics right now. Here's a selection of the methods, listed by company in alphabetical order, and the formats they support:



Archie Comics (iOS)

Boom! Studios (iOS [identical to the Boom! offerings on ComiXology and syncs with your ComiXology account])

Comics4Kids (iOS [ComiXology for all-ages comics])

ComiXology (iOS, Web, Android)

Dark Horse (iOS app that syncs to your account on the web)

DC Comics (iOS, Web [identical to the DC offerings on ComiXology and syncs with your ComiXology account])

DriveThru Comics (CBZ, PDF, ePUB, and more)

Dynamite Entertainment (iOS,Web, Android [identical to the Dynamite offerings on ComiXology and syncs with your ComiXology account])

eManga (web)

Graphic.ly (iOS, Web, Android, Nook Color)

IDW Comics (iOS)

Image Comics (iOS [identical to the Image offerings on ComiXology and syncs with your ComiXology account])

iVerse's Comics+ (iOS, Nook Color)

Marvel Comics on Chrome (Web)

Marvel Digital Comics Unlimited (Web)

My Digital Comics (PDF, CBZ, and more)

The Illustrated Section (PDF)

Square Enix Manga (web)

Viz Manga (iOS, web)

Yen Press (web)
There are a few things you need to know. You no longer need an iOS device (you know: iPad, iPod, iPhone), but you will need an internet connection, web browser, and, usually, Flash. Generally, you don't get to actually own your digital comics. You're paying to read them, and while this has been a fairly smooth process this far, that may rankle for some readers.
Are all these distributors different? Functionally, no, they aren't that different at all. Most of them allow for panel by panel reading (or a variation thereof) or page-based reading. The main differences are in selection. Frustratingly, certain comics are offered on several services, but released at different times. Marvel alone offers five choices. Most other publishers keep to one distribution method, and if they don't, they tend to keep their stuff mirrored across the various methods. If you want DC Comics, you're using ComiXology, for example, but Boom! Studios has comics on both. For Marvel Digital Comics Unlimited, you'll have to pay a subscription fee. It's essentially Netflix for comics, however, so that may be worth it for you.
Personally, I use a mix of all the services, which is far from an optimal configuration, but one that works well. Poke around and see which one you like the most.
When do digital comics come out? Marvel has a weekly schedule, with an option for viewing the next month's releases. That's as close as you'll get to a release schedule. To see what's new on ComiXology, subscribe to this RSS feed. IDW generally releases books four weeks after they ship in print. ComiXology updates on Wednesdays, Graphic.ly updates throughout the week, and IDW's app updates on Tuesdays, with day-and-date books arriving on Wednesday. Dark Horse updates on Wednesdays. This category on iVerse's Comics+ site lists the updates for the week. Marvel Digital Comics Unlimited releases books every Monday.
I'll update with RSS feeds and landing pages that show new releases as they appear! If you're a digital comics publisher and you don't have a feed or page that users can visit... well, please create one. We'd all appreciate it.