Digital ComicsAlliance: Usagi Yojimbo for $0.99, Blue Exorcist, League of Extraordinary Gentlemen
Welcome to Digital ComicsAlliance, your headquarters for digital comics news and recommendations. This week, you get a classic issue of Usagi Yojimbo for ninety-nine cents thanks to Dark Horse Digital, an all-new shonen action title in Viz's Blue Exorcist, and the digital release of Alan Moore and Kevin O'Neill's The League of Extraordinary Gentlemen: Century: 1969.
1. Name: Classic Usagi Yojimbo #1

Creative Team: Stan Sakai (writer/artist)

Platform: Dark Horse (iOS app that syncs to your account on the web)

Price: $0.99 (from 08/01-08/03, $1.99 thereafter)

Format: One issue

Why: I've said it before and I'll say it again: Stan Sakai's Usagi Yojimbo is one of the greatest comics out there. Month-in, month-out, Sakai delivers exactly the type of comic we should see more of.
Each issue is a satisfying experience, even if it's part of an ongoing story. The art is great, with well-researched details. The characters are attractively designed, full of personality even when silent, and varied. The action scenes are great, and sometimes inspired by jidaigeki films or pop culture. And the writing -- you have never cared about comics characters the way Usagi fans care. Sakai fills his cast to bursting with realistic motivations, sympathetic problems, and just really, really solid character writing. Start here and get ready to get hooked.




2. Name: Blue Exorcist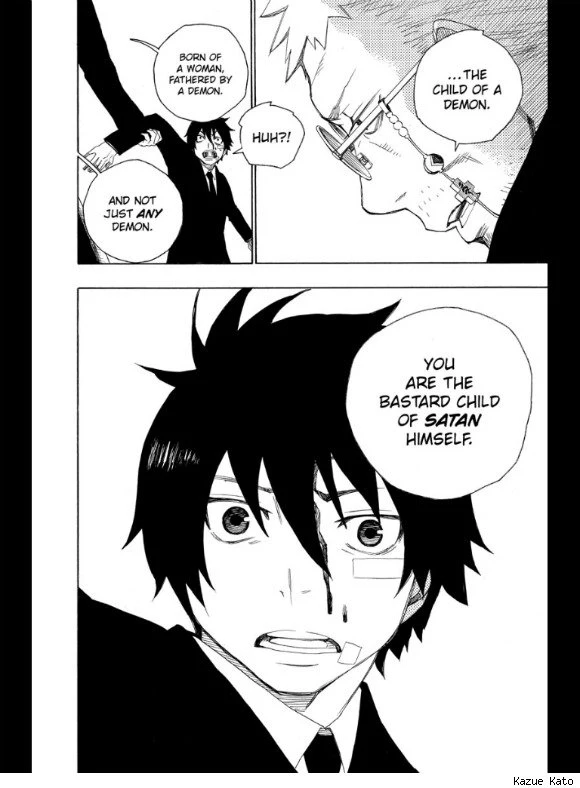 Creative Team: Kazue Kato (writer/artist)

Platform: Viz Manga (iOS, web)

Price: $4.99 each

Format: Graphic novels (72 page preview here)

Why: Blue Exorcist caught me by surprise. I'd heard some mild buzz about it, but for whatever reason the summaries never managed to catch my attention. VizManga.com launched two weeks ago, though, and I saw it on sale. I gave it a try, and wow, what a pleasant surprise. It's well-written, with pretty attractive art. Characters wear fashionable clothes, instead of generic gear, and Kato's cartoony style is a little reminiscent of Soul Eater in how she renders the physics and bodies.
Two twins -- one a baseline human, the other the son of (wait for it) Satan--attend an exorcism school. The human is already an expert exorcist and instructor, and his brother only recently found that out after his Satan-borne powers manifested. Blue Exorcist follows a similar blueprint as other shonen books, including the rapid-fire acquisition of (semi-)enemies-turned-friends, but Kato's humorous approach and pretty art pulled me all the way in. Two volumes are out now, and the story appears to be building toward a major conspiracy. This is good stuff, one of those pleasant surprises you never see coming but wish you had.
3. Name: League of Extraordinary Gentlemen: Century 1969
Creative Team: Alan Moore (writer), Kevin O'Neill (artist), Todd Klein (letters), Ben Dimagmaliw (colors)

Platform: iVerse's Comics+ (iOS, Nook Color)

Price: $4.99

Format: Two issues

Why: The evolution of League of Extraordinary Gentlemen has been an interesting one. The first two volumes were essentially adventure comics in Victorian drag. The Black Dossier, an interlude/source book set between volumes two and three, mixed up the traditional comic book format with the inclusion of different types of storytelling devices. Century: 1910, the first of three books in the third volume, used a musical number to push the story along, even as it moved further away from the adventure comics style. The cast were swept up along in a stream, rather than being the prime movers in the story.
Century: 1969 fully restores the spotlight to Mina and her boys, but has little to no interest in being anything even approaching an action comic. It's a travelogue, a trip through the pop culture of 1969, and interesting on those merits, if not more specifically comic book-y ones. I recommend you read it alongside Jess Nevins's predictably informative annotations. When you've finished the book for the first time, the Mindless Ones have annocommentations (that is, annotations that serve as commentary) for you to read--here's part one and two. They do a great job of providing context and insight for the references without devolving into Wikipedia-style dryness.

-ComiXology runs Marvel Mondays sales (wait for it) every Monday. Certain Marvel comics, usually ones from a specific series or united under a theme, are offered for half off. You can check their blog for the current sale on Monday mornings, and sometimes Sunday nights. Once Monday is gone, though, so is the sale. Keep an eye on their blog for other sales, too.
-Dark Horse runs themed sales every weekend. They've run sales on Serenity, The Goon, Conan, and Fray, among others, so you're pretty much sure to find something to like at some point. This week's sale hasn't been announced yet, but stay tuned to the Dark Horse Digital blog.

There are a few different ways to get digital comics right now. Here's a selection of the methods, listed by company in alphabetical order, and the formats they support:



Archie Comics (iOS)

Boom! Studios (iOS [identical to the Boom! offerings on ComiXology and syncs with your ComiXology account])

Comics4Kids (iOS [ComiXology for all-ages comics])

ComiXology (iOS, Web, Android)

Dark Horse (iOS app that syncs to your account on the web)

DC Comics (iOS, Web [identical to the DC offerings on ComiXology and syncs with your ComiXology account])

DriveThru Comics (CBZ, PDF, ePUB, and more)

Dynamite Entertainment (iOS,Web, Android [identical to the Dynamite offerings on ComiXology and syncs with your ComiXology account])

eManga (web)

Graphic.ly (iOS, Web, Android, Nook Color)

IDW Comics (iOS)

Image Comics (iOS [identical to the Image offerings on ComiXology and syncs with your ComiXology account])

iVerse's Comics+ (iOS, Nook Color)

Marvel Comics on Chrome (Web)

Marvel Digital Comics Unlimited (Web)

My Digital Comics (PDF, CBZ, and more)

The Illustrated Section (PDF)

Square Enix Manga (web)

Viz Manga (iOS, web)

Yen Press (web)
There are a few things you need to know. You no longer need an iOS device (you know: iPad, iPod, iPhone), but you will need an internet connection, web browser, and, usually, Flash. Generally, you don't get to actually own your digital comics. You're paying to read them, and while this has been a fairly smooth process this far, that may rankle for some readers.
Are all these distributors different? Functionally, no, they aren't that different at all. Most of them allow for panel by panel reading (or a variation thereof) or page-based reading. The main differences are in selection. Frustratingly, certain comics are offered on several services, but released at different times. Marvel alone offers five choices. Most other publishers keep to one distribution method, and if they don't, they tend to keep their stuff mirrored across the various methods. If you want DC Comics, you're using ComiXology, for example, but Boom! Studios has comics on both. For Marvel Digital Comics Unlimited, you'll have to pay a subscription fee. It's essentially Netflix for comics, however, so that may be worth it for you.
Personally, I use a mix of all the services, which is far from an optimal configuration, but one that works well. Poke around and see which one you like the most.
When do digital comics come out? Marvel has a weekly schedule, with an option for viewing the next month's releases. That's as close as you'll get to a release schedule. To see what's new on ComiXology, subscribe to this RSS feed. IDW generally releases books four weeks after they ship in print. ComiXology updates on Wednesdays, Graphic.ly updates throughout the week, and IDW's app updates on Tuesdays, with day-and-date books arriving on Wednesday. Dark Horse updates on Wednesdays. This category on iVerse's Comics+ site lists the updates for the week. Marvel Digital Comics Unlimited releases books every Monday.
I'll update with RSS feeds and landing pages that show new releases as they appear! If you're a digital comics publisher and you don't have a feed or page that users can visit... well, please create one. We'd all appreciate it.