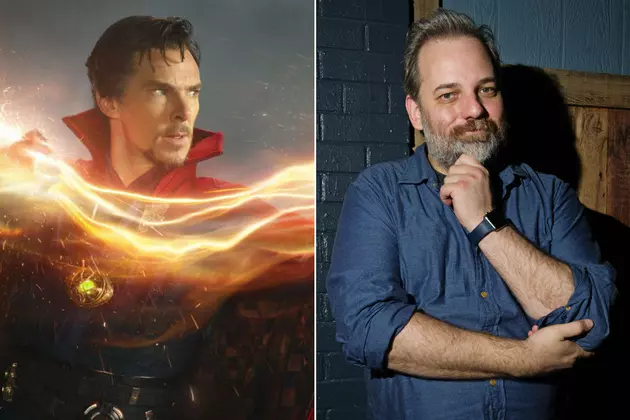 'Doctor Strange' Taps 'Rick and Morty' Co-Creator Dan Harmon For Last-Minute Script Work
Marvel / Emma McIntyre, Getty Images
Doctor Strange is set to hit theaters in a couple of months, but it looks like there's still a little work left to do on Marvel's latest superhero outing. The studio is reportedly receiving some assistance from a (pleasantly) surprising source, as Community creator Dan Harmon has been hired to help write some last-minute scenes for the upcoming film.
Harmon is best known as the creator of the NBC college sitcom Community and co-creator of the hit animated series Rick and Morty, which wouldn't exactly make him the most obvious choice for a superhero film. But THR's report on Harmon's last-minute involvement with Doctor Strange isn't entirely surprising — Marvel favorites Joe and Anthony Russo helmed 21 episodes and served as executive producers on Harmon's NBC series before landing the directing gig on Captain America: The Winter Soldier.
Per THR's report, Harmon was brought in during post-production to write material for "additional photography," though it's unclear if what he's scripting is for reshoots or if he's writing new scenes entirely (or possibly a mid- or post-credits sequence). Harmon's film experience includes uncredited script work on Kung Fu Panda and a co-writing credit on Monster House. He also served as executive producer on Anomalisa, last year's acclaimed stop-motion animated drama from Charlie Kaufman and Duke Johnson.
Given Harmon's late-stage involvement, it's possible that Marvel is looking to add more humor to Doctor Strange, a mystical adventure that will introduce Benedict Cumberbatch as the titular Sorcerer Supreme. Scott Derrickson directed the film based on a script he co-wrote with Sinister scribe C. Robert Cargill. Jon Spaihts (Prometheus) wrote the original screenplay and will receive "story by" credit.