Duggan, Posehn & Moore's Plans for Deadpool: Beating Up Dead Presidents (And Their Pets) On sale now from Marvel is Deadpool #1, reintroducing the ultra-violent, unkillable, occasionally fourth-wall-breaking and frequently hilarious "Merc with a Mouth" created by Rob Liefeld and Fabian Nicieza in the early 1990s. The new series comes courtesy of comedians and comics writers Gerry Duggan (The Infinite Horizon) and Brian Posehn (The Goon: Noir) and artist Tony Moore (Fear Agent, The Walking Dead), and is very near the top of the new Marvel NOW projects that I'm most eager to read. Moore's command of gore and facial expressions is of course perfectly suited to blood-and-gutsy comedies, and his history with the undead makes him the natural choice for Deadpool's inaugural arc, wherein the assassin also known as Wade Wilson must take on the deceased presidents of the United States. It's an appropriately irreverent storyline for this election season, and followers of Duggan's great (and often political) humor feed will be keen to see what the writer has in store for Marvel's most acerbic (and trollish) character.


A couple of weeks ago Marvel's Sales & Communications Coordinator James Viscardi hosted a conference call with press types to talk to Duggan, Moore and Deadpool editor Jordan White about the new book. The event was liveblogged by Marvel.com Associate Editor Ben Morse, and here are the highlights as determined by me me me:
- The process of writing Deadpool fighting dead presidents necessitated Duggan print out list of U.S. leaders and cross X's through them. It looks like a very disturbing document.
- "Deadpool has a gajillion pouches. I brought back the leg pouch from the Rob Liefeld days because why not." - Tony Moore
- The series comes with covers by Geof Darrow.
- "Taft does return in his bathtub." - Gerry Duggan
- "Ronald Reagan finally gets to enjoy a little Star Wars. We'll leave that alone." - Gerry Duggan
- Marvel heroes are embarrassed to be seen with Deadpool. We will see Thor and Doctor Strange demonstrate this.
- A reporter asked if the 1970's storyline where Ben Franklin stole Doctor Strange's girlfriend would be addressed. Duggan replied, "You may have just changed the course of Marvel NOW! Deadpool."
- There will be a new supporting cast, although you will probably see oldies as well.
- "There was a joke where Doctor Strange was going to disguise himself and Wong as the Silver Surfer and his surfboard so they wouldn't be seen with Deadpool, and Deadpool would say 'Whatever he pays Wong, it's not enough.' We thought it was funny for a second." - Gerry Duggan
- "We know there are a lot of preconceived notions about comedians and people outside of comics writing comics, and we want to stake those through the heart." - Gerry Duggan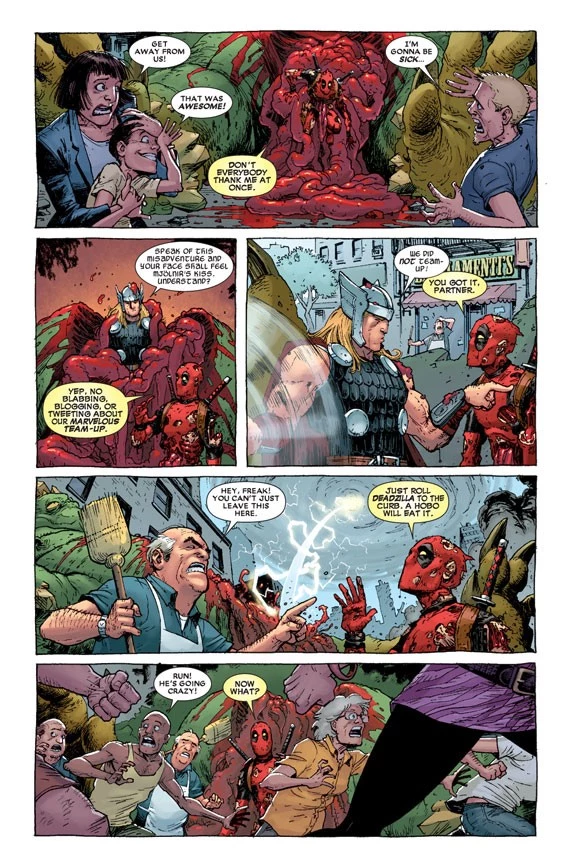 Deadpool #1 is on sale now in finer comics shops and digitally from comiXology.