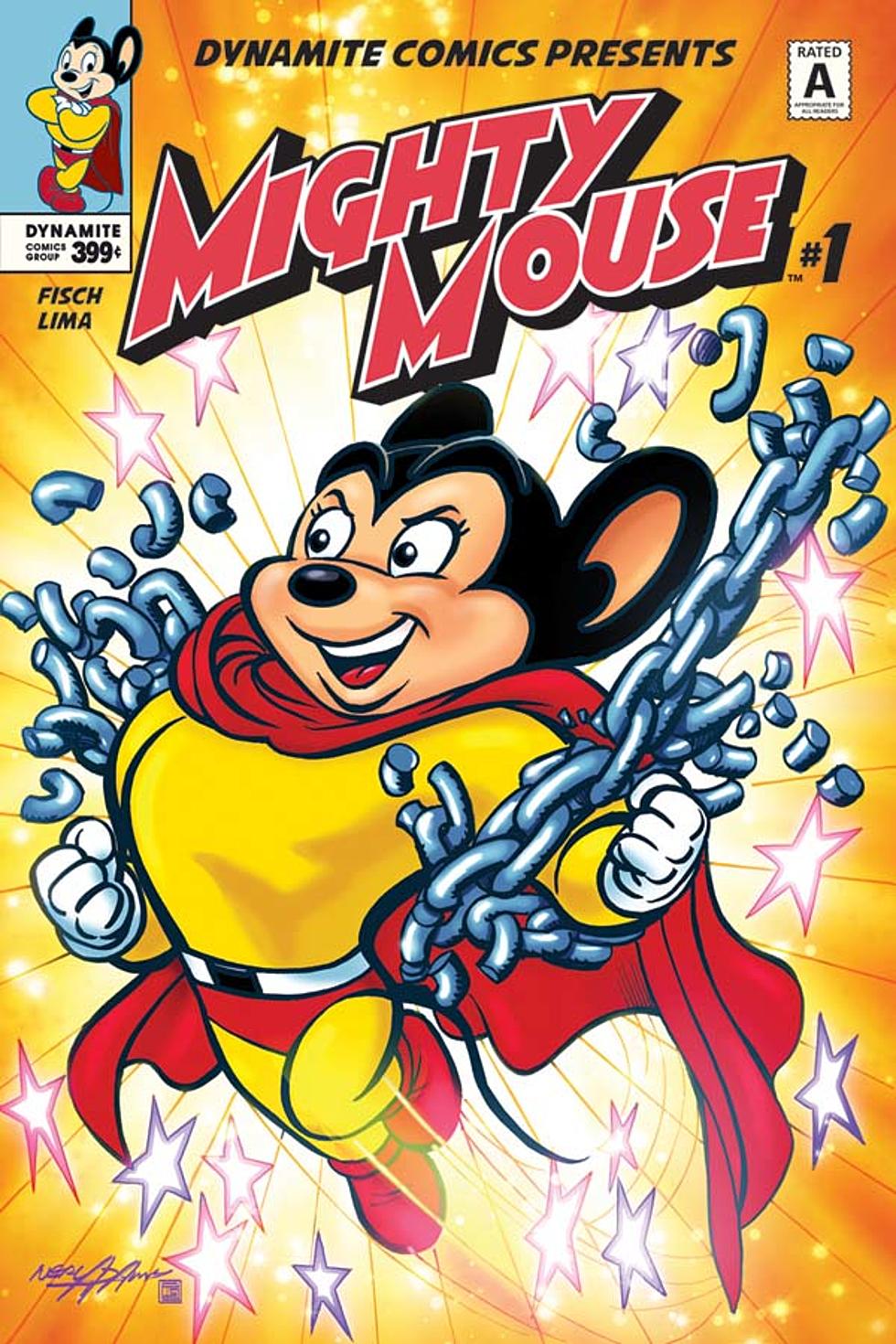 Here He Comes To Save The Day: Dynamite Unveils New 'Mighty Mouse' By Sholly Fisch And Igor Lima
Cover B by Neal Adams
Mighty Mouse was famously created by Paul Terry in 1942 as a combination of two of the most popular characters in the world, Superman and Mickey Mouse. So it should come as no surprise that the character has had plenty of staying power over the last 75 years. Whether you grew up with those old cartoons or the Ralph Bakshi revival of the 1980's, there's a good chance you remember him with some fondness, whenever you hear his sung catchphrase, "Here I come to save the day!"
And now the Mouse is back, in a new series from Dynamite, written by Sholly Fisch with art by Igor Lima. The first issue, out in June, features variant covers by legendary artist Neal Adams and painter/legendary fan of old stuff Alex Ross.
We haven't seen any interiors yet, but it's clear from these covers that this is essentially the classic version of the character, which should make for a fun all-ages book.
As for Sholly Fisch, he's very excited:
One of my favorite things about writing comics is getting the chance to play with characters I've loved all my life, and what's not to love about Mighty Mouse? Not only is he funny, but of all the super heroes you can name, there aren't many who dedicate themselves quite so literally to fighting for the (ahem) little guy. When I was a kid, my sister and I used to get up early to watch Mighty Mouse cartoons on TV and, in those prehistoric pre-DVR, pre-streaming days, we'd tide ourselves over between shows by listening to our Mighty Mouse record (yes, on vinyl. I said it was prehistoric.) Decades later, I fell in love with the character all over again, thanks to Ralph Bakshi's brilliantly insane Mighty Mouse TV series. Now, I get to contribute yet another unique spin on Mighty Mouse, as we bring him rocketing out of Mouseville and into the real world... and couldn't we all really use someone to come save the day? It's all pretty cool, and I'm having enormous fun with the series. Hopefully, everyone else will, too! Oh, and did I mention that I can still sing the entire Mighty Mouse theme song by heart? Don't get me started!
Here's the official word from Dynamite:
Terrytoons' animated superhero Mighty Mouse has delighted fans the world over since his first appearance in 1942. Now, Dynamite Entertainment announces his triumphant return to comic books for the first time in nearly 30 years, with a series written by Sholly Fisch, illustrated by Igor Lima, and featuring variant cover artwork for the first issue by industry legends Alex Ross and Neal Adams.

Imagine that the world's greatest hero has been exiled to another dimension -- an alien world, where not even the laws of physics work the way they should. The only person who even believes the hero exists is a young kid whom no one will listen to. And yet, the hero -- who just happens to be a cartoon mouse -- remains the shining light that this drab, cynical world needs to restore its color and life. Here comes Mighty Mouse to save the day in his most unexpected adventure yet... right here, in the real world!

This summer, Dynamite will celebrate the character's 75th anniversary with a brand new comic book series for a whole new generation of fans. Mighty Mouse was first conceived in 1942 as a parody of another cape and cowl hero introduced a few years earlier, and went on to star in countless animated films for the better part of the next 20 years, finding a new life on Saturday mornings in the 1960's.