Veteran Comic Book Artist Eduardo Barreto, R.I.P.
I was extremely sad to read the news this morning that veteran comic book artist Eduardo Barreto has passed away at only 57-years-old. It's doubtlessly true that I speak for many comics art aficionados when I say that his work will be sorely missed and always cherished. While not the kind of comics "superstar" that we think of when we use that word, Barreto's work exemplified the best traditions of classic superhero, noir and adventure artwork with a distinctive South American flare, creating a style all his own.A native of Uruguay, Barreto's work was probably seen most often in the pages of many, many DC Comics titles, particularly throughout the 1980s and early 1990s. Readers of a certain generation will associate Barreto most closely with The New Teen Titans, which he drew for years, but he will always be among my favorite Batman artists. Working with that character and all the delicious visual treats that come with him --shadowy figures, grotesque villains, handsome men, beautiful women, vast cityscapes -- Barreto's Batman artwork made an enormous impression on me, and was unquestionably a major reason why I became so enamored with that character's comics and by extension the DC Universe of the early 1990s.

Especially excellent was Barreto's work on Superman: Speeding Bullets. Written by J.M. DeMatteis, the book was a one-shot "Prestige Format" Elsewords story in which the Kryptonian survivor Kal-El was brought up in Gotham City and eventually became not Superman, but the Dark Knight. It was the first Elseworlds I'd ever read and among some of the first Batman comics I'd read as I made the transition from casual reader to dedicated, weekly-comics-reading obsessive. Honestly, I remember being so impressed by the artwork in Speeding Bullets that whenever a new Batman book came out that wasn't drawn by Barreto, I was so genuinely frustrated that I cursed DC under my breath and wrote countless letters to the editor in my mind.
Barreto drew other Batman stories, covers and pin-ups over over the years (Batman: Scar of the Bat and Batman: Master of the Future and Batman/Daredevil: King of New York are other notable examples of the artist's peerless draftsmanship), and while my tastes have changed a little with time, Barreto's vision of Gotham remains among the most ideal in my fanboy imagination.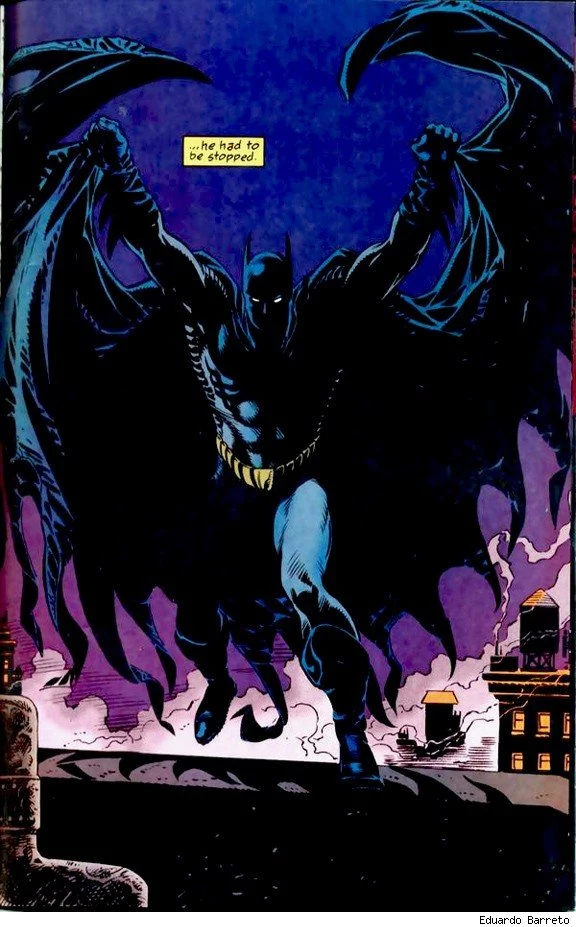 Naturally, Barreto's talents made him a great fit on other books and characters like The Shadow Strikes and Elvira, Mistress of the Dark and The Phantom, among many others. A particularly great example of his non-fantasy/adventure work is Union Station, a 1930s true crime story written by Ande Parks and published by Oni Press. And in preparing to write this post, I discovered that Barreto drew a Western graphic novel for Oni Press called The Long Haul, written by Antony Johnston, that I'd never even heard of. The idea that there is a whole Barreto graphic novel in the Old West genre out there for me to read helps soften the blow of this terrible news.
Later in his career, Barreto took over the long-running newspaper comic strip Judge Parker before being diagnosed with meningitis. Most recently, he and his son Diego succeeded Peter Krause on Mark Waid's Irredeemable for BOOM! Studios. Reacting to the news of Barreto's death, Waid tweeted, "Eduardo Barreto, RIP. You were one of my all-time favorite artists both as a reader and as a collaborator. This one's tough."
You can find similarly heartfelt tributes to Barreto on Twitter at this link.