Bucky Barnes Defends America from 'Fear Itself' [Preview]
On sale this week is the third issue of Fear Itself, the latest event miniseries from Marvel Comics. Written by Matt Fraction (The Mighty Thor, Invincible Iron Man) with artwork by Stuart Immonen (New Avengers, Ultimate Spider-Man), Wade von Grawbadger (New Avengers, Starman) and Laura Martin (The Authority, The Rocketeer: The Complete Adventures) the series finds Sin, daughter of the legendary villain Red Skull, unleashing the god of fear, a serpent who will confront the heroes of the Marvel Universe with their greatest nightmares.
Read on for an advance look at this week's Fear Itself #3 with possible spoilers.Sin -- now called Skadi, herald of the Serpent -- already caused the mighty Asgardians to retreat to their mystical realm. There, Odin and his people plan to burn Earth to cinders while the defiant but imprisoned Thor watches helplessly. Meanwhile, Skadi begins her assault on the United States in Washington, D.C., which is protected by Captain America, who hardly seems a match for the evil warrior and her magical hammer. Marvel's promotional materials suggest that one of Earth's heroes will fall at the hands of the Serpent -- could that hero be Bucky Barnes, whose fate Captain America writer Ed Brubaker refused to discuss in a recent interview, except to say that Steve Rogers will reassume the mantle of Captain America by the time his new series begins in July?
And what of the Serpent's hammer that's come into possession of the Future Foundation? From the looks of the Steve McNiven cover artwork, it appears The Thing may be worthy of the terrible weapon.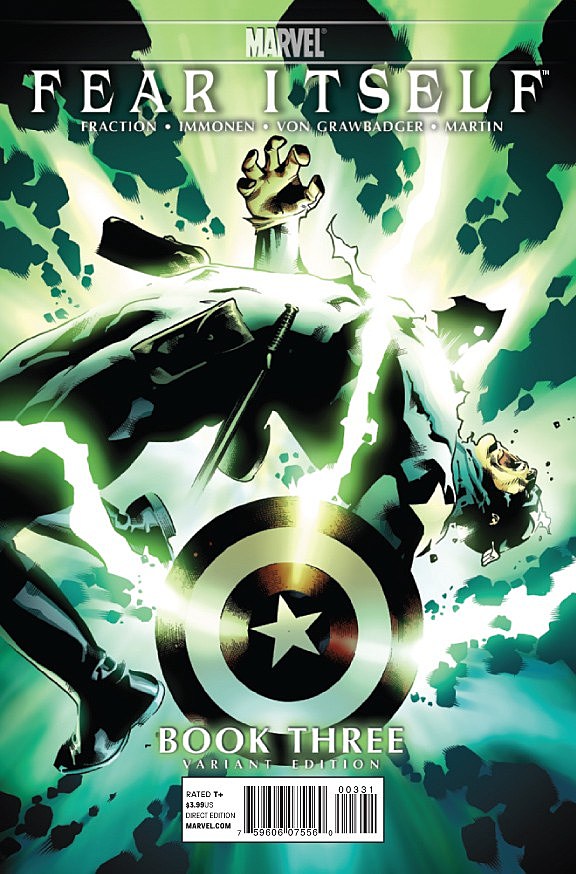 The blockbuster Marvel event of the year continues! Sin leads the most audacious attack on American soil the world has ever seen as global panic sets in and we fall sway to the power of fear itself.

On Asgard, Loki hatches the scheme to end all schemes. And everywhere, the Serpent's presence is felt...never moreso than when a major Marvel hero falls at his hands. The shock ending to end all shock endings...as the cycle of evil stretching millennia is at last complete

d.