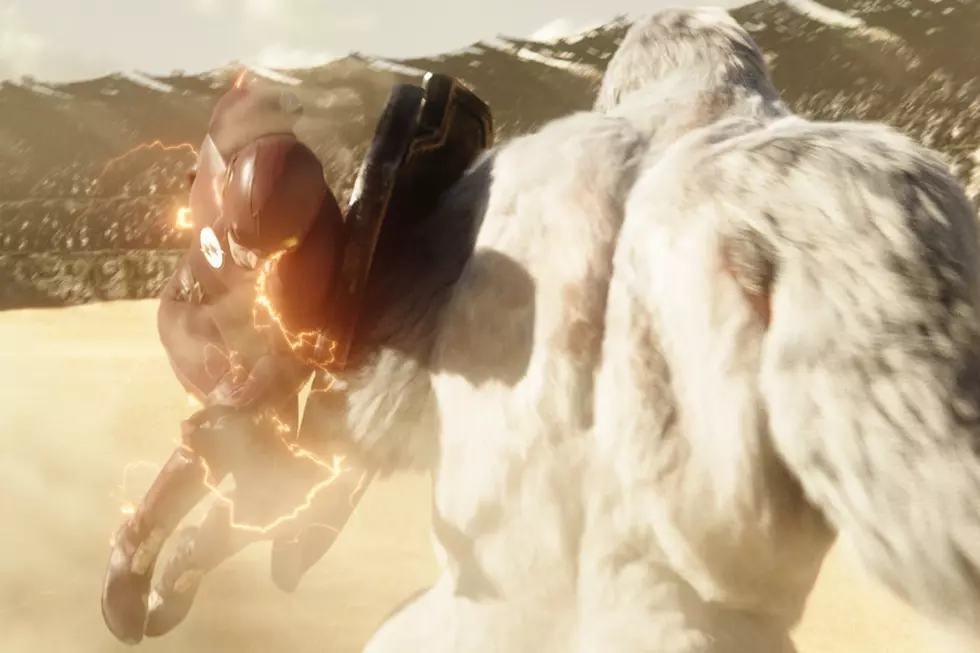 Go Inside 'Gorilla City' With New 'The Flash' VFX Featurette
The CW
Painfully obvious though it was when The Flash's "Attack on Gorilla City" needed to cut away from its titular beasts, or balance sweeping VFX shots with its human cast, the DC drama nonetheless proved far more ambitious than any superhero series before it. See for yourself in a new behind-the-scenes featurette for the two-part event!
The CW released and extended featurette recounting both last week's "Attack on Gorilla City," and offering a few slight teases for tonight's conclusion, "Attack on Central City." In it, visual effects supervisor Armen Kevorkian breaks down the effort that went into distinguishing the inhabitants of Gorilla City, as well as the various layers behind the Colosseum fight, which was woven into the script at his behest.
And where last week only managed to spotlight Grodd and Solovar up close, executive producer Aaron Helbing tells TVLine the "Attack on Central City" will have a bit more ape action to contend with:
I think you'll see about a legion. I'm just going back to my Spartacus days, where we would talk in those terms. I would say it's about "a Roman legion" in the beginning.
THE EPIC CONCLUSION TO THE TWO-PART BATTLE WITH GRODD – When Grodd (voiced by David Sobolov) and his army of gorillas bring the battle to Earth-1, The Flash (Grant Gustin) and team must find a way to stop them before they destroy Central City. Gypsy (guest star Jessica Camacho) returns to join the fight. Meanwhile, Jesse Quick (guest star Violett Beane) decides she wants to stay with Wally (Keiynan Lonsdale) on Earth-1.
We'll see how well Round 2 handles its war for the planet of the apes, but check out the full "Attack on Central City" trailer below, and stay tuned for the latest.
Check Out 100 TV Facts You May Not Know!