Free Comic Book Day 2013 Full Lineup Announced
Even though Christmas is still looming ahead of us, those of us who enjoy comics and/or not paying for things are already looking forward to the second most wonderful time of the year: Free Comic Book Day! And now, we know exactly what to expect when May 4th rolls around next year, with the announcement of the full lineup of books.
We've already covered the top-tier "Gold" offerings, so check below for this year's Silver books, including favorites like Atomic Robo, point-missers like Overstreet Marketplace, a look at the upcoming Beware the Batman, and, inexplicably, an NFL superhero comic that does not feature SuperPro. Phil Grayfield gets no respect these days, I swear.

(W) David Tallerman (A/CA) Robert Molesworth


What kind of lunatic forces a grizzly bear to wear mechanized combat armor and fight his battles? What kind of fiend kidnaps a beautiful Polynesian computer genius to be his child bride? And just who has a ninja for a butler anyway? Meet the Professor: eccentric, scientist, explorer and Englishman par excellence. Madcap steampunk hi-jinks in Endangered Weapon B!
(W) Jamal Igle, Jeremy Whitley (A) Jamal Igle, Various
Two complete stories! She's strong. She's smart. And she's incredibly brave! She's the protector of Coopersville, the Princess of Finesse; the Petite Powerhouse known only as Molly Danger! But what secrets threaten everything she holds dear?! And on her way to rescue her sisters, Adrienne finds another mysterious princess locked away in a tower, but she's guarded by one of the knights sent to hunt Adrienne. Who is this princess and will Adrienne and Bedelia survive trying to rescue her?
NFL RUSH ZONE: SEASON OF THE GUARDIANS
(W) Kevin Freeman, Jeremy Whitley (A) M. Goodwin, Jerry Gaylord (CA) M Goodwin


Two complete stories! A referee's flag is corrupted by the power. The Guardians must arrive at the Bengals-Titans game and get that flag before the referee throws it, bringing it to life. And the villainous Coach Carnage is on the recruit for his interstellar team "The Visitors," and it's up to the Guardians, with the help of previous draft picks, to stop him from ruining the draft and taking this year's recruiting class.
(W) Jeff McClelland, Shawn Aldridge (A) Jeff McComsey, Steve Becker


The New York Times best selling zombie series, FUBAR, returns with an all-new Free Comic Book Day one-shot! This 32-page issue contains four stories that span the entire American experience, from Valley Forge to the present day. Select stories from FUBAR: American History Z (in PREVIEWS this February) will put you in the boots of the founding fathers as they come face-to-face with the walking dead. If you're new to FUBAR, now's the perfect time to jump on board! (MATURE THEMES)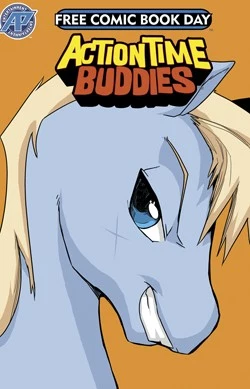 (W) Robby Bevard (A/CA) Fred Perry


Kid the Adventurer and Bro the Kung-Fu Pegasus are back in an all-new story for Free Comic Book Day! The fan-favorite best buds will face fierce forests, soaring snakes, nincompoop ninjas, doofy dinosaurs, and vile villains all in the name of fun! Don't miss out on this growing hit!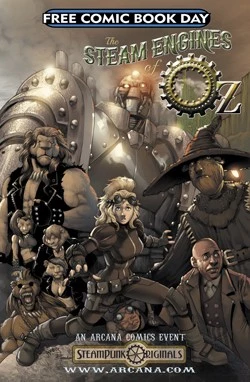 STEAMPUNK ORIGINALS PRESENTS: THE STEAM ENGINES OF OZ
(W) Erik W. Hendrix, Sean Patrick O'Reilly (A/CA) Yannis Roumboulias


Get a special sneak-peek at the upcoming re-imagining of Oz through a SteamPunk lens! Find out what happens 100 years after the witch is dead. In an Oz ruled by a once revered hero, salvation comes from the unlikely wrench of Victoria Wright, who dares to question the status quo and sparks a rebellion. This FCBD edition will give you an exciting extended preview of the upcoming graphic novel and a look at what else Arcana's SteamPunk Originals line has in store for readers!
MOUSE GUARD/RUST FCBD 2013 FLIP BOOK
(W/A) David Peterson & Various (CA) Royden Lepp, David Peterson


Archaia proudly presents this square flip book containing original short stories from some of its all-ages-friendly titles, including David Petersen's Mouse Guard, Royden Lepp's Rust, and Sean Rubin's upcoming, enchanting dinosaur tale, Bolivar. Plus original short stories from Jim Henson's Labyrinth; Nate Cosby and Chris Eliopoulos' Cow Boy, and fun Pantalones, TX activity pages by Yehudi Mercado!


FCBD 2013 SONIC THE HEDGEHOG MEGA MAN FLIPBOOK
(W) Ian Flynn (A) Ryan Jampole, Various (CA) Ben Bates


It's TWO Free Comic Books in ONE! Just in time for the start of the epic Sonic the Hedgehog and Mega Man crossover event, "Worlds Collide," comes a primer issue exclusively for Free Comic Book Day! Witness the journey these two epic heroes from both Sega and Capcom took to finally meet each other - Mega Man's journey chronicled on one side, and Sonic's on the other! This is the must-have primer for the biggest comic book event of 2013 - as video game icons Sonic and Mega Man meet for the very first time anywhere!
(W) J. T. Krul, David Wohl (A/CA) Alex Konat, Beth Sotelo


In 2013, Aspen will proudly celebrate its 10th Anniversary, and they're planning their largest initiative ever - including this year's jam-packed Worlds of Aspen 2013 flip-book! Join them as they reveal exclusive in-depth content for all of their exciting "10 for 10" titles set to debut all year long! Also, Aspen offers two brand new stories, starting with Michael Turner's Fathom! And to top it all off, Worlds of Aspen 2013 will showcase a world premiere preview of Peter Steigerwalds' upcoming new series, Zoonity!
ABSOLUTION: THE BEGINNING
Christos Gage (Avengers Academy, Authority: Prime) created a visceral world where law enforcement turns to super-cops to subdue the new breed of street evil. But when one cop crosses the line and begins hunting and killing criminals in secret, he becomes worse than those he brought to ultimate justice! Absolution takes fans on an insane roller-coaster ride that ends in a public hero's downfall, and the uprising of a violent judge, jury, and executioner. Absolution: The Beginning reprints the first two issues (#0-1) of this classic series and provides a sneak peek preview at this summer's highly anticipated sequel, Absolution: Rubicon! (MATURE THEMES)
BLEEDING COOL MAGAZINE FCBD
Filled with all-ages accessible previews, interviews and articles, Bleeding Cool Magazine FCBD is the perfect supplement to help readers new and old find the best comics and expand their experience at the party into a passion for a lifetime! Readers will find a "Collecting Comics 101" feature, the "Top Genre & Starter Graphic Novels" in stores, and Tips and Tricks for the Back-Issue Hunt! Bleeding Cool Magazine is ideal for giving readers tons of extra FCBD content and to introduce our unique brand of information and entertainment to a host of new customers!
CAPSTONE PRESENTS: MR. PUZZLE
(W/A/CA) Chris Eliopoulos
Who is Mr. Puzzle, you ask? Well, he's the perfect fit for any problem, of course! And Capstone brings him to you for the perfect price...FREE! Follow Mr. Puzzle on two exclusive, never-before-seen adventures by Chris "Elio" Eliopoulos. Watch the superhero stretch, bend, shrink, and grow, all to keep the folks of Busyville safe. Don't miss this two-for-none of fun with Mr. Puzzle!
(W) Tyler James, Paul Allor (A) Cesar Feliciano, Various (CA) Joe Mulvey
Who are The Red Ten? And who wants them dead? Delve deeper into the murder mystery maxi-series that is a superhero retelling of Agatha Christie's classic whodunit "And Then There Were None." Also features Oxymoron: Quiet Riot, where a super-criminal psychopath holds a city hostage in terrifying silence as one cop struggles to stop the madman before her city burns to the ground
MASS EFFECT/KILLJOYS/R.I.P.D.
Jeremy Barlow, Various (A/CA) Garry Brown, Various
Three blockbuster titles fill this FCBD offering! In R.I.P.D., a séance goes terribly wrong! Then, in Mass Effect, follow a flight-school grad as he breaks the rules to prove himself in space! Finally, check out the police-state landscape of the highly anticipated miniseries The True Lives of the Fabulous Killjoys!
This super sampler is the perfect place to check out two sensational series from the DC Kids line, Beware The Batman and Teen Titans Go!, based on Warner Bros. Animation's new animated series coming soon to Cartoon Network's DC Nation Saturday morning programming block. It includes two exciting, all-new stories that readers of all ages will enjoy!
D.E./DYNAMITE ENTERTAINMENT
(W) Matthew Sturges (A) Jean-Paul Deshong (CA) Stephanie Hanseremy
The Little Mermaid has been captured by a cruel wizard, who intends to keep her locked away forever! But help comes in the form of a valiant one-legged tin soldier whose heart is far bigger than he is. Can the Little Mermaid escape her vicious captor with nothing but a talking toy to guide her? Find out in this fairy tale for all ages written by Matthew Sturges (Jack of Fables, Doctor Who)!
(W) David Greenwalt, Jim Kouf (A) Jose Malaga
Discover the characters, creatures and inspiration behind the storyline of NBC's hit-series, Grimm! From the producers of Buffy the Vampire Slayer and Angel,Grimm features Portland homicide detective Nick Buckhardt, as he discovers he's descended from a long line of "Grimms," who are charged with keeping balance between humanity and the creatures of myth. With newly awoken abilities to detect the evil lurking among us, Nick struggles to keep his old life separate and safe as he becomes ever more entrenched in the ancient rivalries of the Grimm world.
(W/A/CA) Gilbert Hernandez
From legendary alternative cartoonist Gilbert Hernandez of Love & Rockets fame, Marble Season is a semi-autobiographical epic about a group of kids growing up in the 1960s seen through the eyes of a young boy. Comics and popular culture of the day will dominate the proceedings and tell the untold story of one of the medium's greatest and most respected artists. This FCBD has no nudity and no swearing and it will serve as a great preview for the upcoming book of the same name.
PIPPI LONGSTOCKING COLOR SPECIAL
(W) Astrid Lindgren (A/CA) Ingrid Vang Nyman
The Pippi Longstocking Color Special offers a sneak peak at the brand new Pippi Longstocking title that D+Q will publish in May 2013. Pippi Longstocking was created by Astrid Lindgren and has developed a dedicated fan base of both children and adults for over six decades. The comics presented here were originally published in Swedish in the 1950s and are now being presented for the first time ever in English.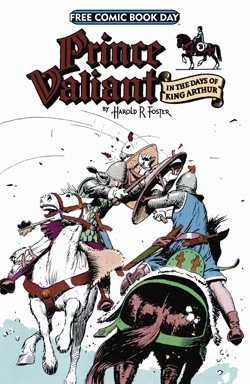 HAL FOSTER'S PRINCE VALIANT
This full-color comic collects two Prince Valiant stories from Hal Foster's 1950 peak: "Home Again," in which Val, Aleta, and newborn baby Prince Arn enjoy an eventful ocean journey back to Thule; and "The Challenge," in which another knight's unwelcome advances on Aleta result in a classic duel with Valiant!
OVERSTREET COMIC BOOK MARKETPLACE


(W) Robert M. Overstreet, J. C. Vaughn (CA) John K. Snyder III
Movies like Christopher Nolan's Dark Knight trilogy, Joss Whedon's Avengers film, and many more, couldn't have happened without the comic book adventures that spawned them! This issue of Comic Book Marketplace takes a detailed look at the comics that spawned these movies, along with tips on collecting movie posters. Plus: CBM puts the origins of Free Comic Book Day under the spotlight as well.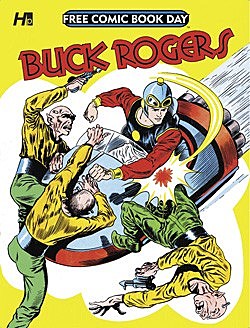 BUCK ROGERS IN THE 25TH CENTURY


Buck Rogers, the original sci-fi hero, is supporting FCBD with a special reprint of two complete Sunday stories - "The Mind of Minds" and "Wilma to the Rescue" - by fabled artist Rick Yager, who defined the look of the character for over twenty years! These stories have been digitally reconstructed to perfection and look better than the original newspaper Sundays! All this, plus bonus materials and tons of surprises!
(W) Rob M. Worley (A) Jason T. Kruse (CA) Armand Villavert
Scratch9, the world's greatest superhero cat, returns for Free Comic Book Day with a special reprint of issue #1, featuring all-new cover art by Armand Villavert, Jr.! Scratch9 is the Eisner Award-nominated all-ages comic book featuring a cat with the ability to summon any of his 9 lives to aid him in his adventures! Hermes Press' Scratch9 FCBD issue will also offer bonus material and tons of surprises!
(W) John Howard, Joe Collins (A/CA) Brian Bolland
In advance of IDW's coming ongoing series re-presenting the best Judge Dredd stories from the past with all-new coloring, this special FCBD release offers one of the most beloved Dredd stories of all time: the introduction of Judge Death, with all-new color! Plus: bonus "Walter the Wobot" strips appearing in color for the very first time, all beautifully illustrated by the brilliant Brian Bolland!
STAN LEE'S CHAKRA THE INVINCIBLE


(W) Stan Lee (A) Graphic India (CA) Jeevan Kang
From the mind of legendary creator Stan Lee comes his newest superhero, Chakra The Invincible! Chakra tells the story of young Indian teenager, Raju Rai, a technology genius living in Mumbai. Determined to use science to unlock the secrets of human potential, Raju develops a technological suit that activates the mystical Chakras of the body, unleashing newfound abilities and powers!
(W) Ron Marz (A) Jim Starlin, Michael Avon Oeming, Luke Ross, Bart Sears, David Peterson (CA) Michael Avon Oeming
Set in a time 2000 years in the future, against a backdrop of one of the most immortal mythological tales of all time, Ramayan Reloaded re-imagines one of the most epic tales in history, and this special origins issue provides all the information on the many characters and settings of the series. Collecting short stories written by Ron Marz and illustrated by leading talents such as Michael Avon Oeming, Luke Ross, Bart Sears, Jim Starlin and David Peterson.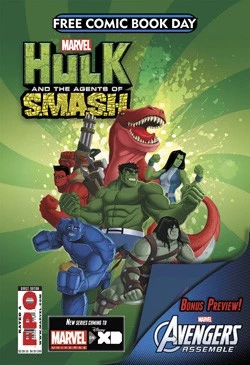 AVENGERS ASSEMBLE/HULK AND THE AGENTS OF S.M.A.S.H. #1


It's out action featuring the newest stars to be of Disney XD: Avengers and the Hulk and the Agents of S.M.A.S.H.! Featuring art pulled directly from the animated series, this sneak peek at the two newest animated series from the geniuses at Marvel Animation promises to make this the biggest Free* Comic Book Day Ever!
*Are we really giving this away?! YES!
(W) Jeff McClelland (A) Pietro, Duane Redhead (CA) Duane Redhead
In the all-new, full-length Tick story, "A Day at the Beach," things start out innocently enough for The Tick, Arthur, Bumbling Bee and their friends - until The Tick encounters an invasion force from under the sea! Perfect for new and old readers alike, this FCBD special also includes exciting backup features!
RATED "FREE" FOR EVERYONE STARRING MERMIN & CROGAN'S ADVENTURE


(W) Chris Schweizer, Joey Weiser (A) Joey Weiser, Chris Schweizer
Oni Press: Rated Free for Everyone returns for 2013! Featuring two stories by two incredibly talented creators! In Joey Weiser's Mermin Adventure, Mermin goes with Pete and his human classmates to the Zoo. And in Chris Schweizer's Crogan's Adventure, you'll get an epilogue to the story of one of the brothers from Crogan's Loyalty.
(W) Chris Roberson (A/CA) Scott Kowalchuck
"The last thing you want to see is my hands." They're called The Strangers. They're deadly. Dangerous. And you'll never see them unless they want you to. But now they've come up against something big - U.S. government big; a cover-up of international proportions. And at the center of it all is The Strangers' deadliest foe, a man known only as "Capricorn"; a man who knows The Strangers.... sees them.
(W/A) Disney Accademia, JayJay Jackson (CA) Disney Accademia
Papercutz presents Disney Fairies featuring Tinker Bell, along with comics from the new hit series, Stardoll! There's only one fairy in Pixie Hollow who can't fly - Water-Talent Fairy, Rani. Why doesn't Rani have wings? Was she always this way? Find out in "Tinker Bell and the Wings of Rani!"
2000 AD FCBD 2013 SPECIAL
(W) John Wagner, Various (A) Henry Flint, Various (CA) Henry Flint
In this bumper 48-page FCBD special, "The Jimps Club" is a brand new Judge Dredd story about a club of Judge impersonators competing against each other to see who can last the longest on the harsh streets of the 'Big Meg'. Plus: Zombo returns in the all-new "Planetronix: Mohawk of Menace!" The Visible Man, Indigo Prime, and alien delinquents D.R. & Quinch!
(W) Brian Clevinger (A/CA) Scott Wegener
Unanimously heralded by fans, creators, retailers and critics as the perfect first comic to give to a non-comic-reader! It's a robotic experiment gone wrong, and only Atomic Robo's brand of violent science can save the day! We've got lasers, explosions, and robots... it's like the transforming-robot movies, but comprehensible! Plus, previews of 2013 adventures of Red 5 favorites and new faces!
FINDING GOSSAMYR / STUFF OF LEGEND
(W) David Rodriguez, Various (A) Sarah Ellerton, Charles Paul Wilson (CA) Charles Paul Wilson, Sarah Ellerton
Return to the fantastic world of Gossamyr as Th3rd World's critically acclaimed, all-ages series continues in an brand new, original, adventure just for Free Comic Book Day! The Lorelarks are tasked with chronicling the tales of Gossamyr. But when a young novice feels that the growing legends of Jenna and her brother Denny might become a danger to the siblings, she is moved to action and challenges the code of her order! Plus: The New York Times best-selling The Stuff of Legend continues!
(W/A) Andy Runton, James Kochalka, Christian Slade, Ray Friesen, Jess Smart Smiley, Rob Harrell
Top Shelf celebrates Free Comic Book Day 2013 with friends old and new with the latest lineup of the Top Shelf Kids Club! This comic contains not one, but SIX all-new stories: Owly by Andy Runton, Johnny Boo by James Kochalka, Korgi by Christian Slade, Pirate Penguin vs. Ninja Chicken by Ray Friesen, and Upside Down by Jess Smart Smiley! Plus: The debut of Monster on the Hill by Rob Harrell, who also contributes this year's cover!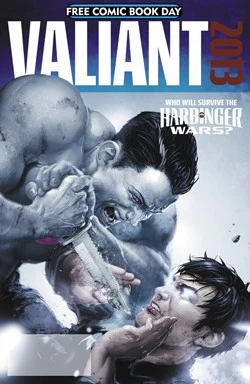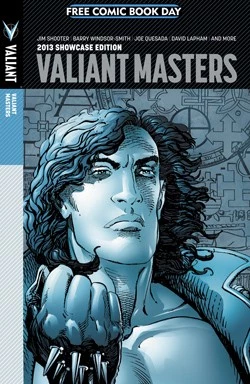 HARBINGER WARS FCBD 2013 SPECIAL
(W) Joshua D.M. Dysart, Various (A) Clayton Henry, Various (CA) Clayton Crain
Everything you need to know about the Valiant Universe in 2013 happens right here this Free Comic Book Day! The critically acclaimed, best-selling comics launch of the decade throws it into high gear with Harbinger Wars, Valiant's first-ever family crossover! The blistering conflict between Bloodshot and Harbinger will crack the Valiant Universe in half and reveal the true cost of power. Plus: X-O Manowar, Archer & Armstrong, and Shadowman!
VALIANT MASTERS SHOWCASE FCBD 2013 EDITION
(W) Jim Shooter, Various (A) Joe Quesada, Various (CA) Barry Windsor Smith
Dive deep into the greatest stories of the original Valiant Universe - re-mastered and collected together for the first time anywhere! Re-live the best-selling adventures of Valiant's definitive heroes Ninjak, Shadowman, the Eternal Warrior, and more - in this special FCBD-only edition previewing the next year's worth of Valiant Masters hardcover collections!
KELLERMAN / L'AMOUR FCBD 2013 SAMPLER
(W) Jonathan Kellerman, Louis L'Amour, Various (A) Tom Yeates, Michael Gaydos
Kellerman / L'Amour features thrilling excerpts from two of Villard Books' stalwart authors; Jonathan Kellerman and Louis L'Amour. Kellerman's The Web is the second graphic novel adaptation that brings new life to a classic Alex Delaware psychological thriller. Louie L'Amour's Law of the Desert Born is a classic Western - and an all-new L'Amour story told in a style like no other! This FCBD sampler will feature a 14-page excerpt from each graphic novel, both scheduled to be published in Fall 2013.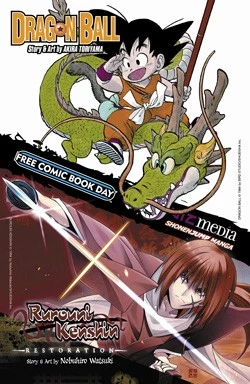 SHONEN JUMP PRESENTS: DRAGON BALL/RUROUNI KENSHIN RESTORATION
(W) Akira Toriyama (A) Nobuhiro Watsuki, Nobuhiro Watsuki
Dragon Ball, a wry update on the Chinese "Monkey King" myth, that follows Son Goku, a monkey-tailed boy who, along with a determined young girl named Bulma, to collect the seven "Dragon Balls" amd earn a wish from a powerful dragon! Also: Following the end of years of civil war, a feared and ruthless assassin decides to take up a new name and calling in the samurai classic, Rurouni Kenshin!