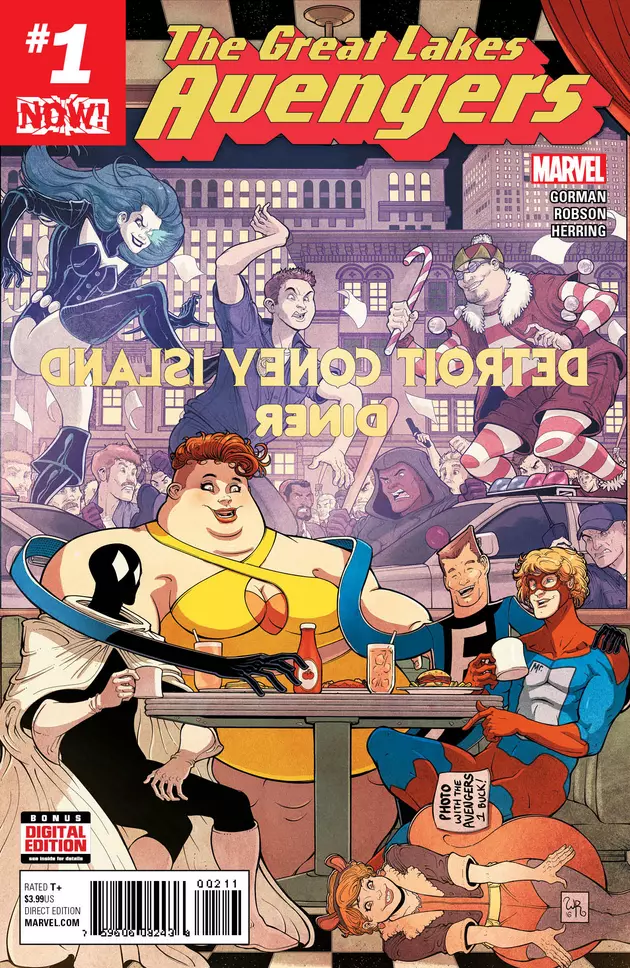 Flatman Has A Good Day in 'Great Lakes Avengers' #1 [Preview]
Cover by Will Robson
Flatman, Big Bertha, Doorman, and Mr. Immortal are back in the game in the new Great Lakes Avengers #1 from writer Zac Gorman and artist Will Robson. Of those characters (the only GLA members who are still alive and haven't become massive solo stars), only Flatman appears in the preview, in which he finds out that a legal loophole has enabled the Great Lakes team to become a fully-franchised part of the Avengers.
While it doesn't come up in the actual preview, the covers and much of the press has made much of the team's move from Milwaukee to Detroit. Given the problems Detroit is having, it's maybe not a great look to talk about this mostly white team "cleaning up the mean streets" in the synopsis. But Gorman, a Detroit native, has said in interviews that he's interested in dealing with Detroit's real-world issues in this comic, so it'll be interesting to see how that goes.
Here's the official word from Marvel:
Because the Midwest needs Avenging too! Today, Marvel is pleased to present your first look inside GREAT LAKES AVENGERS #1 – a brand-new series launching as part of Marvel NOW!. Marvel newcomers Zac Gorman (Rick & Morty) and Will Robson (Star-Lord) look to put their stamp on the House of Ideas this October with a new series starring the world's least favorite super team! But when the GLA gets reinstated as permanent members of the Avengers, it's time for them to turn it all around and restore themselves to their former super hero glory. Their mission? Cleaning up the mean streets of Detroit! That's right – Mr. Immortal, Flatman, Doorman, Big Bertha and newcomer Good Boy are leading the charge to make Detroit a better place. But can they answer the call? Or will the Motor City prove too much for the GLA? Find out next month when GREAT LAKES AVENGERS #1 comes to comic shops and digital devices on October 12th!