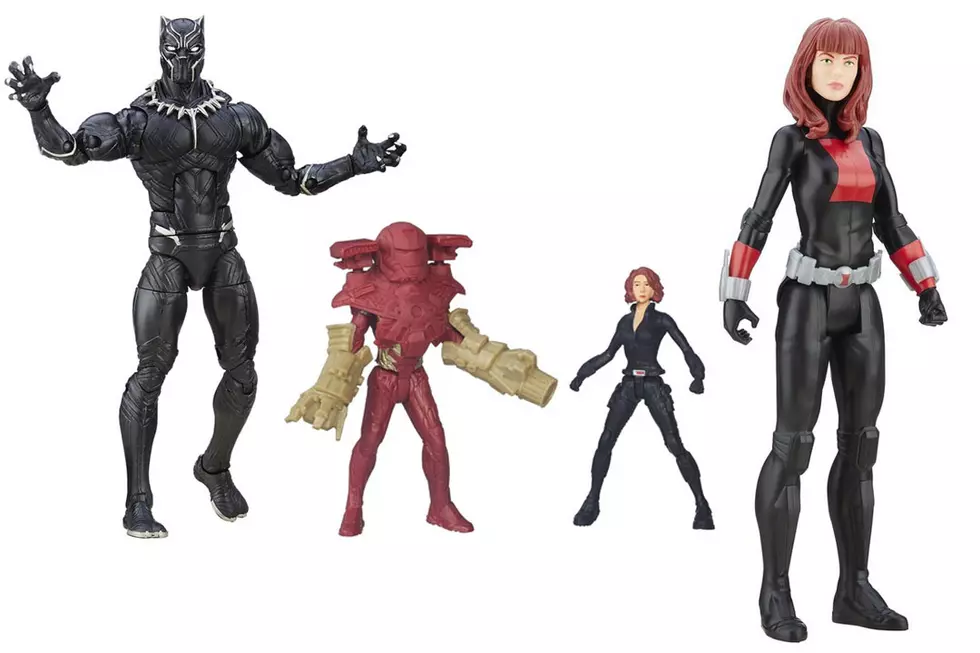 Black Widow Makes Her Presence Known in Hasbro's Captain America: Civil War Figure Line
Hasbro
With the arrival of Captain America: Civil War comes a new wave of tie-in action figures, and Hasbro is making clear its looking to make right with all the Black Widow fans. While there were a few figures of the Soviet spy released in conjunction with Avengers: Age of Ultron, Black Widow was in high demand and short supply. Though we've yet to see just what Hasbro's full range of plans for Civil War include, the first sampling revealed ahead of Toy Fair offers a glimpse at a world where Black Widow is no longer lingering in the shadows.
More than a dozen new figures were revealed by Hasbro today (via IGN), including the first ever Black Widow Titan Hero figure. The 12" figure line has predominantly been filled with male characters across Hasbro's Avengers, Spider-Man and Star Wars collections. You can technically count Captain Phasma as the first female character to make that leap, but given her lack of defining features, the upcoming Rey 12" unveiled at NYCC last fall (and due this spring) is the one opening new opportunities for Marvel's scarlet-haired secret agent. Given that both have been the center of their own social media campaigns advocating for more female figures, that seems appropriate.
Black Widow will also get a new figure in the 2.5" Miniverse series, where she'll be packed with Iron Man. The Miniverse series will feature two characters each, with one getting some add-on armor and weapons, and the other being rather basic. I'm not a gigantic fan of the line as it's not one I typically collect myself, but the new figures do look like an improvement over the Guardians of the Galaxy and Age of Ultron Miniverse sets. For the most part the pairings in these packs seem to align with the sides each of these characters will choose in the film, though trailers make it seem like Black Widow is on Iron Man's side, making her pairing a bit curious.
Though the full line-up for both of the Marvel Legends series (3.75" and 6") hasn't been revealed just yet, the new additions are promising. Black Panther hasn't had a figure in the 6" Legends series since 2013, and his new movie costume looks rather nice in figure form. Captain America and Iron Man being included was a given, though I'm curious what the other characters will be (at least four more figures should be in there) and who we can expect as the build-a-figure. The 3.75" Legends have only just started rolling out under the new branding (previously they were branded as Marvel Universe), but it won't be long until the line adds its first actual vehicle that isn't a flying ant. Like the larger Legends line, it remains to be seen just how big the roster will be and who will be included, but at least we know there's finally a movie Falcon figure on the way.
More details on Hasbro's Marvel plans should be divulged in just a few weeks at Toy Fair, but these first reveals do show some promise. Of course, if this is all the Black Widow there is to see, we'll be right back where we were a year ago. Guess we'll find out in February. Cross your fingers.
Brush Up on Your Civil War Knowledge With These Videos