KITTY GAIDEN: What If Hello Kitty Starred In 'Ninja Gaiden' For The NES?

A few weeks ago, we found out from Kotaku that Capcom and Sanrio were going to team up for a line of Hello Kitty/Street Fighter merchandise, and I for one haven't been able to stop thinking about it since. Sure, the partnership doesn't actually extend to video games, but what if it did?
The possibility is so intriguing that we here at ComicsAlliance started wondering what would've happened if video game companies would've hooked up Sanrio sooner and dropped Hello Kitty into other memorable franchises, like the 1989 NES epic of swords, shuriken and hilariously melodramatic cutscenes, Ninja Gaiden. It's just how our minds work.
That's what we've done today with our reimagining of an NES classic: Kitty Gaiden.If you're not familiar with the game already -- and we pity you if that's the case -- you might want to follow along through the miraculous power of the Internet.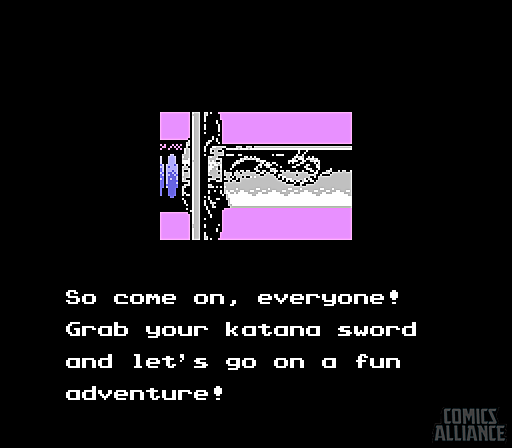 Here's a version from an earlier draft, which subs Kitty into the most hilarious sexist of Ninja Gaiden cutscenes. While we ultimately went with Kitty as Ryu, I felt this was too good to be omitted: