'Hellraiser' Comic By Clive Barker Now Available Only as a Free PDF [Preview]
On sale this week is the first issue of BOOM! Studios' Hellraiser series. Auspiciously, the new ongoing title is written by Hellraiser creator Clive Barker. To promote the new release, the always digitally-aggressive BOOM! has commissioned an eight-page Hellraiser comic that fans can download and share freely in the form of a PDF, which has been deployed to a number of comic book and horror media sites. The special Prelude to Hellraiser #1 is also written by Barker and features art by Leonardo Marco, and is an original, self-contained story and not merely a preview of Hellraiser #1.
ComicsAlliance has that free Clive Barker comic for you, as well as a five-page preview of Hellraiser #1, both of which you can check out after the cut.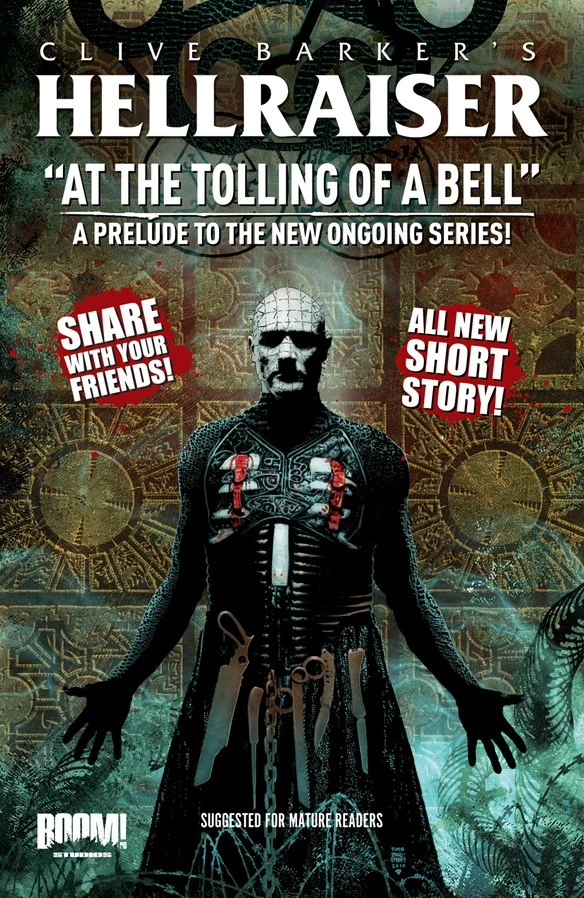 Prelude to Hellraiser #1 is an all-original, self-contained comic that will not be made commercially available outside of an eventual trade paperback collection. To read Clive Barker and Leonardo Marco's story, simply click here to download the free PDF from our friends at Things From Another World. There is no app to download, no registration to complete. Just download and read with your PDF viewer of choice. From there, BOOM! invites you to, as the song goes, view it, mail it, burn it, rip it, drag-and-drop it, scroll it, click it, rename it, format it, change it, paste it, save it, print it and otherwise share it as you see fit.
"This is an unprecedented chance to spread the word of comic books," said BOOM! Founder and Chief Executive Officer Ross Richie, "with one of the biggest authors and with one of his signature creations. Non-comic book fans, lapsed comic book fans, and horror aficionados who don't go into comic book stores will all be excited and interested in this. And we are calling on the fans to get the word out to them. Send this via Facebook, Twitter, torrents, and e-mails to everyone in your life that you think would dig this, and let's increase the overall pool of people worldwide who read comic books! I can't think of an easier way to share this great comic. They don't call it Portable Document File for nothing!"
Previous to the new Hellraiser series from BOOM!, Clive Barker had only written the franchise's characters twice before: in The Hellbound Heart novella and the original Hellraiser film. As such, BOOM! is very keen on making fans of Barker and horror stories, which is why the publisher has taken this characteristically bold digital step. Previous digital comics initiatives included making its entire catalogue available across multiple platforms for just $1.99 per issue and releasing entire comics for free via MySpace, among other strategies.
If you like what you see in Prelude to Hellraiser #1, there's a completely new story on sale now in Hellraiser #1, a five-page preview of which you can check out below.