Holiday Gift Guide: Deluxe Edition Comics, Omnibusses and Art Books
If you're like me, you wait until the last minute to do things (like this post) and you're a fetishist for expensive hardcover books that are available only in absurdly limited numbers and packaged in exquisite slipcases and loaded with supplemental material and artwork. With the gift-giving season rapidly winding down, people like us are looking for those last-minute gifts that are so expensive and so impressively large that they could never actually seem like you totally forgot to get your shopping (or blogging) done in a timely and responsible manner. The best sort of gift along those lines is of course the deluxe edition comic or art book, and I've put together a list of some great ones that you can still find at your local comics stores and online booksellers before the clock runs out on the season.


DC Comics / Vertigo Absolute Editions
Price: Usually $99 per book
Available from: Your local comics shop, bookstores
A perennial holiday favorite: comic book perennials! Few comic book packages match the luxury of DC's famous Absolute Editions, which reprint beloved stories in a pristine, oversized format with thick, heavy paper and a handsome slipcase. The holidays is the best time to buy these books for your friends and loved ones or put them on your own wish lists, as most booksellers will offer the high-priced volumes (usually $99 per book) at a seasonal discount. The selection is far beyond what's reflected in the images above, of course.

Marvel Comics Omnibuses
Price: Varies
Available from: Your local comics shop, bookstores
There's no better way to read the most essential Marvel comics titles than in the publisher's high quality omnibus editions, reprinting a vast variety of stories from the Silver Age to the present. The majority of Ed Brubaker's lauded and bestselling Captain America run is available in this oversized hardcover format, as is Walt Simonson's legendary work on Thor. But in addition to those high profile books, Marvel also reprints fan-favorite titles like The Immortal Iron Fist and X-Statix in this extremely cool way. Marvel's vast collection of omnibus volumes are the best way to introduce someone to a series or character they've never read before, so check out what's available.

IDW Publishing's Artist Editions
Price: $100-$150
Available from: Your local comics shop, the IDW Store
When it comes to prestige, nothing beats the astonishing Artist's Edition series from IDW Publishing. Each contains a complete story, and are made from high resolution scans of the artist's original artwork and printed at the same size as drawn. Available now are books by David Mazzuchelli, Sergio Aragonés, Joe Kubert, Wally Wood and Gil Kane.

Hellboy Library Editions by Mike Mignola and others
Price: $49.95
Available from: Your local comics shop, the Dark Horse/TFAW store, bookstores
Take it from me, you haven't read Hellboy until you've read it in the Library edition format. The cloth hardcover invokes the feeling some kind of ancient tome, and the crisp, oversized pages bring Mignola and his collaborators' always brilliant work to life in a way single issues and trade paperbacks just can't. Recommended for reading by candlelight in a study full of books and trophies from your adventures.


The Art of Osamu Tezuka: God of Manga by Helen McCarthy
Price: $40.00
Available from: Your local comics shop, bookstores
Already essential for its tremendously comprehensive cataloguing of the prolific work of manga and anime innovator Osamu Tezuka, this book also provides a compelling biography of the man himself. McCarthy tracks the life of Tezuka from beginning to end, detailing how his childhood experiences informed the groundbreaking work he would produce throughout his life. The book is packaged with a 45-minute DVD documentary with additional biographical information, because you will want even more by the time you're finished reading this most excellent guide to a great master.


Scott Pilgrim hardcovers and graphic novel boxset
Price: Varies
Available from: Your local comics shop, the Oni Press store, bookstores
While it seems unlikely that ComicsAlliance readers haven't collected all six volumes of Bryan Lee O'Malley's indie comics opus, we wouldn't want you to forget what a handsome gift Oni Press' boxset makes for any friends and loved ones you'd like to introduce to comics. It's hard to imagine a friendlier welcome to the medium than Scott Pilgrim, especially now that Nathan Fairbairn has been colorizing them in new hardcover volumes -- also available in special "Evil Editions" seen above.


Steve Rude: Artist in Motion
Price: $39.95 / $59.95 (Limited Edition)
Available from: Steve Rude Store
A must-have for fans of ComicsAlliance's Best Art Ever (This Week) feature, Artist in Motion features 200 pages of impossibly gorgeous artwork by the co-creator of Nexus. The book demonstrates Rude's unmatched abilities and exquisite techniques in various media (including animation) and offers more than enough pretty pictures to justify the purchase, but Artist In Motion also comes with extremely personal insights into Rude's life, shedding light on why the artist has found himself at the fringes of the comic book industry.
Parker: The Martini Edition by Darwyn Cooke
Price: $75.00
Available from: Your local comics shop, the IDW store, bookstores
This luxurious 9" x 13", 334-page slipcased hardcover exceeds the size of even DC's mighty Absolute editions, but mimics the gorgeous production techniques of the 1960s, where the story/contents/book is set. Besides Parker: The Outfit and Parker: The Hunter -- two of my all-time favorite graphic novels, I should add -- the Martini Edition comes with a massive assortment of supplementary artwork by Darwyn Cooke and a brand new eight-page story about Richard Stark's legendary score-settler.


The MAD Fold-In Collection: 1964-2010
Price: $125
Available from: Bookstores
Al Jaffee's complete collection of fold-ins is still in print in the form of this lovely four-volume set, which you can find on sale from many booksellers. The beauty of this is of course the fact that you don't have to actually fold your expensive book to see Jaffee's amusing punchlines. Rather, each fold-in is reproduced at its original size on one page, while the opposite page contains the image as it would appear folded.
Walt Disney's Mickey Mouse Collector's Box Set (Vol. 1-2)
Price: $49.99
Available from: Your local comics shop, Fantagraphics store, bookstores
You've read our effusive praise for the incredible cartooning and hilariously grim Mickey Mouse stories of Floyd Gottfredson, and this excellent two-volume set leaves you with few excuses for not reading these classic comics for yourself. Created in 1930, "Race to Death Valley" was hailed by our own Chris Sims as "one of the best comics of all time." It's hard to go wrong with this as a gift for your comics fan friends (or yourself), as it's a superlative example of the form from one of its greatest masters.


The Milo Manara Libraries from Dark Horse
Price: $59.99
Available from: Your local comics shops, the Dark Horse/TFAW store, bookstores
As far as I'm concerned, Tumblr proved its worth by providing fans of Italian master Milo Manara with an outlet to share images from his many beautiful works, precisely none of which I had read until last year. These new volumes from Dark Horse, collecting some of Manara's most famous work like Indian Summer as well as his erotica comics, are definitely on my wish list and would make a fantastic gift for anyone who's a fan of excellent comic book artwork from abroad. For more on this set, check out this very special episode of Let's Be Friends Again starring CA's David Brothers and David Uzumeri.
The Love and Rockets Collection by Los Bros Hernandez
Price: ~$15.00 per book
Available from: Your local comics store, Fantagraphics store, bookstores
This indie comics mainstay has been going for nearly 30 years, making Love and Rockets as intimidating to some new readers as even the densest superhero mythologies. Luckily, Fantagraphics has made the Los Bros Hernandez saga about a massive cast of startlingly lifelike characters digestible in the form of affordable reprint volumes published in chronological order. I can tell you from personal experience that even one of these books makes a fantastic present, but to give the gift of the complete Love and Rockets is to provide your friend or loved one with a reading experience richer than virtually any other. For help with the reading order, check out Fantagraphics' convenient guide.


The Art of Jaime Hernandez
Price: $40.00
Available from: Your local comics shop, bookstores
But what do you get for the seasoned Love and Rockets reader? Abrams Comics Art's The Art of Jaime Hernandez is a fantastic gift. Often available for far less than the list price, this book details for art lovers just how Hernandez created the images and stories that have enthralled readers and his fellow cartoonists for 30 years.
DC Comics Art Books
Price: Varies
Available from: Your local comics shop, bookstores
Jim Lee, Alex Ross, Brian Bolland, Adam Hughes, James Jean, JG Jones and Dave McKean are among the artists whose DC Comics/Vertigo catalogues have proven so popular and manifestly lovely that the publisher has seen fit to offer them up in these high quality hardcovers. Each features insightful commentary from the artists alongside unobstructed reproductions of some of their most famous and not-so-famous DC work. These books make great gifts for the superhero or Vertigo reader who wishes to delve much more deeply into the world of illustration.


Art Books from Dynamite Entertainment
Price: Varies
Available from: your local comics shop, Dynamite's store, bookstores
While known primarily for its robust line of licensed series and growing slate of originals, Dynamite Entertainment has quietly been releasing a series of very fine comic book art books. The Art of Vampirella compiles with commentary a huge amount of modern cover art and other illustrations of the cult favorite character; The Art of Howard Chaykin serves as much as a page-turner of a biography as it does a showcase of the legendary creator's innovative work; and the presents an eoeuvre of pulp adventurers and forgotten relics of the Golden Age of comics that will be entirely new to anyone whose Ross appreciation is limited to his DC and Marvel work.
Deluxe Edition Comics by Ed Brubaker and Sean Phillips
Price: Varies
Available from: your local comics shop, bookstores
Arguably among mainstream comics' most acclaimed duos, Ed Brubaker and Sean Phillips have collaborated on hit after hit including Sleeper, Criminal, Incognito, Fatale and, back in print for the first time since (I think) the 1990s, Scene of the Crime (with Michael Lark). Helpfully, most of their work together has been collected in handsome volumes that make fantastic gifts for the longtime fan or new reader who wishes to get lost in the immersive worlds of these most gifted comic book creators.
The Complete Calvin and Hobbes by Bill Watterson
Price: $175 (hardcover), $100 (softcover)
Available from: Your local comics shop, bookstores
One of the best and most popular newspaper comic strips of all time, Bill Watterson's Calvin and Hobbes is honored in this uncommonly elegant set from Andrews McMeel. Three hardcover books coming in at nearly 1500 pages -- comprising every Calvin and Hobbes strip that was ever syndicated -- makes for a holiday gift that won't be soon forgotten, if only because it will take until next year to finish reading it. Now available in a less expensive paperback edition.
Top Shelf Graphic Novels
Price: Varies
Available from: Your local comics store, the Top Shelf store, bookstores
Just in time for the gift-giving season, Top Shelf has in print deluxe editions of some of its most famous publications available in some very nice packages. Alan Moore and Eddie Campbell's classic From Hell is available in hardcover; the winner of Eisner, Harvey and Ignatz awards, Craig Thompson's Blankets is out in a deluxe hardcover format that makes a great gift; and while the hardcover edition of Jeff Lemire's excellent Essex County saga is out of print, Top Shelf offers a handsome softcover edition that will surely become your loved one's new favorite graphic novel. Be sure to check out the Top Shelf store for more handsome editions of their large catalogue of perennials.


Vertigo Deluxe Editions
Price: Varies
Available from: Your local comics store, bookstores
The many creator-owned series from Vertigo offer a special gift-giving possibility: a complete, finite series from beginning to end. Lauded titles such as 100 Bullets, Preacher, Y: The Last Man and Fables (which is ongoing) are available in this slightly oversized and high quality format, which reprints two or three trade paperbacks' worth of material in each volume.


BONE: 20th Anniversary Full Color One Volume Edition by Jeff Smith
Price: $150
Available from: Your local comics store, bookstores
One of the most deluxe editions of all, this collection of Jeff Smith's legendary indie comics series is the most perfect gift I can imagine. Fully colored and presented in an oversized format, there can be no better way to get lost in the rich fantasy world of Smith's creation, which has won all sorts of awards for cartooning and in multiple countries.


AKIRA by Katsuhiro Otomo
Price: ~$25-$30 per book
Available from: Your local comics store, bookstores
With Warner Bros'. ominous AKIRA adaptation seemingly lost to the painful places of our memory, now is a safe time to invest in Kodansha's essential collection of phonebook-sized reprints of this most beloved manga series. Reading AKIRA will make you a better person.


Chew Omnivore Editions by John Layman and Rob Guillory
Price: $34.99 per book
Available from: Your local comics store, bookstores
These are a couple of items that I would love to receive as gifts. I've yet to taste this much acclaimed Image Comics series about a detective who gets psychic message from the things (or people) he eats. Everyone I know who's read it loves Chew, and what better way to read it than in the Omnivore editions, oversized, collecting two complete storylines and stuffed with bonus material?
The Walking Dead omnibus editions by Robert Kirkman, Tony Moore and Charlie Adlard
Price: $100
Available from: Your local comics store, bookstores
Image's most popular and addictive zombie series The Walking Dead is also available in the deluxe format. These oversized omnibus volumes collect more than 20 issues of survival inside a handsome slipcase. These are limited editions and can be hard to find, but there's really no better gift for the dedicated Walking Dead fan.
The Complete Peanuts Collections by Charles M. Schulz
Price: $28.95 per book, $49.99 per slipcase set
Available from: Your local comics store, Fantagraphics store, bookstores
Charlie Brown and the Peanuts gang are often associated with the holiday season (also with Halloween, and that counts), so there's no better time to give to yourself or your loved ones one or all of Fantagraphics' hardcover collections of Charles Schulz's beloved cartoon strip. Reprinted in chronological order with the highest production values, any one of these books would make an auspicious addition to any bookshelf.
Nausicaä of the Valley of the Wind boxset
Price: $60
Available from: Your local comics shop, bookstores
Studio Ghibli founder Hayao Miyazaki's breathtaking manga offers even more epic story and artwork than his classic animated film, and it's finally available in a beautiful box set from Viz. This collection has been in demand for so long that now that it's finally here, we can be sure it'll go out of print before you can say "Teto." Seriously, you want this.
Jack Kirby Omnibus Editions from DC Comics
Price: Varies
Available from: Your local comics shop, bookstores
If you didn't know, DC Comics has for the last several years been diligently remastering and reprinting virtually all of Jack Kirby's classic work for the company, including a chronological presentation of the lauded Fourth World saga in four volumes. The DC collection of Kirby omnibuses celebrates a particularly equitable period of the artist's comics career, when he worked on more favorable terms with his publisher, resulting in some of the greatest ever superhero and adventure comics ever made.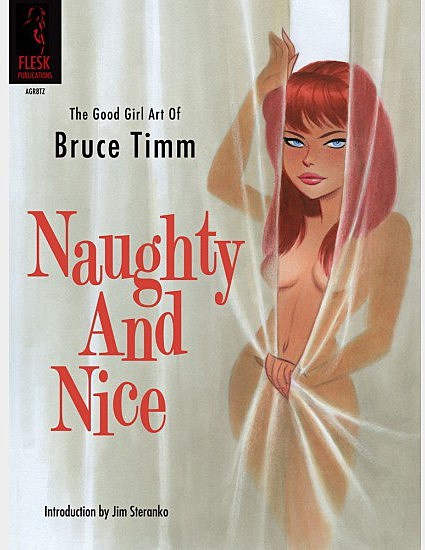 Naughty And Nice: The Good Girl Art of Bruce Timm
Price: $50
Available from: Flesk Publications
Best known to comics readers for his hugely influential work on Batman: The Animated Series, Superman: The Animated Series, Justice League Unlimited and as the co-creator of Harley Quinn, Bruce Timm is popular among art collectors and aficionados for his pin-up artwork. Practicing in the sultry "good girl" style, Timm's animation-influenced work is at once sexy and sophisticated, and stands alongside the greats like Dave Stevens. This book from Flesk collects illustrations, drawings and sketches spanning 15 years.


Art Books from Brand Studio Press
Price: Varies
Available from: Brand Studio Press
Phil Noto, Humberto Ramos, Bill Pressing, J. Scott Campbell, Terry Dodson, Shane Glines, Mark Brooks, Frank Cho, Pascal Campion, Brandon Peterson, Robert Valley, Darwyn Cooke and Arthur Adams are just some of the artists who've produced art books through Alberto Ruiz's Brand Studio Press. Anyone who enjoys our Best Art Ever (This Week) feature owes it to themselves to inspect the Brand Studio collection, where you'll likely find several potential gifts for your aesthetically-minded friends.


Art Books from Essential Sequential
Price: Varies
Available from: Essential Sequential
Tim Sale, Eric Canete, Paolo Rivera, Andrew Robinson, Dan Panosian and Mindy Lee are among the artists who've produced art books through Essential Sequential, the outfit which also represents and sells artwork and wares from Mark Chiarello, Dave Johnson, and Matteo Scalera, among others. Anyone who enjoys our Best Art Ever (This Week) feature owes it to themselves to inspect the Essential Sequential collection, where you'll likely find several potential gifts for your aesthetically-minded friends.
The Adventures of Tintin: Collector's Gift Set
Price: $150
Available from: Your local comics shop, bookstores
Hergé's classic adventure series is all translated and collected together in this lovely box whose official product name defies you not to buy it as a gift for your sequential art-loving loved ones. And hey, Tintin's no longer racist, so no problem!
Moebius and Jodorowsky collections from Humanoids
Price: Varies
Available from: Your local comics shop, bookstores
As is the way of things, the recent death of the great French comics master Jean Giraud aka Moebius has ignited an interest in his classic work. Humanoids currently offers three of his collaborations with writer and avant garde filmmaker Alejandro Jodorowsky, including The Incal, one of my all-time favorite comic book works whose influence can be recognized in seemingly every metaphysical sci-fi story created ever since. But if you prefer religious insanity, Madwoman of the Sacred Heart offers a story I promise you've never read any version of before, while The Eyes of the Cat puts forth the what may be the most gorgeously illustrated "silent" comics story of all time.
Powers: The Definitive Hardcovers by Brian Michael Bendis and Michael Avon Oeming
Price: $34.99
Available from: Your local comics shop, bookstores
I confess I've not yet read the vast majority of the Marvel Comics work for which writer Brian Michael Bendis has become so popular, but I have read Powers, his long-running neon-noir superhero crime series with Michael Avon Oeming. The book begins with the simple enough hook of two cops tasked with solving crimes related to superpowered perps and evolves over the years into an epic that reaches all the way back to the beginnings of the world before springing back to dark little tales about people and the dangerous decisions they make. The book is an always addictive, frequently funny and occasionally sublime expression of both creators' storytelling styles, and one that I recommend for fans and non-fans of Bendis' Marvel work. There isn't a better way to read it than in these high quality and fairly inexpensive hardcover editions.


The Hole of Tank Girl by Alan Martin and Jamie Howlett
Price: $99.99
Available from: Your local comics shop, bookstores
Hm, there seems to be a misprint in the title. Surely it's meant to be "The Whole of Tank Girl." I mean, otherwise that would be very rude indeed. Anyway, this is a fabulous collection of remastered Tank Girl material drawn by Jamie Howlett, better known these days for his graphic contribution to Gorillaz.
Madman 20th Anniversary Monster by Michael Allred and various
Price: $100
Available from: Your local comics shop, bookstores
In 20 years of reading Madman comics, this is by far my favorite as well as a compelling buy for fans of illustration and oversized books. This volume, just a bit smaller than DC's truly massive Wednesday Comics, contains several short stories and one-page strips by creators including Allred, Peter Bagge, Kyle Baker, Darwyn Cooke, Los Bros Hernandez, David Mack, Paul Pope, Eric Powell and Frank Quitely, and what must be the most auspicious pin-up gallery of all time: Arthur Adams, Sergio Aragonés, Chris Bachalo, Brian Bolland, Tim Bradstreet, John Byrne, John Cassaday, Frank Cho, Daniel Clowes, Frank Frazetta, Geof Darrow, Dave Gibbons, Matt Groening, Adam Hughes, Michael Wm. Kaluta, Dave Johnson, Jack Kirby, Todd McFarlane, Mike Mignola, Frank Miller, Moebius, Kevin Nowlan,, Paul Rivoche, Steve Rude, Dave Sim, Bruce Timm, Charles Vess and Chris Ware -- just to name a few.



Fear Agent Library Edition Volume 1 by Rick Remender, Tony Moore and Jerome Opeña
Price: $49.99
Available from: Your local comics shop, the Dark Horse/TFAW shop, bookstores
This is an item from my actual wishlist, a massive and particularly lovely looking edition of Fear Agent, the highly regarded sci-fi/action/adventure series created by Rick Remender, Tony Moore and Jerome Opeña years before they were Marvel Comics headliners. This volume collects fifteen issues of the series along with supplemental shorts, pin-ups and behind-the-scenes material, and I can't wait to read it.


The Art of Betty and Veronica
Price: $29.99
Available from: Your local comics shop, the Archie Comics store, bookstores
This competitively priced and affectionately designed hardcover charts the aesthetic journey of two of comics most popular heroines, Betty Cooper and Veronica Lodge, through pages of pin-ups, comics and fashion features by classic creators including Dan DeCarlo all the way through modern day master Dan Parent. The book was overseen by Craig Yoe, whose work on archival comics material and essays and art books like Secret Identity: The Fetish Art of Superman's Co-Creator Joe Shuster, have made his name a seal of true quality.

Amanda Conner Art Books
Price: Varies
Available from: Your local comics shop, bookstores
Amanda Conner is one of my favorite superhero artists at the moment. Her incredibly successful synthesis of pin-up cheesecake, humor and proper action comics is a style to which so many DC and Marvel artists aspire but most have never truly achieved. Conner's mastery of the form (particularly the female one) has necessitated not one but two art books. Published by Desperado and IDW, The Art of Amanda Conner includes a huge amount of artwork and photographs from Conner's career going back to when she was a student. Obviously The DC Comics Art of Amanda Conner spotlights her great body of work for that publisher along with commentary, sketches and more.