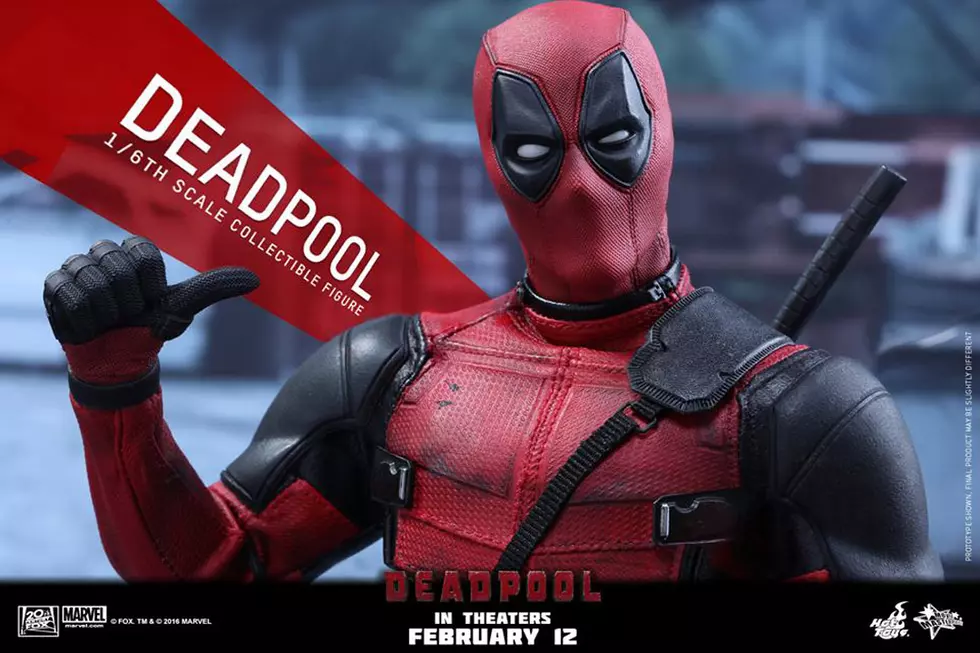 Hope You've Been Saving All Your Milk Money for Hot Toys' Deadpool Figure
Hot Toys
Oh, you didn't think Hot Toys was going to let the Merc with a Mouth get his own movie and not get a highly-articulated sixth-scale figure to go along with it, did you? I mean, it's not like anyone actually likes Deadpool and is anticipating this movie with any kind of fervor at all. Then again, Ant-Man got a number of figures from Hot Toys, and Deadpool is easily as mildly popular as that guy who shrinks his size.
Plus, Deadpool's movie won't be held back by The Man, and will get the R-rating all those kids who love the squiggly wingdings Marvel's letterers use to signify Wade Wilson's propensity for profanity have dreamed about since they read their first Deadpool stories. You know, only without the squiggly wingdings.
This isn't the first time Deadpool is getting the sixth-scale treatment (Sideshow released one late last year), but this is the first licensed movie version of the character. Yeah, his appearance in that movie that shall not be named ever again wasn't all that spectacular, but considering just how popular the Deadpool and Ryan Reynolds combo is, it's a wonder that awful, awful version didn't somehow find a way to get a figure from Hot Toys.
It certainly wouldn't have been the worst figure the company ever made, but it would have been damn close. Probably still would have sold a lot though because Deadpool fans sure do love their Deadpool. Fortunately, that didn't happen, and now we have this actual good Deadpool. Now we just have to hope the movie lives up to the quality of its production design.
The suit looks great, and has some terrific weathering to give it that "I've been shot a million times but I keep on coming back for more because I can't die" look. As with any skin-tight costume, I'm a little concerned about the actual poseability of the figure. While it looks like there's a fairly decent range of motion in these prototype shots, these aren't always indicative of how flexible Hot Toys' figures actually end up. That's been particularly true in the groin area (yeah, yeah) where the lack of range due to tightness in the fabric has cost characters like Black Widow and Captain America the ability to do much more than stand straight up.
The six different sets of hands will certainly help convey some of that Deadpool spirit without him having the actual ability to talk. The emotional range will be aided further by five sets of eyes you can arrange in any way you see fit. Hot Toys has included different eyes and jaws for characters before, but I've never seen them do that with the exterior of a full-faced mask. I'm actually curious how these eyes are going to fit and stay in there, but that the company is considering something like this for Deadpool makes me wonder if we might see something like this for the eventual new Spider-Man, whenever that figure arrives in a few years. Unless he's getting one for Captain America: Civil War, which would be pretty cool.
Deadpool's got the standard weapon fare, but I'm not entirely convinced this figure is that much better than the one Sideshow Collectibles put out in 2015. I guess it really depends on which costuming style you like best, and just how many guns you want.
There's no release date or pricing info as of yet, but we'll update this when Sideshow has the pertinent details.
Get More Deadpool Knowledge With These Helpful Videos