IDW Limited Releases New 'Transformers: The Last Stand Of The Wreckers' Editions [Preview] For all the comics I've bought, borrowed from the library and otherwise read over the years, I don't have an enviable amount of experience when it comes to owning prestige format collections. These days I'm a mostly digital dude due to storage constraints, although I admit that every time I hit up a comic shop or a friend's personal collection, I start to seethe with envy when I pore over huge hardcovers. So when IDW hit me up about taking a look at an early production copy of its IDW Limited Blue Label Edition of Transformers: Last Stand of the Wreckers hardcover, I was curious to see what a more collector-focused package would offer.
The production copy I was sent is an approximation of the final release, with a few key differences from the retail version (the lithographs shown aren't the final product, but rather printed representations). This promotional copy still gave me plenty of insight into just what hardcore collectors hold in their hands when they order through IDW Limited, however.
Originally released in 2010, Last Stand of the Wreckers is a five-issue miniseries by co-written and co-illustrated by Nick Roche, co-writer James Roberts, co-artist Guido Guidi, colorists Josh Burcham and Joana Lafuente, incentive cover artist Trevor Hutchison and others. It tells the story of the titular Autobot special ops crew known as The Wreckers, who are sent to investigate a prison seized by the Decepticons. It's a fairly unconventional Transformers story in that it doesn't deal in direct transforming robot warfare, and has proved popular enough to be collected in trade paperback, standard hardcover and digital formats over the past few years.
Following in the footsteps of previous premium IDW Limited releases, the Blue Label edition of Last Stand of the Wreckers is designed to appeal to fans for more than just its story contents, though. Limited to 10 copies, the package features a hand-drawn illustration by Roche and Guidi, a mounted signature page signed by Roche, Guidi and Roberts, a hardcover portfolio packed with ten lithographs by Guidi and Roche, new end pages and other features, all inside a custom tray case.
The master package is a solid brick of weighty comics goodness. Initially timid to pry it open, I finally popped the tray open at its minimalist crease, which is held together by magnets (like something containing robots should be, I suppose).
The main tray contains two hardcovers, including the art portfolio and the main comic. They sit on top of the edition's signature blue ribbon and are easily lifted out of the custom tray.


The custom tray itself is super sturdy and has the substance of something like a premium cigar box. It's easy to imagine an eccentric millionaire using it as a a lever for some kind of trap door/mystery dungeon/secret headquarters/panic room on a bookshelf. If I didn't live in an apartment, I'd totally consider doing just that.


For scale, here's how the Blue Label Edition looks on a shelf next to some of my standard hardcovers.


Opening up the original art portfolio reveals the book's hearty assortment of prints and original pieces, and it's this half of the Blue Label Edition package that will likely most appeal to hardcore fans.


On the left is a signed piece by Guidi and Roche, with a pile of lithographs on the right. Bear in mind that these are merely production stand-ins and the final versions will differ somewhat.
For a look at the official original Blue Label Edition sketch plates and colored scan (which has been printed as a limited edition lithograph for the Red Label edition), IDW shot us these images.
The comic book hardcover is a weighty release as well, containing a few more pages than the initial standalone version released in 2012. It's main appeal to collectors is its signed and numbered front interior page. Roberts, Roche and Guidi's signatures are all present and accounted for. Being a promotional copy, the version I was sent rocks an A/P instead of a proper number, of course.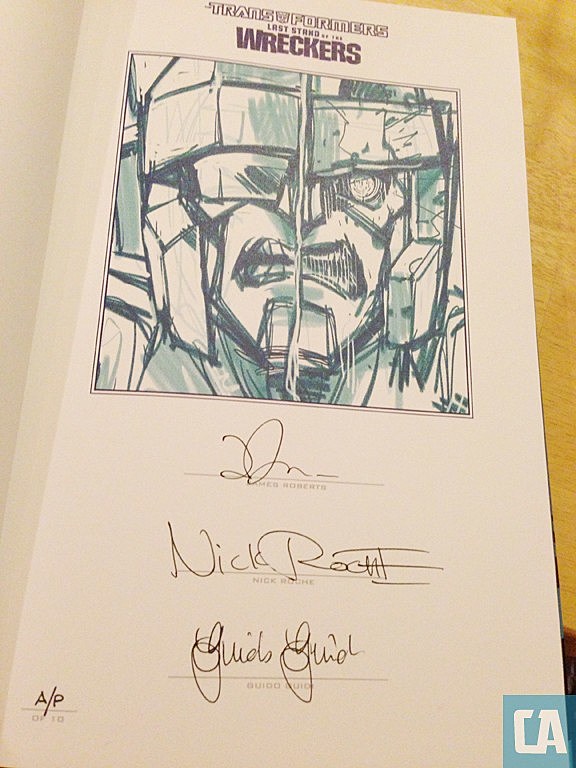 Content-wise, the hardcover is roughly 60% the original Last Stand of the Wreckers comic and 40% bonus material. The extras include things like script extracts, character bios and profiles, all alternate covers, a bonus prose section, promotional artwork, trivia and more. The "Fisitron's Facts" section is my favorite, as it lists off dozens of insights into the book's creation. It really resonates with my inner process junkie and makes me appreciate the thinking that went into many of the book's pages.
All told, IDW Limited's Blue Label Edition of
Transformers: Last Stand of the Wreckers
hardcover is a handsome, detail-oriented package. It's for
Transformers
fans. It's for comics fans. It's for hardcover fans. Whether or not the $350 price point is worth it to you depends largely on just how much of a fan you are of either corner of this buying trinity, but as a casual hardcover guy, I'm really impressed by the overall package.
You can check out the red, black and blue editions of the new Last Stand of the Wreckers package over at the official IDW Limited page to see what you think.