Parting Thought: Jack Kirby Tribute From 'Superman: The Animated Series' [Video]
Today is what would have been Jack Kirby's 95th birthday, and our tributes to the creator of such comics as New Gods, Fantastic Four, Avengers and X-Men have dealt explicitly with his fascination with the beyond. David Brothers took a close look at the cosmology of Kirby's Fourth World, and David Wolkin gave a theologic reading to Kirby's more personal visual interpretations of God. In keeping with those themes, we wanted to close out the day with the memorably touching tribute paid to Kirby in a 1998 episode of Superman: The Animated Series, which depicted a hero's funeral for Metropolis police officer Dan Turpin, a Kirby creation whose animated form was modeled after the King himself.I was just a kid when Jack Kirby died in 1994, and what I didn't know then was that my love of the great comic book superheroes and, really, the medium itself was heavily rooted in the work of this singularly gifted man. Those were the days before the massive DC Comics backlist that now includes the vast majority of Kirby's work on New Gods, Kamandi: The Last Boy on Earth and The Demon, among others, and before Marvel's Essentials reprints. So it was difficult for a young reader to familiarize himself with the actual work of the master whose death had prompted full-page dedications in so many American comics and Wizard (especially if that young reader was living overseas without access to back-issue bins, as was the case with me). As such, my early education in Kirby came in the form of work from my contemporary favorites who made it known they were paying stylistic homage to "The King," allowing me to gradually trace elements of Kirby's artwork and storytelling innovations back to the Source. This informal study from those days is among my favorite experiences as a comics reader.
One of those artists was Bruce Timm, who developed his Superman: The Animated Series to reflect a major Kirby influence seamlessly blended with the pronounced art deco approach carried over from Timm's Batman cartoon. The superficial touches like Kirbytech and Kirby Crackle are very obvious in the excellent show, but Timm and his collaborators at Warner Bros. Animation went further, populating Superman with Kirby characters like the New Gods and Dan "Terrible" Turpin, who in the show was actually modeled after Kirby's own likeness. The show was in, a sense, "Kirby Superman: The Animated Series."
With Kirby's death still a recent memory, Timm and his collaborators envisioned as touching a tribute as I can think of in 1998's two-part episode, "Apokalips...Now!" The story finds Superman, the warriors of New Genesis and the citizens of Metropolis turning back Darkseid's forces after a hard-won battle. As a parting shot, Darkseid murders Turpin, causing Superman to fly into an uncharacteristic but completely justified rage, expressing the pain that Kirby's fans and creative progeny felt when he passed. The episode concludes with a funeral for Turpin/Kirby, complete with a kaddish read by an actual rabbi, a gravesite based on Kirby's real resting place, and with guests modeled after Kirby's creations, friends and admirers. Even Marvel characters Nick Fury and the Fantastic Four were present. Unfortunately, the home video release of the episode replaces the Marvel and real-life mourners with anonymous extras, but you can see the likenesses of the original attendees and read more about the episide in Michael Eury's book The Krypton Companion, available from TwoMorrows Publishing.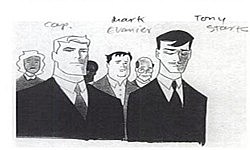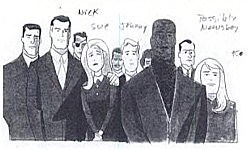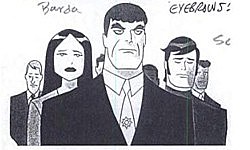 Superman's remarks at Turpin's gravesite speak to the incalculable debt that several generations of fans and professionals owe to Jack Kirby, and it seems fitting to revisit the touching scene on the occasion of what would have been the King's 95th birthday.
In honor of her grandfather, Jillian Kirby is spearheading the Kirby4Heroes campaign, whereby select comics shops are donating a portion of their profits to the Hero Initiative, the comics industry non-profit organization dedicated to helping comics professionals in need of financial and medical aid.