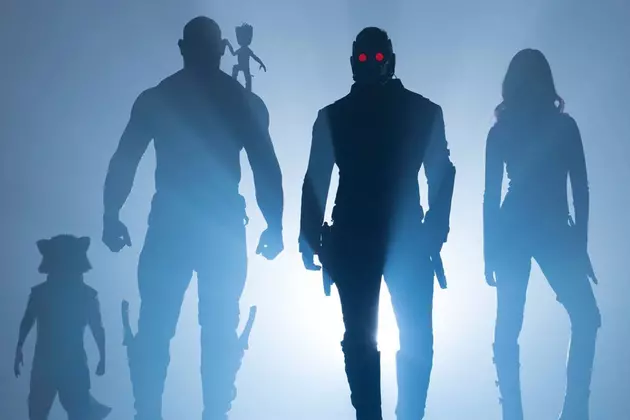 James Gunn May Be Teasing a Mighty Cameo in 'Guardians of the Galaxy Vol. 2'
Marvel
James Gunn has said — repeatedly — that he has no plans to include any of the Avengers in Guardians of the Galaxy Vol. 2, which is happily operating in its own strange little corner of the MCU. But what about a former Avenger? Maybe one that wasn't present for Civil War? If Gunn's latest photo from the set of the Guardians sequel is to be believed, then we might be in for a very cool cameo.
In a photo posted to his official Instagram account, Gunn can be seen wielding none other than Mjolnir, the legendary hammer that belongs to a certain mighty hero from the realm of Asgard:
Hmm. When prompted on Twitter about his numerous assertions that Guardians of the Galaxy Vol. 2 won't feature any Avengers, Gunn said:
But he never said anything about former Avengers, or superheroes who aren't currently part of the Avengers lineup, which would include Thor and Hulk — and as you know, both of those guys left Earth. Of all the Marvel characters who might appear in the Guardians sequel, Thor seems like the most likely choice given his proximity to, well, outer space.
Then again, it's possible that Thor's hammer is the only thing that makes a cameo in the Guardians sequel. Rumor has it that Ragnarok sees Thor team up with Hulk on a mission to find a more powerful legendary weapon to defeat Cate Blanchett's villainous Hela and defend the realms from destruction.
In addition to the returning lineup, Guardians of the Galaxy Vol. 2 stars Kurt Russell as the father of Chris Pratt's Star-Lord, with Pom Klementieff as Mantis and Elizabeth Debicki in an unspecified role (reports suggest she may be playing Ayesha). Sylvester Stallone is also rumored to be making an appearance in the upcoming sequel, which hits theaters on May 5, 2017.
The 50 Coolest Easter Eggs in the Marvel Cinematic Universe