 R.I.P. Jean 'Moebius' Giraud (1938-2012)
It's with true sadness that we report on the death of Jean "Moebius" Giraud. The legendary French comic book artist, illustrator and conceptual designer passed away this weekend after a long battle with cancer. He was 73. Hailed as a visionary talent for his work on such projects as The Incal, Blueberry, The Airtight Garage, Arzach, Métal Hurlant and much, much more, it is practically impossible to overstate Giraud's influence on modern comics and science fiction. Better known around the world as Moebius, the master leaves behind a vast body of work that will fuel the imaginations of longtime disciples as well as recent converts for years and years to come.As detailed in the BBC documentary Moebius Redux, which is embedded below, Giraud was born in Paris in 1938. Raised by a single mother, the young Jean passed the great amounts of time he spent alone in the worlds of his imagination. He drew ceaselessly, eventually gaining entry into the prestigious Ecole des Arts Applique. A visit to Mexico in his third year of school proved to be a turning point in the artist's life, and he described the experience thusly:
"Crossing the desert was a sort of initiation. Hours and hours of flat terrain and brilliant sunshine, interminable blue, a white hot sky, it was magnificent. It was something that really cracked open my soul."
Giraud's' affection for the enigmatic beauty of The Desert would manifest repeatedly throughout his oeuvre, particularly in connection with the wordless epic Arzach.
Giraud became popular in Europe for his Western character Blueberry, created with writer Jean-Michel Charlier, but American and British audiences are most familiar with the work he created as Moebius. He took on the name to distinguish his science fiction, fantasy, surrealist and erotic work from the other comics to which his audience had become accustomed, and with it created enduring and hugely influential stories like The Incal (with Alejandro Jodorowsky) and The Airtight Garage. These comics and more were serialized through Métal Hurlant, the magazine Moebius founded with Jean-Pierre Dionnet, Philippe Druillet, and Bernard Farkas, which would influence a generation of creators in its English language incarnation, Heavy Metal.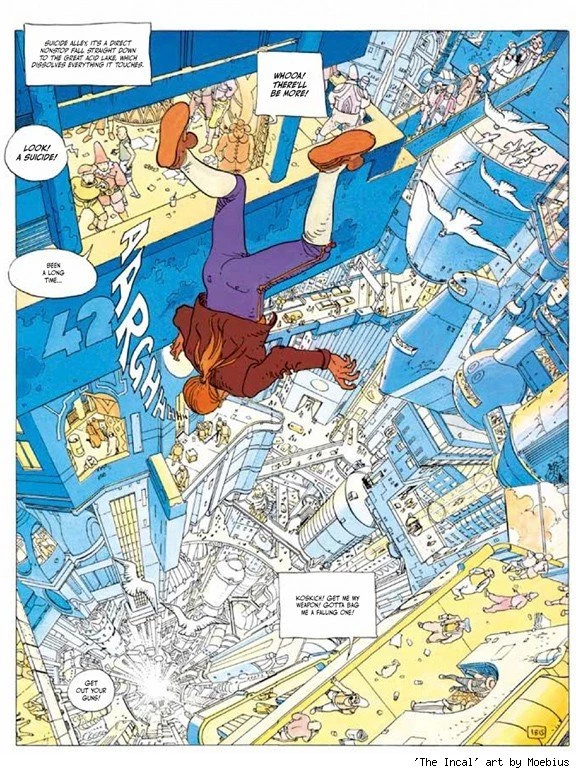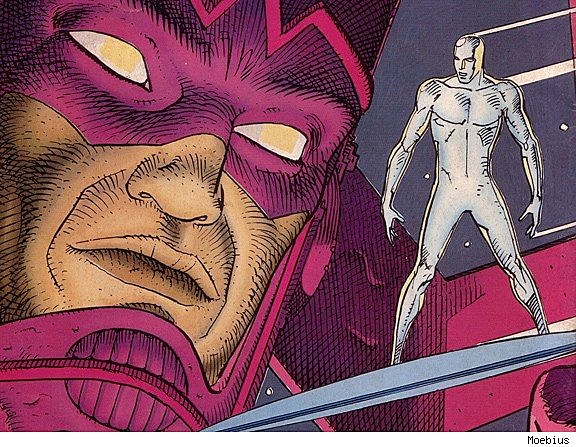 His most famous comic book in the U.S. is undoubtedly Silver Surfer: Parable, scripted by Stan Lee, but Moebius' hand reached far beyond sequential art. Without Moebius conceptual artwork and designs, there would be nothing we'd recognize as Alien or The Fifth Element or Tron, and there would be none of the things that those works inspired. Perhaps most crucially, director Ridley Scott credited The Long Tomorrow, the futuristic noir comic book Moebius created with Alien co-creator Dan O'Bannon, as the aesthetic touchstone for the mighty Blade Runner.
Even the great anime master Hayao Miyazaki acknowledged the talents and influence of Moebius, particularly on Nausicaä of the Valley of the Wind, the film that would begin (although somewhat unofficially) the supremacy of Studio Ghibli.
Through Arzach, which dates from 1975 I believe. I only met it in 1980, and it was a big shock. Not only for me. All manga authors were shaken by this work. Unfortunately when I discovered it, I already had a consolidated style. So I couldn't use his influence to enrich my drawing. Though, even today, I think he has an awesome sense of space. I directed Nausicaä under Moebius' influence.
In recent years Giraud created Inside Moebius, a meta opus whose page count is about 700, in which the artist interacts with younger versions of himself as well as his most famous creations. He was honored recently with Transe-Forme, a gorgeous exhibition in Paris of Giraud's work in comics, illustration and animation. The astonishingly ornate installation was a fitting tribute to the work of Moebius, whose influence on comics is certainly comparable to that of Jack Kirby himself, and whose name became a worldwide trending topic on Twitter over the weekend.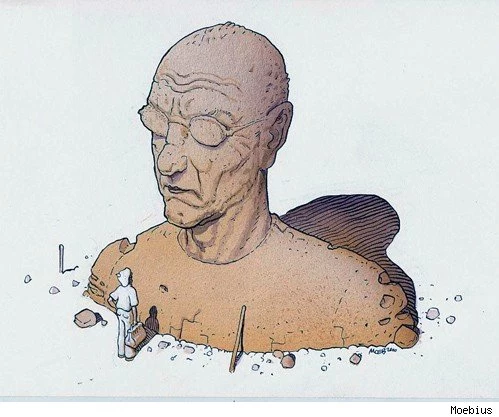 One of Moebius' last major interviews was given to The Los Angels Times in 2011, in which the artist discussed his legacy and fame in decidedly genial terms:
"They said that I changed their life," Giraud whispered in amazement. "'You changed my life.' 'Your work is why I became an artist.' Oh, it makes me happy. But you know at same time I have an internal broom to clean it all up. It can be dangerous to believe it. Someone wrote, 'Moebius is a legendary artist.' I put a frame around me. A legend - now I am like a unicorn."

The comics community is experiencing a renewed passion for the work of Moebius and that of his European peers like Milo Manara and Hugo Pratt. It manifests in the form of thoughtful pieces of criticism and praise from a younger generation of comics bloggers, like CA's own David Brothers, Joe McCulloch at The Comics Journal, and Ian MacEwan, whose infinitely reblogged Quenched Consciousness Tumblr has been instrumental in proliferating Moebius' artwork to practically countless viewers. The Moebius revival has also seen Humanoids reissue incredibly handsome but frustratingly expensive and limited editions of The Incal, Eyes of the Cat and Madwoman of the Sacred Heart, with more titles almost certainly on the way (and hopefully some paperback editions as well). Additionally, last month Marvel rereleased Moebius' Silver Surfer story in a new hardcover volume. And of course, the affection for Moebius' work and that which he championed in the pages of Métal Hurlant appears in the work of other comics creators, like Nate Simpson's Nonplayer and the work of Brandon Graham, Frank Quitely, and many others.
Moebius leaves behind a body of work that spanned 50 years, and in the disparate forms of comic books, film, animation, illustration, sketches and paintings, across all manners of formats and languages. Even for many of his most devoted readers, there will always be new worlds to discover. In that way, we can take solace that Jean Giraud will always be with us.
Giraud's work lends itself to the ethereal, and the occasion of the artist's passing has naturally inspired everyone to post images that best express the profound emotions of the moment. The most fitting selection I've seen is this sequence from Upon A Star, via Sean Witzke.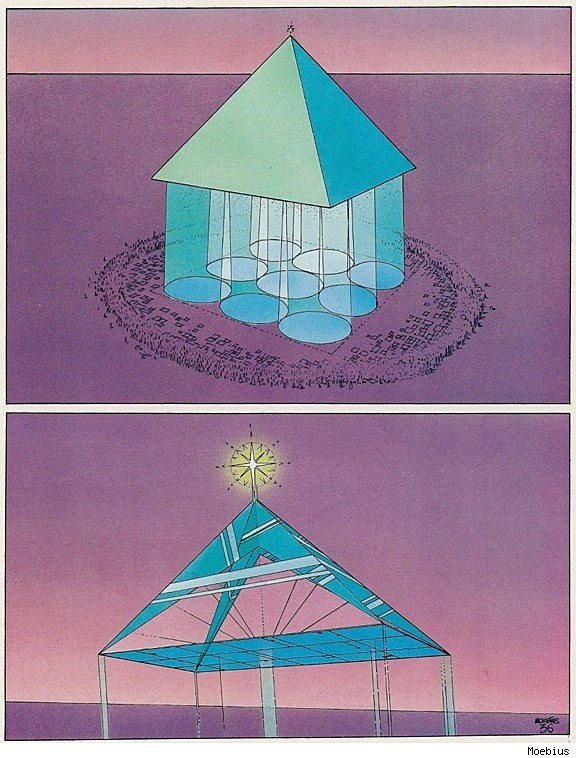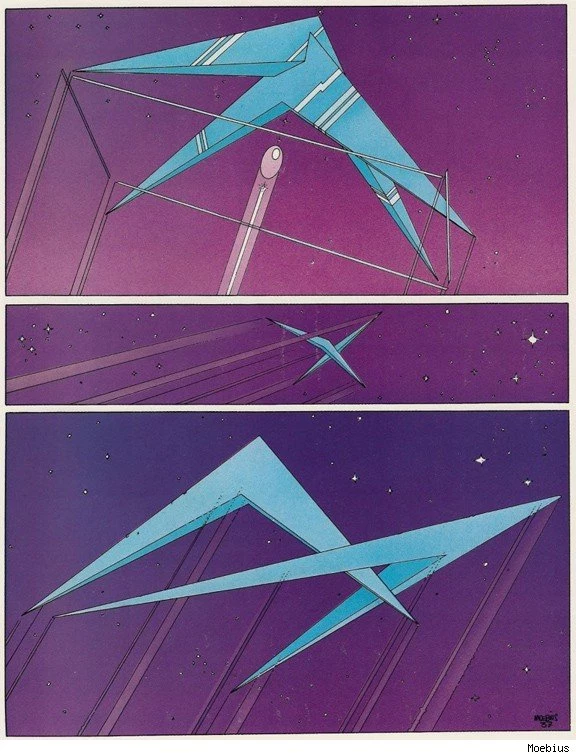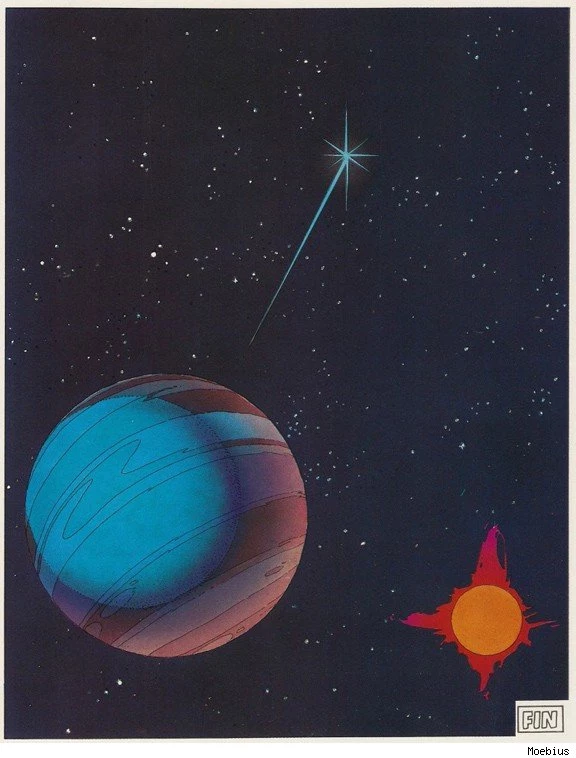 Industry reaction to the death of Giraud has been compiled at Robot 6. You may also click here for of ComicsAlliance's coverage of Moebius and his work.