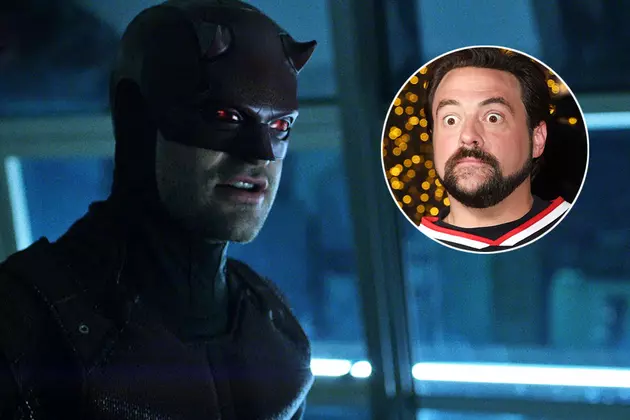 Drunk With Power, Kevin Smith Wants to Direct 'Daredevil' and 'The Defenders'
Marvel / Jason Merritt, Getty Images
I feel very at home in that Flash world, so much so that I'd love to do the others. I even told Joe Quesada - we worked on Daredevil together back in the day, I wrote it, he drew it - I said, 'Dude, I want to direct Daredevil, man. That'd be wild to be able to do it in real-life - let's co-direct it, that'd be cool, just like we did the book. We could co-direct an episode and then, like, take the passion from the page to the screen.'

I'm going to try and make that Daredevil thing happen. Every time I talk to Quesada or [Executive Vice President of Marvel Television] Jeph Loeb, I'm like, 'Hey! When are you going back down to the cameras?'
Defenders might prove a more logical choice, given its schedule ahead of a potential Daredevil Season 3, to which Smith added:
You know, they're gearing up now for The Defenders. If I can get a piece of that Defenders mini-series holy s**t, could you imagine, dude? Because then you're working with multiple suits at once, that'd be phenomenal. Just doing a mini Avengers - even one episode of that run of Defenders is like, 'oh, I get to exercise any interest I had in Avengers but doing it on a scale where nobody's betting $200 million on the guy that made f**kin' Yoga Hosers.'
In the meantime, Smith certainly has his plate full with TV work, while final Defender Iron Fist continues shooting for a 2017 launch, but might Daredevil end up reuniting with the Mallrats director?
Check Out 100 TV Facts You May Not Know!