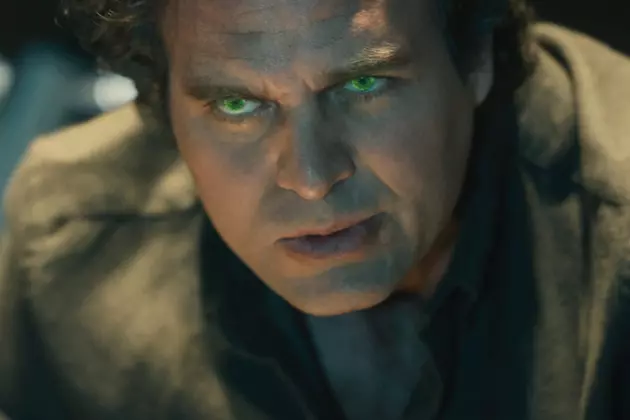 Mark Ruffalo Talks Hulk and Bruce Banner Relationship in 'Thor: Ragnarok'
Marvel
Mark Ruffalo previously dropped a hint about what we might see happen with Bruce Banner and the Hulk in Thor: Ragnarok — namely, that we might see them sharing the screen at some point, which could be pretty neat. The actor is out doing press following his recent Golden Globe nomination, and as expected, he's answering even more questions about Thor and Hulk, though he always seems quite happy to do so.
In an interview with AICN, Ruffalo spoke a bit about his part in Thor: Ragnarok, which re-teams him with Chris Hemsworth's god of thunder while the Avengers are all fighting each other in Captain America: Civil War. The last we saw Hulk, he had disappeared in the Quinjet at the end of Age of Ultron, and while the jet had reappeared in Ant-Man, Hulk was nowhere to be found.
Ruffalo says they follow his disappearance through:
He's on the run. I think that we carry that through. It's not just a matter of taking himself to some remote place and hiding. Now he's removing himself from humanity altogether. I'm not sure where we're going to head with that, but I'm sure that's probably still very much alive within him.
Wherever he goes, he ends up running into Thor. And maybe the Asgardian hero helps Hulk get his priorities back in order. Maybe.
Equally as important as Bruce / Hulk leaving at the Age of Ultron is the question of who actually made that call: did Bruce decide to ditch the Avengers, or did Hulk? We saw Hulk piloting the Quinjet, but was he in total control of Bruce at the time, or was Bruce using the big guy's strength to help him make a tough decision? Hmm.
Ruffalo says they're beginning to "mess" with the relationship between the two characters, hinting at something we haven't really seen before:
I think it's really exciting where we could go with it. Now I feel like we're kind of in No Man's Land. I mean, the comic books have kind of broached the subject, but we're moving away from the traditional Hulk/Banner relationship. We're starting to mess with it a little bit.
Hulk and Thor will sit Civil War out, but we'll see the two again in Thor: Ragnarok, which is being directed by Taika Waititi and also stars Cate Blanchett and Tom Hiddleston. Thor: Ragnarok hits theaters on July 28, 2017.