The Top 10 Marvel Comics Coming in January 2011

It's time again to take apart the newest comic book solicitations and find the best and most interesting Marvel Comics slated to come out in January 2011. We're looking at an in-between month for Marvel in January, with several major stories wrapping up or going into aftermath mode, while others are heading into their home stretch. There's no real killer announcement in this group of solicitations, but there are a few good books and a couple of off the wall one-shots or series coming out. After the jump, we've got the ten best, including some vampire cows, Howard Chaykin doing something that looks very not-Chaykin, and the requisite smashing of Hulks.

1. DEADPOOL MAX #4
Written by DAVE LAPHAM

Pencils & Cover by KYLE BAKER

"NO CABLE NO FUTURE"

For years, when Uncle Sam needed to erase untouchable global madmen, it called on the legendary super-agent known as Cable. That is, until two years ago, Cable disappeared for parts unknown... and a certain Merc with a Mouth took up the slack. But now Cable has reemerged from where he claims is the far-flung future to take back his old job. How will that sit with Deadpool? Like Tacos before bedtime. It's super-agent vs super-agent in a fight to the finish.

32 PGS./Explicit Content ...$3.99
The first issue of Deadpool MAX was as good as its creative team suggested it would be. Lapham provided a demented script, and Baker returned to his traditional art style for a tale of abuse, trauma, violence, and most crucially, comedy. Baker and Lapham are both legitimately great, and while Baker is an experienced humorist, seeing Lapham exercise his funny bone is a treat for longtime fans. They're creating an all-new Deadpool by mining the past and recasting characters at will. It's an interesting approach, sort of like DC's late Elseworlds books, and provides a neat lens to view Deadpool through. The introduction of Cable, butt of a million jokes about '90s comics, is going to be a trip, I bet, and even more reason to pick up the series.
Written by HOWARD CHAYKIN

Penciled by TBD

Cover by ROGER CRUZ

Before the Brotherhood, before his greatest battles with the X-Men, there was a man named Erik Magnus, gathering mutants to join his cause. Does the young Magneto have what it takes to build an army? And what does all of this have to do with The Absorbing Man?

32 PGS./One-Shot/Rated A ...$2.99
Howard Chaykin is known for stories about violence, sex, cursing, political intrigue, sex, what it means to be Jewish, violence, more sex, fashion, and still more sex. Things Howard Chaykin is not known for: filling continuity holes in X-Men comics. The A rating and the fact that the cover image says X-Men First Class: Magneto makes this book completely and utterly bizarre, like if Quentin Tarantino directing an episode of Hamtaro. I'm not sure where Chaykin is going to fit sexy conference call shenanigans or pointed observations about race in a story about a young Magneto and the Absorbing Man, but I'm interested in finding out. Of course, what's more likely is that this will be a just okay story about Magneto before he turns terrorist. I've got my fingers crossed, though.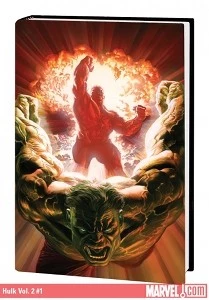 Written by JEPH LOEB

Penciled by ED MCGUINNESS, IAN CHURCHILL & WHILCE PORTACIO

Cover by ALEX ROSS

Red Hulk's rampage rolls on through the Marvel Universe, and NO ONE, not even the Amazing Spider-Man, Silver Surfer, the Sub-Mariner, Doctor Strange, Doc Samson, Norman Osborn, or She-Hulk can stop him! Then, It's CODE RED VS. X-FORCE. Who is Code Red? How about Red Hulk, Deadpool, The Punisher, Elektra. Thundra and The Crimson Dynamo. What terrible secret could bring this group together -- only to run headlong into the deadliest team of X-Men? All this -- and wait until you see RED HULK VS. WOLVERINE! Superstar scribe Jeph Loeb is joined by art team Ian Churchill and Mark Farmer as the epic saga of the Red Hulk continues! Collecting HULK (2008) #10-18 and INCREDIBLE HULK #600.

336 PGS./ Rated A ...$29.99 Trim size: oversized
No joke: This is one of the best Hulk stories in years. While it's full of authorial fiat and out of nowhere plot twists, this run gets at least one thing right about the Hulk: He has to smash, and he has to look good doing it. Ed McGuinness and Ian Churchill up their art games to an absurd extent.
Churchill's art went from the scratchy, strangely proportioned style that he's been sporting over the past few years, perhaps most notably on Supergirl, to something that's a weird mix of Dan DeCarlo and Humberto Ramos. McGuinness, already a fantastic artist, moved away from his lightly detailed cartoony style into a super detailed cartoony style, complete with bulging veins, bigger muscles, and an absolutely tremendous use of scale to emphasize power. These are some of the best-looking Marvel comics from the past couple years or so, and the story exists simply to allow the artists to draw the biggest and best fights the Hulk's ever been in.
4. ULTIMATE COMICS CAPTAIN AMERICA #1 (of 4)
Written by JASON AARON

Pencils & Cover by RON GARNEY

Villian Variant Cover by ED McGUINNESS

Captain America meets his ultimate nemesis-the Captain America of the Vietnam War! As new enemies face off, old secrets from the super soldier project are revealed. From the superstar Wolverine: Weapon X creative team of Jason Aaron and Ron Garney, get ready for a hard hitting story of one man's quest to serve his country...and the sacrifices he must make.

32 PGS./Rated T+ ...$3.99
Ultimate Cap could kind of use a helping hand. Millar's take on the character is fairly... off-putting, changing an icon of freedom and tolerance into an anachronistic blowhard, and that's about where his characterization has stopped. Jason Aaron has proved to be fairly adept at mixing action and characterization in pleasing proportions, and he might add some much-needed depth of the Ultimate Sentinel of Liberty. Ron Garney's art shouldn't be ignored, either. His style has evolved into something pretty interesting in recent years, looking a bit rougher and more loose than it used to look. Aaron and Garney did a solid job on Wolverine: Weapon X and their prior Get Mystique story, so getting a violent Captain America tale from them should be pretty cool.
5. THE THANOS IMPERATIVE: DEVASTATION #1
Written by DAN ABNETT & ANDY LANNING

Penciled by MIGUEL SEPULVEDA

Cover by ALEX GARNER

THE THANOS IMPERATIVE is over... but who and what has survived? What happened to Thanos? What about Lord Mar-Vell and the Cancerverse? Who rules the Kree and the Shi'Ar? Is anyone left to guard the galaxy? And who will hold the shattered civilizations of the Marvel Universe together in this bleak new age? Find out from the creative team that delivered the cosmic event that IGN.com hailed as "Unbelievably incredible & unimaginably entertaining."

32 PGS./ONE-SHOT/Rated T+ ...$3.99
DnA are done shepherding the Cosmic side of the Marvel universe, and this one-shot is the nail in the coffin. The Thanos Imperative is over, the bodies are growing cold, and now it's time to see what's next. While not getting any more cosmic tales from these two sucks, they've done such a great job over the past three or four years that I can't even really complain. Nothing lasts forever, and maintainubg the level of quality they kept up across several books is impressive. I hope that this one-shot keeps things just as good as they have been, and leaves us satisfied, rather than disappointed.
Watch out Marvel U, the Bovine Blood Beast is back! The Merc with a Mouth meets the The Cow with a Cape. Gaze in horror, dear reader, upon the fiendish experiments inflicted upon Deadpool and Bessie the Vampire Cow by the malevolent Dr. Kilgore in the name of mad science and bear witness to their terrible revenge! Nothing on earth can prepare you for the horror that lurks within these pages.

32 PGS./Parental Advisory ...$2.99
This is Bessie, perhaps better known as Hellcow:

She was bitten by Dracula 300 years ago. There's no reason not to buy this issue, especially since Philip Bond is drawing it.
7. WOLVERINE AND JUBILEE #1 (of 4)
Written by Kathryn Immonen

Art by PHIL NOTO

Cover by NIMIT MALAVIA

Variant Cover by NIMIT MALAVIA

STRAIGHT OUT OF THE PAGES OF X-MEN AND RIGHT INTO THE JUGULAR! Jubilee is about as far away from the ideal X-Man as it is possible for a 17-year-old minty fresh vampire to be. While the X-Men try to find a way to give her as normal a life as is inhumanly feasible, her decidedly abnormal vampire cravings will not be denied. Between that and her newfound powers, she's winning the fights but not the popularity contests among most of the other X-Kids. Most...but not all. And just when Jubilee starts to think that there is no place for her anywhere, a group of vampire women make her an offer she can't refuse. It seems like the perfect solution...unless Wolverine has anything to say about it!

32 PGS./Rated T+ ...$2.99

NOT ACTUAL COVER
Jubilee is only seventeen?! But she had her own place in LA for a while! And worked at a non-profit! Age issues aside (and they are extremely minor, believe me), this series is like a gift and a curse. The X-Men vs. A Bunch of Vampires story isn't working for me, which means I don't even really care about the fallout. Or at least I wouldn't, if Kathryn Immonen wasn't writing the story of the fallout and Phil Noto wasn't drawing a Wolverine and Jubilee buddy comic. I have a soft spot for Jubilee, having come into the X-Men franchise back when she was playing the Wolverine's Jailbait Sidekick role, and this'll be the first high profile project featuring the character since she lost her powers in House of M. I can't think of anyone at Marvel better at writing teenagers, and Noto's art is always great.
Written by ZEB WELLS

Penciled by LEONARD KIRK

Cover by DAVE WILKINS

"The Rise of the New Mutants"

The stunning conclusion of Zeb Wells' run on New Mutants is here. Everything set in motion from #1 comes around here as the full force of the X-Men is brought down on Project Purgatory. But will it be in time? The full power of the Elder Gods is in the hands of General Ulysses. Will the power of Legion be enough to turn the tide? Part 2 (of 2).

32 PGS./Rated T+ ...$2.99
Zeb Wells took a series that should have been just another trip down memory lane featuring some characters from the '80s and instead told a pretty awesome tale of the third generation of X-Men. The title is a nod to their past, but the cast is made up of everything but "new mutants." The New Mutants are all grown up and more than hold their own. I'll be said to see Wells go, particularly since Leonard Kirk has been a great addition to the creative team, but it looks like he's going out not just on a high note, but right where his story was going to naturally wrap-up, anyway. Hopefully the next creative team is as solid as this one.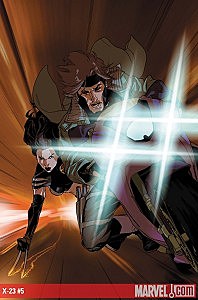 Written by MARJORIE LIU

Penciled by WILL CONRAD

Cover by KALMAN ANDRASOFSZKY

X-23's search for her soul continues! What does Mr. Sinister have to do with Laura's past... and how is MISS SINISTER trying to influence her future? Caught between a dead man and a dangerous woman, Laura must decide what she's willing to sacrifice for answers. GUEST-STARRING GAMBIT!

32 PGS./Parental Advisory ...$2.99
The first issue of X-23 was a little rocky. It felt like a Wolverine story, in fact, complete with sleeping in the woods, moping about how nobody understands pain, and being born only to kill and kill and kill, only the part of Wolverine was played by a sixteen-year-old girl. Liu is good at doing both character stuff and mean action, and this issue sounds like a solid return to form. The addition of Gambit as a mentor figure is an interesting choice, and is hopefully going to move X-23 out of Teenagegirlverine territory and into being a character with her own issues, thoughts, and stories. The addition of Miss Sinister, a super sexy version of a classic X-Men villain, is a little weird, but you know what? She's fighting a sexy teenage girl version of Wolverine. Let's roll with it.
A blank cover that's reminiscent of the death of Superman, no real solicit, and the promise of a major character dying... ehhh. This is exactly the kind of thing that sells comics based on stunts, rather than storytelling. Hickman's run on Fantastic Four has been pretty good thus far, though, and definitely building up to something big. Marvel is clearly trying to drum up some support for it by playing "I know something you don't know," but I can't help but think that letting the story sell itself would be healthier. Regardless: Hickman. Epting. Somebody dies. There may be charts and graphs in the back of the issue. Get it if that's your thing.