 The Top 10 Marvel Comics Coming In July 2011
The solicits from Marvel this month are typically weird. In addition to approximately eleventy-billion Fear Itself tie-ins, you've got another Wolverine and Black Cat team-up, a comic about tennis, a Daredevil who smiles all the time, and more. After the jump are the ten most interesting-looking comics for the month, including one that'll definitely surprise you and maybe make you stop trusting my otherwise impossibly impeccable judgment.

10. SPIDER-MAN: BLUE TPB
Written by JEPH LOEB

Penciled by TIM SALE

Cover by TIM SALE

"It's about remembering someone so important to me I was going to spend the rest of my life with her." What Peter Parker didn't know was that meant Gwen Stacy would only get to spend the rest of her life with him. This is the story of how they fell in love. Or more appropriately, how they almost didn't fall in love. Welcome to Spider-Man's life. Bad before good. It's kind of amazing. So to get the girl of his dreams, he'll have to run the gauntlet of the Green Goblin, the Rhino, two Vultures and a mysterious man in the shadows controlling it all. Join the Eisner Award-winning team of Jeph Loeb and Tim Sale (Superman for All Seasons, Batman: The Long Halloween, DAREDEVIL: YELLOW, HULK: GRAY) in the story about Peter Parker's first love, Gwen Stacy. Highlighted by the introduction of Mary Jane Watson, it is a critical moment in Spider-Man's life when everything was just coming together - only to fall apart. Collecting SPIDER-MAN: BLUE #1-6.

144 PGS./Rated T+ ...$19.99

ISBN: 978-0-7851-1071-2
I'm suspicious of nostalgia, particularly nostalgia for a time before I was born (or nostalgia for things I don't like!), but this right here? This is good comics. The era of Spider-Man that Loeb and Sale reached back to explore is part of the Golden Age of Spider-Man comics, where everything was full of great action, the art looked like a romance comic, and the fashion was amazing. Sale's art is pitch-perfect here, and Loeb's script is a great trip down memory lane (or through the back issues, if you aren't old enough to remember these comics). We see most of the major figures of Spidey's supporting cast, get some great character moments, and best of all, Sale's version of Mary Jane and Gwen Stacy are stunning, but still totally in the John Romita tradition. I like this tale a lot, and while it gets a little maudlin at times, it's a faithful recreation of a bygone era. That cover is great, too, isn't it? This should've never dropped out of print.
9. X-MEN BY CHRIS CLAREMONT & JIM LEE OMNIBUS VOL. 1 HC

Written by CHRIS CLAREMONT, TERRY AUSTIN, SALLY PASHKOW, PETER SANDERSON & ANN NOCENTI

Penciled by JIM LEE, MARC SILVESTRI, ROB LIEFELD, MIKE VOSBURG, JIM FERN, MARK BAGLEY, RICK LEONARDI, KIERON DWYER, BILL JAASKA, MIKE COLLINS & WHILCE PORTACIO

Covers by JIM LEE

What happens when you combine an industry veteran at the top of his game with a hot, up-and-coming young artist, and let them loose on Marvel's mightiest mutants? You get a fan-favorite, multi-year X-Men run unequaled in style, pizzazz and wall-to-wall action! It's Chris Claremont's most ambitious story arc ever, featuring Jim Lee's dynamic debut issues and major changes to the X-Men's status quo! Jubilee debuts just as the X-Men disband, granted new lives by the Siege Perilous! The Reavers enact gruesome revenge on Wolverine and decimate Muir Island, while Psylocke is transformed into a ninja! The Shadow King makes his play for Storm, culminating in the action-packed introduction of Gambit! Wolverine's hidden past with Captain America and the Black Widow is revealed! And this is just the first volume! Collecting UNCANNY X-MEN #244-269, X-MEN ANNUAL (1970) #13 and CLASSIC X-MEN #39.

704 PGS./Rated A...$125.00

ISBN: 978-0-7851-5822-6

Trim size: oversized
We owe Jack Kirby a lot for the language of superhero comics. We owe Chris Claremont for the soap opera storytelling. And we owe Jim Lee for creating a take on superheroes that was perfect for the modern day, with sleek, sexy bodies, nonsensical but stylish costuming, lantern jaws, and permanently grizzled heroes. (Lee, of course, owes a debt to John Byrne, Art Adams, and Neal Adams, but Lee's superhero style is a synthesis of those. That's a conversation for another day, though!) These X-Men comics are great, full of '80s cliches, the beginnings of Lee's visual quirks, and some really great Claremont and Lee collaborations. Wolverine hanging out with Captain America and Black Widow in World War II, Jubilee tagging along, and Gambit... these are like a shot of "Comics are COOL, man" fired directly into your brain. The price tag is a little steep for my tastes, but the material is undeniable. Right here are the roots of the style that sold millions in the '90s and still defines a large portin of the supermarket today. Jim Lee is a legend, deservedly so, and it's nice to see some of his formative work getting the archival treatment.

Written by MARK WAID

Penciled by PAOLO MANUEL RIVERA AND MARCOS MARTIN

Cover by PAOLO RIVERA

Variant Cover by John Romita Sr.

Variant Cover by NEAL ADAMS

Variant Cover by MARCOS MARTIN

Blank Variant Cover also available

THIS SUMMER, THE DEVIL IS REBORN. RENEWED. RESSURECTED.

With new enemies, new friends...and that same old "grinnin' in the face of hell" attitude, The Man Without Fear is back in a double-sized first issue and leading with his face! Mark Waid (AMAZING SPIDER-MAN, Irredeemable, RUSE) joins neo-legendary artists Paolo Rivera and Marcos Martin for a new spin on Daredevil that will leave you gasping for air. Having turned his world upside over the past several years, Matt Murdock realizes that justice may not be blind to his past and villains may not be the only ones looking for answers. Bring it on. If Matt Murdock could see what he was doing...he'd be terrified.

40 PGS./Rated T+ ...$3.99
Daredevil, as a character and a series, has been haunted by Frank Miller's ghost for thirty years now. Lanky Frank put his stamp on that character, pulling him into a new status quo and co-creating one of the best runs on a Marvel comic ever. The only problem is that most of the people who came on after Miller, including some very talented creators, wanted to play in Miller's sandbox, rather than creating their own. While this could be good, the cumulative weight of thirty years of mopey crime stories turned Daredevil into a character who was unbelievably annoying to read. Everything led to misery and a guy crying on rooftops in the rain, clutching his mask in his face. Boring. Who cares? Get a life, Matt Murdock. You were great once, but you've been a drag for years now.
Near as I can tell, Waid is out to right the ship and create a new sandbox. When you consider that he's got Paolo Rivera and Marcos Martin by his side, two of the very best artists Marvel have to offer, he stands a pretty good chance of succeeding. I can't wait to see the results.
7. THUNDERBOLTS: VIOLENT REJECTION TPB
Written by JEFF PARKER

Penciled by KEV WALKER & DECLAN SHALVEY

Cover by GREG LAND

At the request of Steve Rogers, Luke Cage must lead his hardened team into battle to deal with a doomsday scenario unleashed in the pages of HULK! With the squad a man short, Cage recruits another prisoner to duty - and his pick will shock you! Will the Thunderbolts accept this new member, or will this heavy-duty wildcard tip the balance of power? Plus: An old friend breaks the Man-Thing out of the Raft to return to duty at the borders of our world. What danger awaits the Man-Thing, and what will the Thunderbolts say to losing their favorite plant? Then, the Raft is full of action as candidates vie for selection for the second squad of Thunderbolts! Out of the Marvel Universe's vast pool of powerhouse criminals, who will make the cut? Many are called, but few are chosen! Collecting THUNDERBOLTS #152-157.

144 PGS./Rated T+ ...$15.99

ISBN: 978-0-7851-5221-7
Jeff Parker, Kev Walker, and Declan Shalvey deliver VIOLENCE IN THE MIGHTY MARVEL MANNER! Thunderbolts is good, and this collection features the group beating the bone marrow out of a worthy target. If you like comics where the violence has been thought out and carries more weight than just simple punches and kicks, this is your comic. There's all of that, and Man-Thing, too.
6. FANTASTIC FOUR: 1234 PREMIERE HC

Written by GRANT MORRISON

Penciled by JAE LEE & MANUEL GUTIERREZ

Covers by JAE LEE

Reed Richards. Sue Richards. Benjamin Grimm. Johnny Storm. They rocketed into outer space aboard an experimental starship, the first humans to attempt interstellar travel. But a freak encounter with cosmic radiation altered their lives forever, granting each amazing abilities! Now, Marvel's First Family finds its members divided - their unique powers stretched to the absolute limit, their time-tested resolve pushed to the point of breaking. Each chapter of this quintessential collection focuses on one member of the cosmic quartet as the team's greatest foes band together in an all-out assault on the FF! Plus: In Grant Morrison's only other Marvel Knights story, superspy Nick Fury is targeted for death! Collecting FANTASTIC FOUR: 1234 #1-4 and material from MARVEL KNIGHTS DOUBLE-SHOT #2.

120 PGS./Rated A ...$19.99

ISBN: 978-0-7851-5896-7

Trim size: standard
This is the little sister of Morrison's New X-Men, and Morrison and Lee's take on the First Family ended up being pretty good. This is a very dark and moody piece that breaks the cast to show us why they work so well together. Morrison and Lee clearly know what makes the Fantastic Four tick, and they use that knowledge to create some great moments. Ben Grimm reaching out and finding his arm missing is heart-breaking, while Reed Richards showing up with a "Well, Victor... I've been thinking." toward the end is fist-pumpingly great.
Johnny Storm's eternal restlessness shines almost as much as Sue's incredible faith in her family and willingness to get her hands dirty. You've got Doctor Doom, Namor, and the Mole Man in one of my favorite Fantastic Four tales. I'm allergic to the "Will she or won't she?" nature of the Namor/Sue Storm relationship -- of course she won't, she's married -- but this book manages to both do it well and end that conversation entirely. The action's good, but the characterization and acting is even better. When you add in the fact that Jae Lee draws the handsomest Namor you ever did see, well, you've got a book that's more than worth reading.
And that bit where Namor asks a certain character, "You wish an alliance with my realm? Learn to swim"? Wow. That's a definitive moment right there. Buy this. (Buy the one with the nice cover of Namor and the Torch, not the ugly one that's just the cover to an issue shrunk down and plopped in the center of a larger cover.)
5. X-MEN: X-CUTIONER'S SONG HC
Written by SCOTT LOBDELL, PETER DAVID & FABIAN NICIEZA

Penciled by BRANDON PETERSON, JAE LEE, ANDY KUBERT & GREG CAPULLO

Cover by ANDY KUBERT

The X-Men story so big, it took four books to contain it! When Cyclops and Phoenix are kidnapped - and Cable seemingly assassinates Professor X - the X-Men, X-Factor and X-Force go to war...with each other! Witness epic battles around the globe and on the moon as Mr. Sinister's subtle plan of vengeance on Apocalypse unfolds, and major revelations are made about the true identities of Cable and his twisted doppelganger Stryfe! Featuring blood, angst, sacrifice and great big guns as Marvel's mutant families dance to the villains' twisted tune! Collecting UNCANNY X-MEN #294-297, X-FACTOR (1986) #84-86, X-MEN (1991) #14-16, X-FORCE (1991) #16-18 and STRYFE'S STRIKE FILE.

368 PGS./Rated A ...$49.99

ISBN: 978-0-7851-5610-9

Trim size: oversized
While this is an entirely unexpected reprint, after I thought about it a little, this hardcover is totally worth getting. This was the peak of post-Jim Lee X-Men, a story that dragged the entire X-Universe into conflict with each other and their villains in a major way. This is everything that made '90s-era X-Men so much fun to read, with teeter-tottering plots (if you push too hard, it'll collapse), characters popping up to drop a catchphrase and a pose, writers who clearly didn't want to be part of the event but played along anyway, Wolverine chain-smoking cigars (much to Cable's ship's chagrin), and Archangel being moody. This is really entertaining stuff that's probably pretty shaky from a craft perspective, but c'mon. It's exciting, despite its flaws. How great was the brief scene between Archangel and Apocalypse on the moon?
4. OZ: THE MARVELOUS LAND OF OZ GN-TPB
Written by ERIC SHANOWER

Penciled by SKOTTIE YOUNG

Cover by SKOTTIE YOUNG

L. Frank Baum's magical world of Oz comes to life in a way you never imagined! Follow the adventures of a young boy named Tip as he escapes the servitude of the mean old witch Mombi and runs away with his newly created magical companion, Jack Pumpkinhead. Along the way, they meet Sawhorse and follow the legendary Yellow Brick Road to the Emerald City - now ruled by King Scarecrow! But when Jinjur overthrows King Scarecrow and Mombi returns, Tip and his friends must enlist the aid of Glinda, the Good Witch, to try to set things right in Oz! Collecting THE MARVELOUS LAND OF OZ #1-8.

200 PGS./All Ages ...$19.99

ISBN: 978-0-7851-4087-0
The Oz books continue to be Marvel's secret weapon, a series with massive crossover appeal and incredible art. Most of the Oz stuff people know (myself included) comes from The Wizard of Oz and features Dorothy, but there's a whole wealth of stories out there if you dig a little (or, I dunno, go to a library or Wikipedia or something). The first Oz series was a treat, and frankly, I'll take more any way I can get it. Buy this one for yourself, and then buy another for however many kids you know. You won't regret it.
3. WOLVERINE & BLACK CAT: CLAWS 2 #1 (of 3)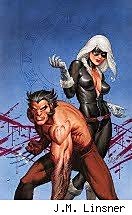 Written by JAMES PALMIOTTI

Pencils & Cover by JOSEPH MICHAEL LINSNER

James Palmiotti, Justin Gray and Joseph M. Linsner return to right where their classic "Claws" storyline left off to bring us an all-new tale of action, intrigue and razor-sharp appendages. Two of Marvel's most beloved and be-clawed heroes, Wolverine and Black Cat, have barely had time to catch their breath from defeating the villainous mastermind Arcade and his sidekick White Rabbit when the two evil schemers find an escape from their exile in The Savage Land, and an entryway into revenge! Watch the fur fly as these four fight it out in an all-new, no-holds-barred Claws adventure!

32 PGS./Parental Advisory ...$3.99
The first Claws came as a huge surprise. Jimmy Palmiotti, Justin Gray, and Joseph Michael Linsner doing a Black Cat/Wolverine team-up? Starring Arcade? And it's funny and good?! In hindsight, Claws reads like Palmiotti and Gray were test-driving techniques for their later run on Power Girl with Amanda Conner. It had a wry sense of humor, an awareness of cheesecake and sex without wallowing in it, and heroes and villains who were more exasperated than angry. I figure this miniseries will shake out about the same as the first one did, with some great art from Linsner, some good jokes from Gray and Palmiotti, and a total package that's really, genuinely enjoyable. I'm partial to Arcade, anyway, but this creative team pretty much guarantees a good time for everyone involved, from Wolverine and the Black Cat to the readers.
Written by JOE CASEY

Penciled by NICK DRAGOTTA

Cover by GABRIELE DELL'OTTO

Villain Variant Cover by TBA

A MOST EPIC EVIL EXPLORATION OF THE MARVEL U!

When MAGNETO of the X-Men tries to rescue a young Mutant on the run, he accidently kicks off a series of events that will shake the very Marvel Universe to it's core! Who are the new TEEN BRIGADE?! Who are the Brotherhood and what do they want with the YOUNG MASTERS OF EVIL?! And how is the RED SKULL pulling the strings from beyond the grave? Joe Casey (AVENGERS: EARTH'S MIGHTIEST) joins Nick Dragotta (FANTASTIC FOUR) for some major acts of VENGEANCE!

32 PGS./Rated T+ ...$3.99
Joe Casey is almost always good for a fun ride, and when you put him on comics about youth, rebellious or otherwise, and superhuman celebrity, you're in for a treat. I'm hoping that Vengeance lives up to his work on Final Crisis Aftermath: Dance, Wildcats, and The Intimates. Dragotta's a great artist, has been for years, but has always felt under-praised to me. The guy's a super solid draftsman, knows how to stage an action scene, and his character designs have that perfect disaffected youth vibe. I really like how the Captain America looking guy comes off in our coverage here.
1. ESSENTIAL PUNISHER VOL. 2 TPB (ALL-NEW EDITION)
Collecting PUNISHER (1987) #1-20 and ANNUAL #1, and DAREDEVIL (1964) #257.

536 PGS./Rated T+ ...$19.99

ISBN: 978-0-7851-2734-5
I'm not sure why this doesn't have any solicit text, but there are some serious gems in this black and white volume. I love Punisher when he's fighting real world threats, sort of like a direct revenge fantasy for the common man. In this book, he goes up against all your favorite fears from the '80s: street gangs, the guy who was poisoning medicine bottles, drug czars, and more. It features art by Klaus Janson and a ton of others, and reads like someone looked at a newspaper, got pissed, and had Frank Castle go out a-murdering. Looking at the cover may well tell you all you need to know. Don't let Punisher do it to you, man, 'cause he'll overdo it. This is a good book to read over the course of a couple weeks, or maybe in bursts between other books. Very entertaining stuff.