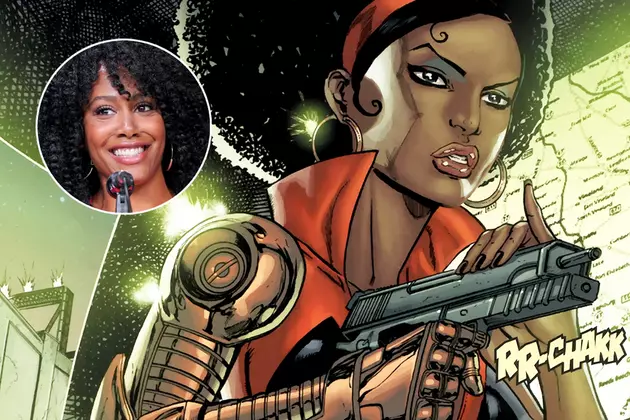 Marvel Boss Talks 'Misty Knight' Spinoff, 'Iron Fist' Appearance
Marvel / Dave Mangels, Getty Images
We've seen Marvel change its plans often enough, between shifted movie release dates and additional seasons/spinoffs for the Netflix series, so might a Misty Knight series be waiting in the wings of Luke Cage? The Marvel hero has a strong-armed history all her own, and executive producers are more than excited for the possibility.
We're very lucky in a sense that our casts are so rich and deep and so diverse. We certainly have plans for all of our characters. A lot of it has to do with exactly how many shows Netflix is actually going to let us make. We're up to six now … At a certain point, we have to be careful that we're not becoming the Marvel channel on Netflix. […]

I think Netflix is being very selective in terms of where we're going. That being said, Simone just knocked it so far out of the park that we're still trying to find the baseball. It's somewhere out there traversing the globe. So it's really great. And I can tell you that what she's doing on Iron Fist, it's just incredible. The fans are really going to love it.
So far as we know, that's the first time anyone has confirmed Missick will take part in Iron Fist (Misty Knight has history with both Luke Cage and Danny Rand in comics), but Missick herself also floated an interesting possibility for a spinoff:
Somebody put it on Twitter that they want to see a Misty Knight series with Shonda Rhimes as one of the writers. I was like, 'Hell yeah.' How cool would that be? If you say it, if you put it out there, maybe it will happen. Tweet it, and it will come.
That could theoretically place Misty Knight as an ABC series, given Shonda Rhimes' integral presence there, and we know ABC has begun conversations for the next Marvel series. Could Misty Knight make the first Netflix hero to jump to ABC?
In the meantime, all Luke Cage episodes will hit Netflix on September 30.