The Top 10 Marvel Comics Coming in December
Marvel Comics solicits over a hundred items a month, from comics to trades to posters. Wading through all of the stuff is a hassle, and it's easy for good books to slip through the cracks, so we've taken a look at the ten best and most interesting books listed in Marvel's solicits for December. These are the books that might have slipped through the cracks and the ones that just look like great reads, regardless of their prestige. After the jump, we've got "Heroes for Hire," some classic mutant teenagers, Daredevil's finely sculpted buttocks, and all the "Thor" you can shake an enchanted stick at.

1. HEROES FOR HIRE #1
Written by DAN ABNETT & ANDY LANNING

Penciled by BRAD WALKER

Cover by DOUG BRAITHWAITE

Variant Cover by BRAD WALKER

Variant Cover by HARVEY TOLIBAO

In the aftermath of Shadowland, Marvel's greatest street heroes – Punisher, Moon Knight, Shroud, Elektra, Paladin, Silver Sable, Ghost Rider, Iron Fist, Falcon, Misty Knight and more – leap into one all-new series! Who has brought these dangerous loners into one fighting force? How is this network different from all other teams? Who is their first target, and what mysteries wait for them? Discover the answers and enter the action on Marvel's mean streets, courtesy of fan-favorite writers Dan Abnett & Andly Lanning (THE THANOS IMPERATIVE, PUNISHER: YEAR ONE) and artist Brad Walker (GUARDIANS OF THE GALAXY)!

40 PGS./Rated T+ ...$3.99



DnA did wonders for Marvel's cosmic characters with their work on the aftermath "Annihilation" and beyond, but it looks like that chapter of their career has come to a close. They're switching it up in a big way with "Heroes for Hire" and trading a relatively static, space-bound cast for a fluid, street level one. While details are still scarce on this series, we do know that characters will enter and exit the series as the missions require, and all at the behest of mysterious manager. The cast is awesome (with the exception of Paladin) and contains some of the best of Marvel's non-powered or street level characters. "Heroes for Hire" is a classic Marvel series that has been relaunched a couple times now. With DnA behind the wheel, and their "Guardians of the Galaxy" buddy Brad Walker on art, I'm expecting big things.
2. GENERATION X CLASSIC VOL. 1 TPB
Written by SCOTT LOBDELL & FABIAN NICIEZA

Penciled by JOE MADUREIRA, ANDY KUBERT, ROGER CRUZ & CHRIS BACHALO

Cover by CHRIS BACHALO

The techno-organic alien race known as the Phalanx has struck! Targeting Earth's mutants as the only threat to their complete assimilation of the planet, the Phalanx have already taken out the X-Men-and now they've set their sights on the next generation of mutants! Synch, Husk, M, Skin and Blink find themselves in the crosshairs, while Jubilee, Banshee and the White Queen are all that's left to save them! But in order to defeat the Phalanx, one will make the ultimate sacrifice. Then, it's the dawning of a new day as Xavier's School opens its doors once again! Jubilee says goodbye to the X-Men as she joins the fledgling Generation X, along with the sullen Chamber and the mysterious Penance-but when the marrow-sucking monster known as Emplate strikes, will any of the new students survive their baptism of fire? Collecting UNCANNY X-MEN #316-318, X-MEN #36-37, GENERATION X #1-4, GENERATION X ASHCAN EDITION and material from GENERATION X COLLECTOR'S PREVIEW.

288 PGS./Rated A ...$24.99

ISBN: 978-0-7851-4967-5



This is the second or third time Marvel's reprinted this trade under a new name (Remember "The Origin of Generation X?"), but that's fine--this is shockingly good stuff. A few issues of it doesn't hold up as well as it should, but the "Generation X" portion of the trade is top notch. Chris Bachalo is the kind of artist who heals all wounds. His art is a sight to behold, and he's doing some interesting stuff on this book. He's partway between "Shade, the Changing Man" and his later work here, and watching the evolution as his style is worth the price of admission.
Written by ERIC SHANOWER

Pencils & Cover by SKOTTIE YOUNG

Introducing Tik-tok, the amazing clockwork man constructed completely of copper. He can walk, talk, think, and do everything but actually live. Dorothy frees Tik-tok from his stone prison. In return, Tik-tok battles the menacing Wheelers to save Dorothy and her talking chicken Billina. And who is the mysterious Nome King and why has he enslaved the Royal Family of Ev?

32 PGS./All Ages ...$3.99
Everything you need to know about Shanower and Young's "Oz" you can see on this cover right here. It's creepy and fascinating all at once, and while you can't really come up with a story based on the cover, it sure does make you want to peek inside the book to see what's up. Young's art is a selling point in and of itself, honestly. He's got a style that makes Oz a little scary and a lot off-kilter, but isn't too far from how you might have imagined Oz to be from the books.

4. BLACK PANTHER: THE MAN WITHOUT FEAR #513
Written by DAVID LISS

Penciled by FRANCESCO FRANCAVILLA

Cover by SIMONE BIANCHI

Variant Cover by FRANCESCO FRANCAVILLA

In the wake of Shadowland, there's a new protector of Hell's Kitchen! He has no kingdom, no vibranium, and no high-tech safety net--just bloody knuckles and the will to prove himself in a foreign land where the fiercest of jungle predators stalks the most dangerous urban prey! His name is T'Challa, and in the aftermath of Shadowland, he will create a new life, a new identity, and learn what it is to be a different kind of hero. But with Daredevil gone, the bad guys are coming out to play, and a new nemesis--Vlad the Impaler--plots his bloody rise to power. Be there as national best-selling author and Edgar Award Winner David Liss and the pulp master Francesco Fracavilla (Zorro, Green Hornet) begin a shocking new chapter for the world's most dangerous man!

32 PGS./Rated T+ ...$2.99



Taking the Panther out of Wakanda is one of those twists I'm not too fond of. Remember back when he was a schoolteacher in Harlem? It was okay, not terrible, but it wasn't really what I wanted out of a Black Panther tale. He's got an incredibly vibrant and interesting locale as his home base, and to avoid dealing with that just strikes me as a mis-step. But -- Francesco Francavilla is an incredible artist, and I'm more than willing to give him the benefit of the doubt. I'm unfamiliar with David Liss, beyond the fact that he's another novelist joining up with Team Marvel. The solicits specifically call out Francavilla as being "the pulp master," though, and I hope that Liss's plots and script play to Francavilla's strengths.
A brief digression: You know how superheroes, male ones at least, are generally de-sexualized in comics? They have big muscles, no package, and having a realistic butt is right out? Take a look at the ghost of Daredevil's carefully sculpted hindparts, complete with definition and tone, on Simone Bianchi's cover. The times, they are a-changing.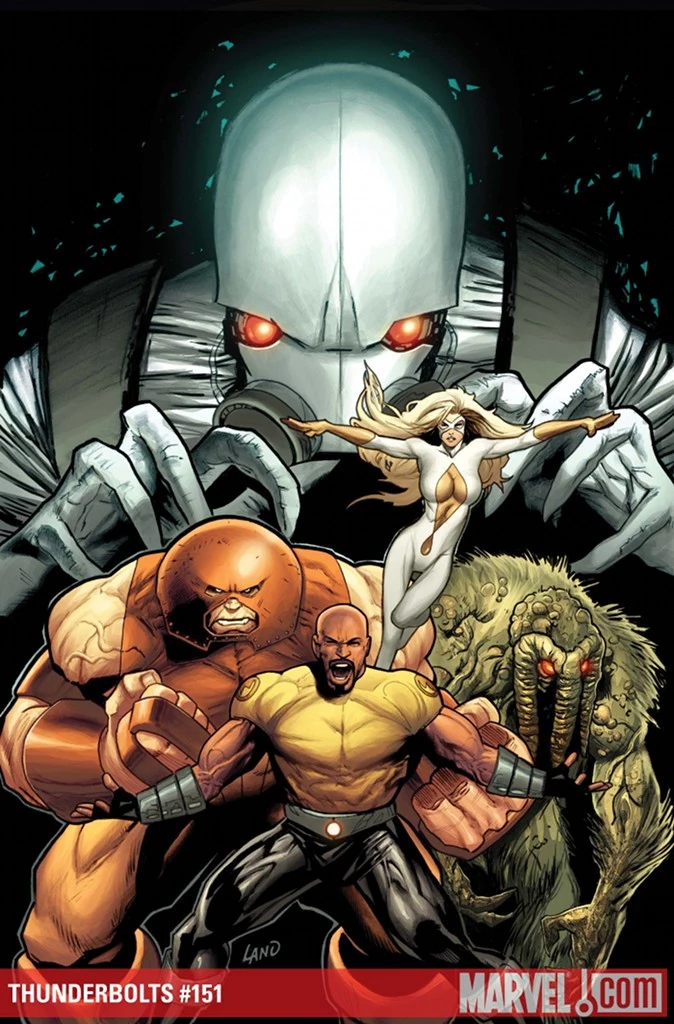 Written by JEFF PARKER

Penciled by KEV WALKER

Cover by GREG LAND

Come sit by the fire and prepare to be frightened...we're going to tell you a "Ghost Story! The Thunderbolts own psychologist, Moonstone, peels back the layers and delves into the mind and past of the brilliant and mysterious paranoid known only to the world as Ghost! How did his war on the corporate system begin and what made him leave his humanity behind? Even his hardened criminal teammates will be forced to admit that some things are better left unknown. Learn more than you ever wanted to about Iron Man's fearsome foe in the latest issue of the series that has IGN.com raving: "I can't recommend this book enough--you need to be reading THUNDERBOLTS."

32 PGS./Rated T+ ...$3.99
Setting aside the incredible work Parker and Walker have been doing on "Thunderbolts," the premise for this issue alone is great. The Superhero Psychologist Issue is an effective format for an issue, and was used most notably in the original "X-Factor" series. It gives the writers a chance to remark upon the characters that they're writing, rather than just putting words in their mouths. You can even get away with foreshadowing plot twists or revealing deeply hidden secrets of certain characters due to the revelatory aspect of a trip to a psychologist.

6.WOLVERINE: THE BEST THERE IS #1


Written by CHARLIE HUSTON

Penciled by JUAN JOSE RYP

Cover by BRYAN HITCH

Sketch Variant by BRYAN HITCH

Classic Artist Variant by HERB TRIMPE

Modern Artist Variant by GABRIELLE DELL'OTTO

Poster Variant by MARKO DJURDJEVIC

"Contagion, Part One: Impulsion & Whim," PART 1 OF 6

When Wolverine faces a problem of the villainous kind there's a good chance that he'll use his Adamantium claws to whip up a lethal solution to it. What happens, though, when he faces an opponent who becomes a much bigger problem if he's killed? Enter: Contagion, a bold new addition to Wolverine's rogue's gallery. But first, Logan must contend with Contagion's defenders, the aptly named crew known as the Unkillables.

32 PGS./Parental Advisory ...$3.99
Why is this book notable? It's just another dumb Wolverine comic, isn't it? We've seen hundreds, if not thousands, of those. We predicted that Charlie Huston would be writing a comic with Wolverine earlier this year, and Marvel released a redacted preview of the art for "Wolverine: The Best There Is" a few weeks back. Well, Ryp's Geof Darrow-esque style is pretty much perfectly suited to the kind of visceral carnage a Wolverine comic requires. Huston is hands down the best guy at depicting surprise and anger via dialogue, and has a sick sense of humor, as well. Together, we're hopefully going to get one of those comic books that Fredric Wertham was so worried about: blood drenched to an almost prurient level.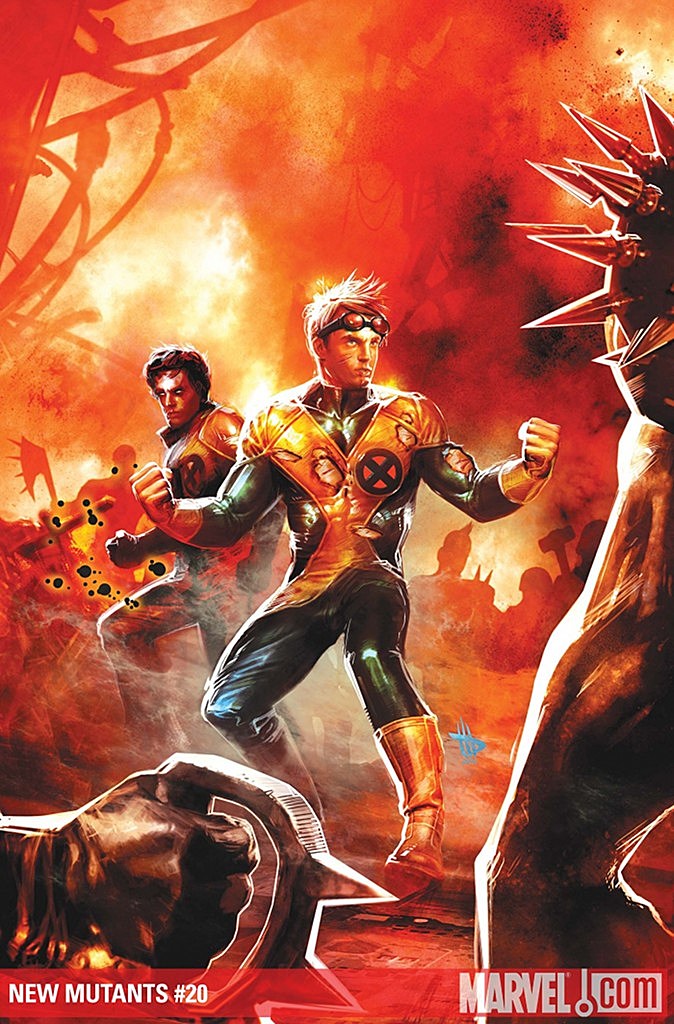 Written by ZEB WELLS

Penciled by LEONARD KIRK

Cover by DAVE WILKINS

"Rise of the New Mutants"

The New Mutants were defeated last issue and those that are left standing are licking their wounds. Can they possibly pick up the pieces and stop Project Purgatory from letting the Elder Gods loose? Certainly not alone. The New Mutants turn to the rest of the X-Men for help, but can even the mighty X-Men hope to stop the terrible future foretold in NEW MUTANTS #9? Zeb Wells (AMAZING SPIDER-MAN) and Leonard Kirk (DARK X-MEN) continue their landmark run!

Part 1 (of 2)

32 PGS./Rated T+ ...$2.99
I'll admit it--my first thought when a new "New Mutants" was announced, the third or fourth stab at the concept in the past ten years, was "Aren't all those New Mutants twenty years old by now?" My skepticism was soon shown the door, however, because Wells and his collaborators ended up doing a pretty fantastic character-focused take on what happens when you're younger than the normal X-Men, but not so young that you're rookies. Everyone on this team has been soldiers since they were kids, and it shows in their experience and how they behave around each other. The title is just a trick to get nostalgic fans to buy it.
8. THOR BY WALTER SIMONSON OMNIBUS HC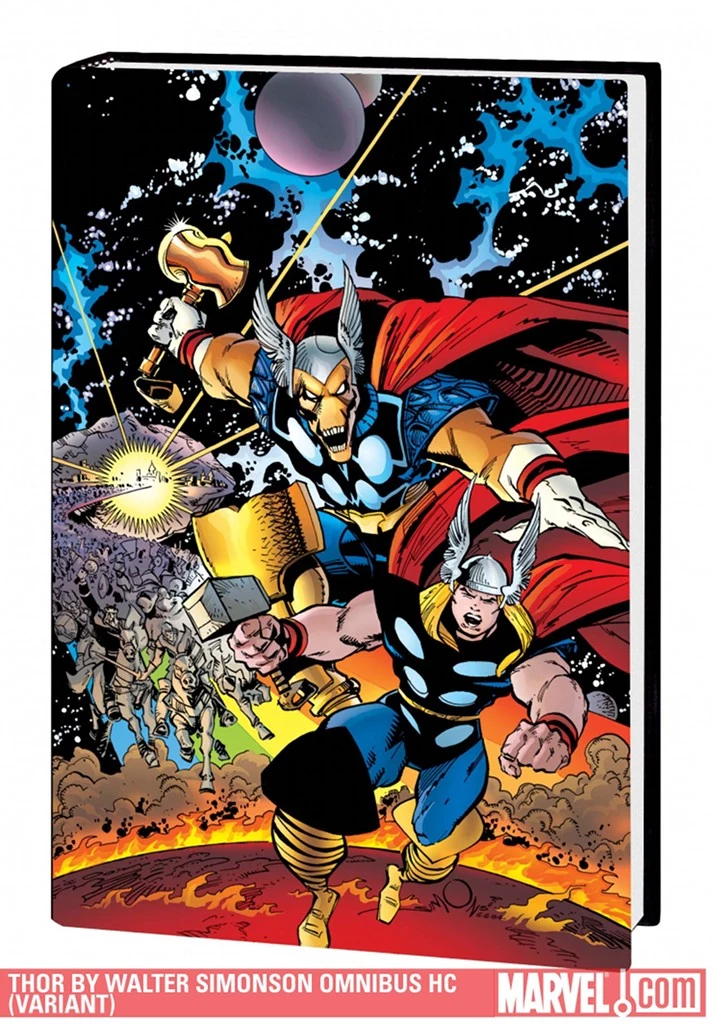 Written by WALTER SIMONSON

Penciled by WALTER SIMONSON with SAL BUSCEMA

Covers by WALTER SIMONSON

Considered by many to be the greatest run on Thor ever, Walt Simonson's classic tales of the God of Thunder are collected here-completely remastered from the original artwork and newly colored by Steve Oliff! And there are too many timeless tales to count: The Casket of Ancient Winters! The death of Odin! The origins of Asgard! The sacrifice of the Executioner! Thor as a frog! The Mutant Massacre! The curse of Hela! The debut of Thor's body armor! Guest-starring Beta Ray Bill, Nick Fury and the Avengers! Featuring the threats of Fafnir the dragon, Loki, Lorelei, Malekith the Dark Elf, Surtur, Hela, the Titanium Man, Kurse, Zaniac, the Marauders, the Absorbing Man, Fin Fang Foom, the Destroyer and the Midgard Serpent! Collecting THOR #337-355, #357-369 & #371-382 and BALDER THE BRAVE #1-4.

1192 PGS./Rated A ...$125.00

ISBN: 978-0-7851-4633-9

Trim size: oversized
Walter Simonson's run on "Thor" is the one that every creator to work on the book after has to live up to. He took the concept and ran with it, building up the sci-fi mythology of Marvel's version of Thor and telling epic stories in the process. That's not the "Oh, this is kinda cool" version of "epic," either. I mean "epic" in the "epic poem" sense. From writing to art, this run is larger than life and twice as nice. It features the introduction of Beta Ray Bill, the hijinx of the Warriors Three, one of the greatest heroic deaths ever, and absolutely everything you could possibly want out of a Thor comic, including letters by John Workman.
Written by MATT FRACTION

Pencils & Cover by PASQUAL FERRY

Cover your ears and gird your loins for the four-letter word that changes everything for Thor, for Asgard and for Earth: O D I N. And you won't believe who Ol' One Eye brings back with him. On top of THAT, the God of Thunder has to deal with the ramifications of reincarnating Loki, the least of which are that the God of Tricks has taken a form no one saw coming. And if that wasn't enough, the town of Broxton has to deal with the refugees of nine worlds,

on the run and terrified as THE WORLD EATERS continue their trans-universal rampage of madness...!

32 PGS./Rated T+ ...$3.99
The most interesting thing about this solicit is that they spoil the return of Odin and Loki in the same breath. That's the kind of thing that is generally avoided in solicits, but I don't mind that at all. What happens isn't half as important as how it happens, right? So if Fraction feels comfortable tossing this info out there into the ether, then there must be something heavy going on in the background. The return of Odin and Loki is simply bait for curious readers. This is a good mix of revealing just enough info to get people interested and keep them talking, but keeping just enough hidden behind your back to keep people guessing.
10. THOR THE MIGHTY AVENGER VOL. 1: THE GOD WHO FELL TO EARTH GN-TPB
Written by ROGER LANGRIDGE

Penciled by CHRIS SAMNEE

Cover by CHRIS SAMNEE

He's banished, he's mad, and he wants to FIGHT. Roger Langridge (Muppet Show, Eisner and Harvey Award nominee) and Chris Samnee (Siege: Embedded) re-imagine the God of Thunder in Thor the Mighty Avenger! THRILL as he battles robots the size of cities! GASP as he tames the mightiest sea creatures! SWOON as he rescues damsels from the vilest villains! It's Thor as you've NEVER seen him! Plus, relive some of Thor's earliest adventures with special reprints of JOURNEY INTO MYSTERY #83-84. Collecting THOR THE MIGHTY AVENGER #1-4 and JOURNEY INTO MYSTERY #83-84.

128 PGS./Rated A ...$14.99

ISBN: 978-0-7851-4121-1
Roger Langridge and Chris Samnee are responsible for the most successful, quality-wise, of Marvel's recent glut of comics featuring Thor. This one is an entry-level title that feels all ages in a good way. You can give this to anyone, and by the time they reach the end of it, they'll have a good handle on who Thor is and what he's all about. Langridge's clever, stripped down, and back to basics approach works very well for Thor, who too often is portrayed as a generic god of thunder. Samnee's art is incredibly on point, from acting to action, and Matt Wilson more than earns his cover credit on the trade with his colors.