Megan Fox To Star In Michael Bay's 'Teenage Mutant Ninja Turtles' Movie We Think
TMNT: we are bringing Megan Fox back into the family!
Naturally all of the Hollywood news sites are drawing the logical boring conclusion that this means Fox could be playing April O'Neil in his potentially disastrous live action Teenage Mutant Ninja Turtles film - you know, the one that had a script so bad it had to be scrapped entirely and had its release date pushed to 2014? The one with alien turtles and supposedly loathesome human characters? The one TMNT co-creator Peter Laird called "wretched?" That one!
Fox playing April seems kind of obvious, though, so how about we pretend she's playing another role? One right up a guy like Bay's alley......Venus de Milo!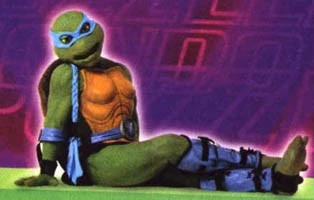 For anyone who's watched the live action 1997 Teenage Mutant Ninja Turtles: The Next Mutation series, it's probably not very kind of me to remind you of the franchise's poorly-executed fifth turtle. The hopelessly annoying Venus was a certified-turtified wasted opportunity to introduce a sister into the family. Then again, TMNT: TNM never featured any horribly offensive racial stereotypes or scenes where the heroes urinated on people. Also? Venus and the rest of the Next Mutation crew hung out with the Power Rangers and had the ability to surf through space without protective equipment. I guess I actually had a better time sighing my way through assorted episodes of Next Mutation in seventh grade than I did through all three of Bay's Transformers movies? Weird!
Anyway, yeah, if Paramount and Bay actually get this TMNT film of theirs made, Fox could likely play a version of April. To be honest, Fox seems to do just fine as an actress these days in films like This is 40 and has demonstrated an earnest affection for comics over the years (she had aspirations to be a comic artist in her youth, even). Within the context of a Bay film, at this point, her involvement doesn't seem like it'd be an issue. Scientist? Reporter? She would probably be fine with the right script and right director.
If Bay's version of April is a high school student as the original script indicated, though, voice actress Mae Whitman might be a better fit considering just how much fans are digging Nickelodeon's CG animated TMNT series.
Whatever happens, I think we can all agree that the original Next Mutation theme song is way harder to get through than whatever new techno jam it's got on Netflix.


What were we talking about?