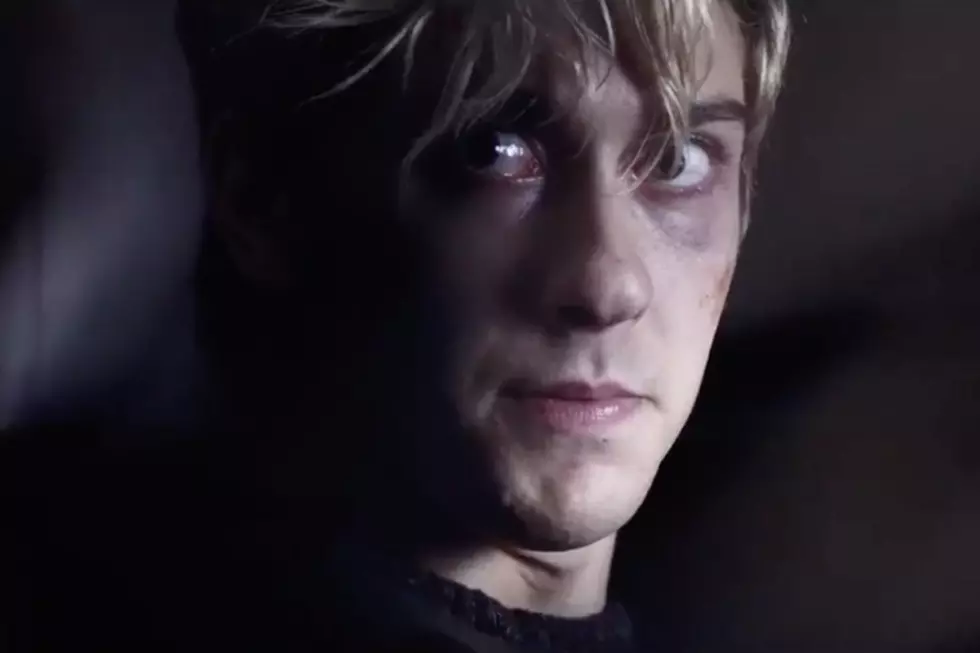 A Teenager Finds A Mysterious Notebook In First Teaser for Netflix's 'Death Note'
Netflix
What would you do if you mysterious notebook fell into your hands and gave you the power to kill anyone? Maybe you'd write the name of a high school enemy or a crappy ex in the notebook just for giggles, then realizing its murderous magic is for real, quickly toss it out the window and run away. But for Light Turner, he decides to use that notebook's power.
That's the idea behind of Netflix's Death Note, the film adaption of the Japanese manga of the same name. The manga follows Light Yagami, a Japanese high school student who finds a supernatural notebook that allows you to kill anyone by writing their name inside it. The notebook was dropped onto Earth by a Grim Reaper-type character, Shinigami Ryuk, and Light ends up using the book to rid the world of evil.
The first footage from Netflix's adaptation, directed by Adam Wingard, arrived on Twitter today and gives a glimpse at the death-filled movie. Paper Towns' Nat Wolff stars as Light Turner, alongside The Leftovers' Margaret Qualley and Lakeith Stanfield (Get Out). The brief teaser shows Wolff's Light writing a name into a notebook, followed by people jumping out of a building, hanging from a helicopter, and some more eerie visuals.
You might have noticed that two white people play the lead and supporting characters in the Japanese manga-inspired movie. You also may have spotted a grand total of zero visible Asian actors in the above footage. Death Note is latest instance of Hollywood whitewashing and the erasure of Asian visibility, and it's sure to fire up a ton of controversy for Netflix.
Qualley's Mia Sutton is likely the Americanized version of model and love interest Misa Amane from the source material, and Willem Dafoe will voice the Ryuk character. Asian-American actor Paul Nakauchi stars in the film as Watari, though as the assistant to Stanfield's private detective L. Heroes star Masi Oka will also appear in the film, but it's still a shame this adaptation failed to cast Asian actors in the lead roles. Let's just hope Netflix has their PR under control so no one says anything as idiotic as the Iron Fist creator on the press tour. Death Note hits Netflix on August 25.