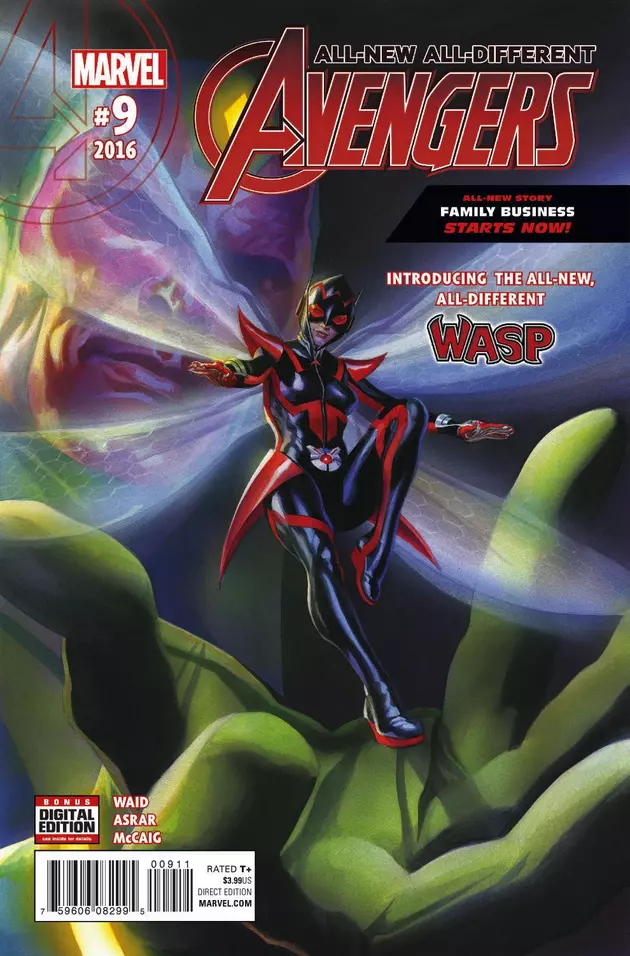 The New Wasp Shows Her Face in 'All-New All-Different Avengers' #9 [Preview]
Cover by Alex Ross
The new Wasp is at the center of All-New All-Different Avengers #9, which launches a new storyline called "Family Business." Until her debut on Free Comic Book Day, we don't know who this knew Wasp really is. Her face is revealed on one of the unlettered preview pages below, but all that really tells us is that she wears her hair in roughly the same style as Hope Van Dyne, the soon-to-be-Wasp played by Evangeline Lily in the Ant-Man movie.
But of course there is no Hope Van Dyne in the main Marvel Universe. She might be from another timeline (there's certainly plenty of that going around) or she could be someone entirely different. But the title of the story, "Family Business," does imply some kind of connection to the Van Dynes and/or the Pyms.
And there's also the question of why Janet Van Dyne, the original Wasp, is no longer in the role. We just saw her recently in All-New Wolverine, and she was doing fine, but in this preview Jarvis seems very upset at someone else taking on her name. All will be revealing in time, I'm sure.
All-New All-Different Avengers #9 is written by Mark Waid and drawn by Mahmud Asrar, with a cover (and a Wasp costume design) by Alex Ross. It's out May 11.
Here's the official word from Marvel:
Who is this mysterious new player in the Marvel Universe? You won't have to wait long to find out! This May, critically-acclaimed creators Mark Waid and Mahmud Asrar bring you ALL-NEW, ALL-DIFFERENT AVENGERS #9 - kicking off a brand-new story arc featuring the all-new Wasp! Hot off her highly anticipated first appearance on Free Comic Book Day, this mysterious new character makes a bee line for the center of the Marvel Universe. Her first stop? Colliding head on with the All-New, All-Different Avengers! But is she friend or foe? And what does she plan to do about Earth's Mightiest Heroes? The answers begin as she buzzes her way into comic shops this May in ALL-NEW, ALL-DIFFERENT AVENGERS #9!