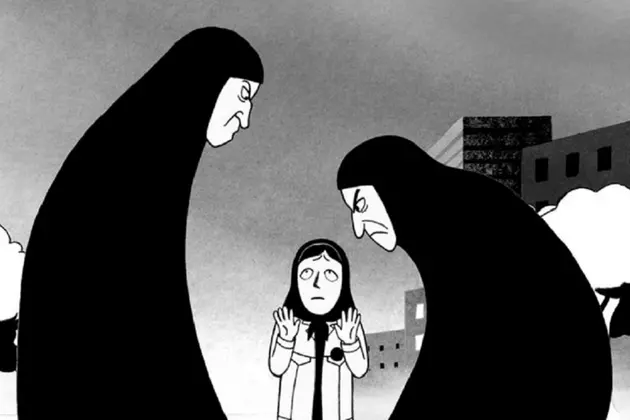 Coming Of Age: The 'Persepolis' Mixtape
Sony Pictures Classics
Marjane Satrapi's incredible work Persepolis focuses on the experiences of a young Marji and her family growing up during the Iranian Revolution. The Revolution caused many changes to the relatively peaceful Iran of Marji's youth, including gender segregation, the abolition of secular education, and the strict enforcement of sharia law.
In Persepolis, Marji becomes increasingly rebellious, wearing denim jackets emblazoned with "punk rock," and going to the black market to buy illegal copies of popular music. It became illegal for women to dance in public, or for men and women to dance together; listening to Western popular music and getting her dance on was a way for Marji to rebel.
We've put together a mixtape of musicians and songs mentioned in Persepolis to inspire you to celebrate life and rebel a little yourself.
Run to the Hills

Iron Maiden (The Number of the Beast)

Iron Maiden was one of Satrapi's favorite bands as a young woman. She would buy Western heavy metal, like Iron Maiden, on the black market. It's not a surprise that heavy metal music was considered un-Islamic in Iran at that time; even in America, Iron Maiden faced protests from Christian fundamentalists who thought the band promoted Satanism. In 1992, the band was barred from performing in Chile. Heavy metal is often associated with aggression and macho masculinity; it makes sense that someone looking to rebel against authoritarianism might embrace it.

"Kids in America" is all about young people looking to find themselves and find each other through music. There's a freedom in just dancing. "Outside a new day is dawning / Outside suburbia's sprawling everywhere / I don't want to go, baby." Kim Wilde represents that freedom of culture and freedom of expression that Marji struggles with in Persepolis.

"Stayin' Alive" from Saturday Night Fever, The Bee Gees' classic disco hit, is all about how music can soothe the soul, even in troubling times: "Music loud and women warm / I've been kicked around since I was born / And it's alright, it's okay." Persepolis also features a guy wearing a Bee Gees shirt, and it's funny in the Western world to think of the Bee Gees as being symbols of rebellion or defiance, but they were.

Beat It

Michael Jackson (Thriller)

Michael Jackson was the King of Pop, and pop music is dangerous. After the Iranian revolution in 1979, Western popular music was forbidden. In the video for "Beat It" Michael Jackson essentially stops a gang fight through music and dancing; music is a powerful way to bring people together. "Showin' how funky and strong is your fight / It doesn't matter who's wrong or right / Just beat it."

Rock and Roll Ain't Noise Pollution

AC/DC (Back in Black)

AC/DC have always had a bit of a "bad boy" reputation. Their first UK tour was called "Lock Up Your Daughters." They weren't punks, they were rockers. They were loud and aggressive and talked about Hell a lot. There's a scene in Perspolis in which a young man wearing an AC/DC shirt, smoking a joint, is getting arrested.

Start Me Up

The Rolling Stones (Tattoo You)

The Rolling Stones get a shout out in chapter 17 of Persepolis, which deals a lot with Marji's love of music. They're not really punk, and they're not about rebellion and aggression in the way that heavy metal was. But they're all about having sex and feeling good — both things not really allowed in an extremist theocracy like the one that developed after the Iranian Revolution.

Lust For Life

Iggy Pop (Lust For Life)

Iggy Pop's "Lust For Life" came out in 1977, but it's such a great song for Marji. Her life and her work could have been incredibly dark and depressing, but she approaches it from such a positive place. Her rebellion isn't about breaking things down, it's about building something new instead. She's got a lust for life.

Eye of the Tiger

Survivor (Eye of the Tiger)

There's an amazing scene in the film version of Persepolis in which "Eye of the Tiger" is playing while Marji is getting ready in the morning. In time with the music, Marji is doing kung fu poses in her towel and waxing her leg hair. "Eye of the Tiger" is a song about survival, but not just survival — it's about having the vision to see past the crappy situation you're in, fight past everything, and achieve your dreams. It's the perfect song to accompany Persepolis.

If you want to check out this mixtape at home or on the go, we've assembled a playlist of all the songs available on Spotify to make it even easier. You can also follow ComicsAlliance on Spotify to check out all our previous mixtapes.