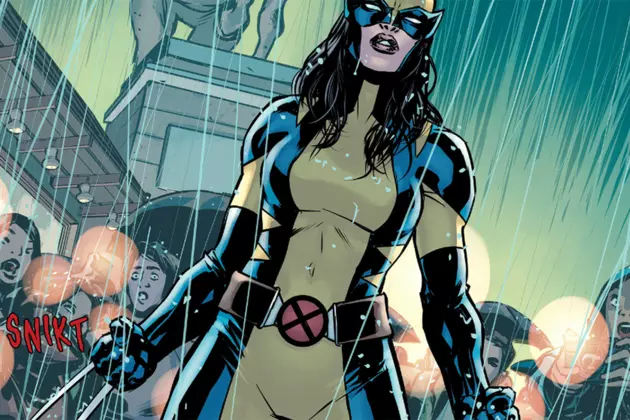 The Best There Is: The X-23 Mixtape
David Lopez, David Navarrot, Nathan Fairbairn and Cory Petit
Comics and music go hand in hand, and there's nothing quite like putting on that perfect playlist, sitting down with a good story, and getting lost for a while. We've tasked our best writers with crafting the ultimate mixtape to compliment their favorite comics, to hopefully introduce you to comics you might not have tried and artists you might not have heard.
Since she crossed over to comics in 2003 from the underrated X-Men Evolution cartoon, Laura Kinney --- AKA X-23, Logan's female clone and surrogate daughter --- has become one of the most interesting characters in the Marvel Universe. A survivor in every sense of the word who moved on from her bioengineered origins as a weapon to become her own person, Laura has been the current Wolverine for almost two years now and, if there's any justice, she'll stay Wolverine forever.
Here, then, are eight songs that explore every facet of the All-New Wolverine's long and winding road from emotionless killer to the best there is at what she does.
The sinister corporation known as the Facility, which created Laura, probably didn't expose her to much in the way of art at all. But any music she was exposed to probably would've sounded something like this. The opening track from the British electro-rock group The xx's Mercury Prize-winning debut record, "Intro" is a propulsive song that amps up the senses and sharpens your focus. The sort of things an assassin needs.

Wish Upon A Star

Cliff Edwards & The Disney Studio Chorus (Disney's Greatest Volume 1

One of the few traits of humanization that Laura had growing up in the facility was that Dr. Sarah Kinney, her creator and mother, would read to her in secret. Specifically, she read her the story of Pinocchio, which must have resonated with Laura the older she got and the further she removed from her conditioning.

At some point, then, it stands to reason Laura encountered the famous Disney film with this, probably the most famous song in the entire Disney canon. It's a lovely show tune and is an absolute comfort: something Laura needs more than most.

True Colors

Cyndi Lauper (True Colors)

A big part of Laura's solo adventures — particularly the series written by Marjorie Liu and illustrated by artists like Phil Noto and Sana Takeda — is her learning what it means to be herself outside of the Facility and outside of the X-Men. Nowhere is that more clearly demonstrated than in this stone cold classic, a song all about reinforcing that who you really are is what makes you loved.

Backyard Skulls

Frightened Rabbit (Pedestrian Verse)

One of the most surprising friendships Laura develops in her solo series is a bond with everyone's favorite card-exploding thief, Gambit. The Cajun charmer teams up with Laura at Storm's request after she leaves the X-Men because he recognizes himself in her. Specifically, he realizes that they both have their share of demons behind them.

The Scottish rock band Frightened Rabbit has made a career out of rock songs all about dealing with one's inner demons but this one, from their triumphant 2013 record Pedestrian Verse, might be the best of the lot. It shows that hiding from one's demons is futile but that it's not hopeless, a persistent theme of Laura's solo outings.

Shake It Out

Florence + The Machine (Ceremonials)

Given her all-black wardrobe, it's obvious that Laura has a penchant for darkness and withdrawal. But in music, at least, sometimes the most theatrically gothic bands are the ones who offer the most upbeat anthems.

Case in point: this hit single from British pop collective Florence + The Machine's second album Ceremonials. With its choral refrain of "It's always darkest before the dawn," this track is brewing with muted but palpable hope, a message Laura learns to embrace during her solo adventures.

The Beginning

ONE OK ROCK (JinseiXBoku=)

A big part of Laura's life is all about beginnings, whether that be her venturing into the outside world as a member of the X-Men or X-Force, her relationships with fellow mutants Hellion & Angel (the time-displaced teen one) or her life as Wolverine. Any way you slice it, this song by the white-hot Japanese rock band ONE OK ROCK is made for this sort of thing.

The Man I Knew

Dessa (Parts Of Speech)

One of the most poignant stories in the current The All-New Wolverine comic is Laura encountering and dealing with the presence of Old Man Logan, the alternate future version of the James Howlett we all know and love.

Quick to reject any connection with him, Laura still finds herself drawn to this older, more scarred version of the closest thing she has to a dad. Although it's textually about a romantic relationship, this song by Dessa — a member of Minneapolis' hip-hop collective Doomtree and an acclaimed solo artist — perfectly captures those feelings of confusion, anguish and affection.

Clever Girl

The Doubleclicks (Dimetrodon)

The undisputed highlight of Laura's tenure as Wolverine is her discovery and eventual adoption of her younger clone, Gabby, who is an irrepressible ball of delight capable of taming an actual wolverine!

Having mercifully not been a child for several years, I don't know what kids listen to now but I do know that all kids love dinosaurs. And Gabby is no exception, so this song by the Portland-based nerd-folk duo The Doubleclicks is totally fitting. I'm not saying more because you really should listen to this song yourself.

If you want to check out this mixtape at home or on the go, we've assembled a playlist of all the songs available on Spotify to make it even easier. Make sure to follow ComicsAlliance on Spotify and keep an eye out for more comics-themed playlists in the future.