PULP FRICTION: The Spirit Vs. The Rocketeer By Darwyn Cooke & J. Bone [Art]

Well... this is going to be hard to top.Commissioned by IDW Publishing for its forthcoming The Rocketeer/The Spirit: Pulp Friction miniseries by Mark Waid and Paul Smith, what you see below is, in my view, just about the coolest variant cover ever. Drawn by Darwyn Cooke and J.Bone, we've got two of American comics' most beloved pulp-inspired characters, created and designed by two of our industry's most influential masters, each infused with a flawed humanity not often seen in adventure comics heroes, and each characterized by tumultuous relationships with formidable women who seem to have executed a delightful reversal of the "cat fight" cliché that's brought out the worst in both men. I love it.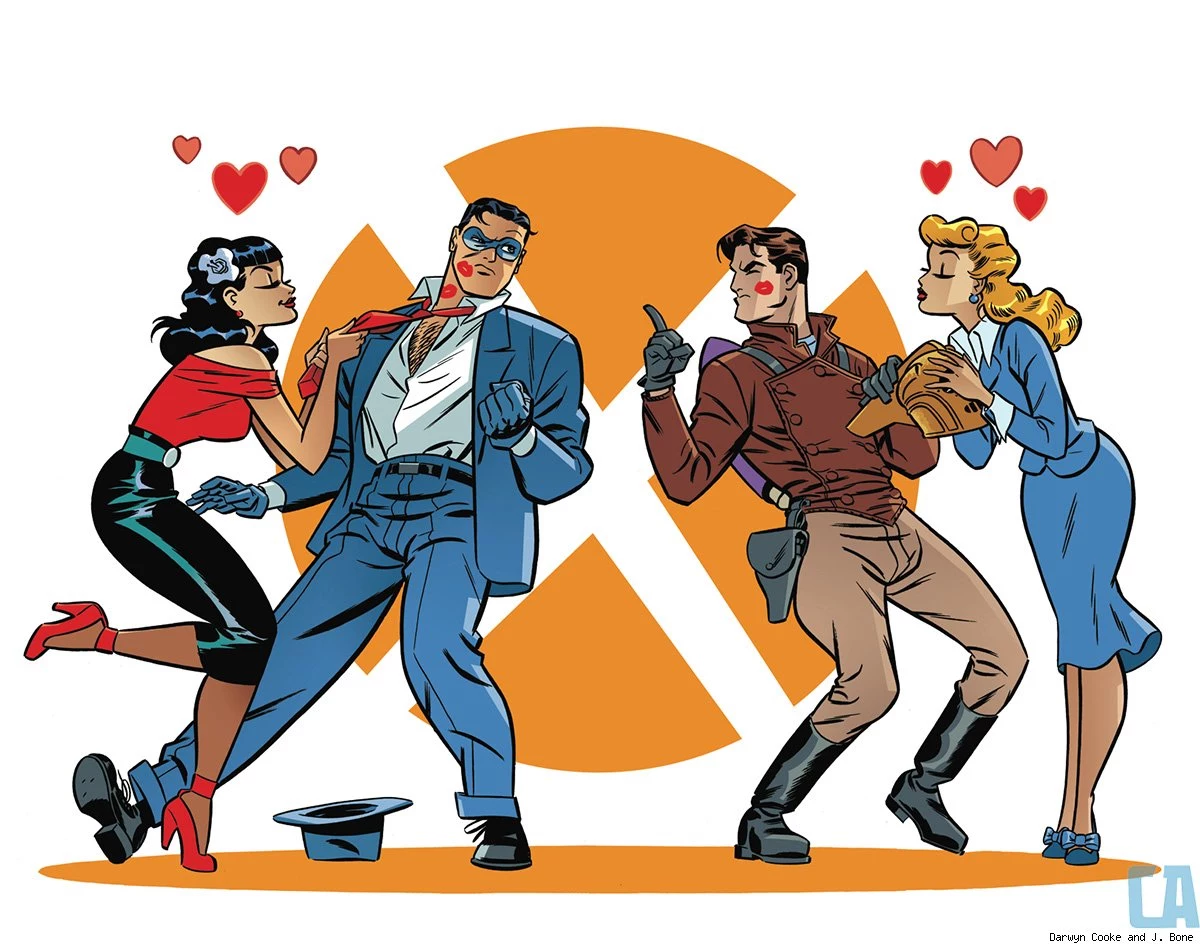 Obviously if you're unfamiliar with Will Eisner's The Spirit or Dave Stevens' The Rocketeer, this illustration will mean quite a lot less to you. Long story short: Eisner's Spirit aka Denny Colt was a cop before seemingly getting himself killed on a case. With Colt presumed dead, The Spirit availed himself of the crime fighting advantages that came with anonymity, donning a mask and rumpled blue suit and taking to the streets of Central City in a series of adventures that entertained audiences and influenced comics for generations.
Based in Los Angeles, Cliff Seacord was a handsome and talented but perennially broke and irresponsible stunt pilot who discovered an experimental rocket pack. Cliff initially thought to use the miraculous device to make some money, but ultimately became a hero in his own right as The Rocketeer, although usually as a byproduct of some kind of foolish romantic errand.
What The Spirit and The Rocketeer have in common besides classic character designs and roots in the variously dark, exciting, mysterious and sexy pulp traditions are girlfriends with whom they fight -- a lot. The politically savvy daughter of Central City's police commissioner, Ellen Dolan was frequently frustrated by The Spirit's elusive nature. An actress and model directly inspired by real-life pin-up queen Bettie Page, the Rocketeer's girlfriend Betty was a long-suffering victim of Cliff's relentless insecurity and idiotic schemes to impress her. But despite their relationship problems, both women routinely got the better of their respective beaus and play integral roles in their dangerous adventures.
Eisner's Spirit volumes number in the dozens, but a good primer can be found in DC Comics' The Best of The Spirit collection. I'd also highly recommend the two Spirit volumes created by Cooke and J. Bone themselves, who updated the characters -- particularly the women and minorities -- and sent them off on some particularly well drawn escapades in a variety of locales. Both artists also contributed work to IDW Publishing's The Rocketeer Adventures, an auspicious anthology series authorized by the late Stevens' estate that compiles all-new Rocketeer short stories by some of comics' most impressive creators. More recently, J. Bone illustrated all four issues of Hollywood Horror, only the second full-length Rocketeer story not created by Stevens himself (those beautiful stories are of course still available as well).
It's this history with both characters that makes Cooke and Bone's variant cover such a treat, and that they've dialed into the endearing personality deficiencies of both heroes speaks to the original creators' penchant for subverting expectations.
Written by Mark Waid (The Rocketeer: Cargo of Doom, Daredevil) and drawn by Paul Smith (The Golden Age, Uncanny X-Men), the Rocketeer/Spirit book finds Denny, Ellen and her cop dad heading to LA to investigate the death of a Central City politician whose body is discovered by Betty. The first issue goes on sale in July from IDW in finer comic book stores.