10 of the Gnarliest, Baddest Moments in 'Scalped'
There are so many reasons to love Jason Aaron's Vertigo comic Scalped, a brutal crime drama about a man who returns to the Native American reservation where he grew up as an undercover FBI agent on a mission. There's the "why didn't I think of that" awesomeness of the concept, the Elmore Leonard-esque dialogue, the richness and complexity of each character, the guttural art of R.M. Guera, and the seemingly endless series of plot twists and surprises. Even if you're so completely jaded and too cool for school to appreciate all that awesomeness, there's got to be at least one thing you can love: the violence.
Admit it. The shootings, the stabbings, the whippings and mutilations get our monkey brains boiling. We love it. We love it so much, we're paying a sort of tribute to Scalped and the carnage its unleashed, in the hopes that we will please it so that it may never level its arrow at us. As the groundbreaking series hits its 50th issue, ComicsAlliance are here to count down the gnarliest, craziest, balls-to-the-wall moments in Scalped. You might need some tiger blood. GNARLY SPOILERS AHEAD.



1. RED CROW'S FIRST KILL
One of the things that makes the violence in Scalped so effective is the realism - the fact that Lincoln Red Crow's first kill required him to strangle his friend for eleven minutes. It also helps when you have a couple of totally unappreciated geniuses like Guera and colorist Giulia Brusco rendering the moment. Four panels, muted, dramatic, and personal.
How old was Red Crow when he killed his first man? Like 25? Diesel, the wannabe-Indian psycho FBI agent was like 12. There seems to be some disagreement among a few readers - did Diesel arrange for his dad to get shot, or kill him himself? Look at that face and tell me that's not a killer. This is Diesel's first appearance in The Gnarlydome, but don't worry, little brothers, because Diesel endures.
What does cold poolside death taste like? This page, illustrated by frequent fill-in artist Davide Furno, illustrates the extremes Shunka will go to when properly motivated. What's even gnarlier than the great big pool full of putrefactin' Potawatomi is Shunka's story. Manipulated into wiping out the party he was representing by a lover named Joseph who faked his own death. That's some gnarly character development.
4. CAN'T STOP THIS FEELING, DEEP INSIDE OF ME
When the con-man Wesley Willeford takes Dash's jacket to cover some blood, he accidentally injects himself with a syringe full of H, and finds himself on the receiving end of a load spiked with rat poison meant for Bad Horse. Thus begins a foaming, writhing, bulging, seething, Total Recall of a death that even trumps an ice pick to the nose in the very same issue. The lesson here: keep using drugs, because you never know when they might save your life.
5. STEAK? THANKS, I ATE ALREADY
When Dino Poor Bear gets caught up in the uglier business of the 'rez, he soon finds himself face-to-face with the consequences. While on a collection run, the elderly father of a debtor grabs a steak knife and runs. When Dino steps in his way, they collide, and the old man ends up with a snaggletooth. Dino reacts the way most of us would: puking everywhere.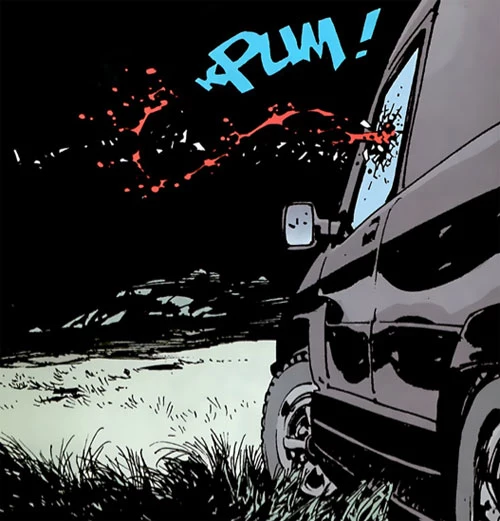 There's a quality to the mayhem in Scalped that's absolutely Coen-esque. The attention to detail allows for some pretty artful story beats. When Diesel overtakes Nitz's partner, Agent Newsome, he pops him in the head at close range and a fountain of blood flies out the window like somebody just bit into a strawberry Gusher. Again, much respect to the underrated team of Guera and Brusco, and their use of lighting, staging, and the best gun sounds in comics.
7. MR. BRASS: NOT AN OPTOMETRIST
Meet Mr. Brass, prominent associate of Johnny Tongue's, and one scary little son of a bitch. He's an shorter, older, Hmong version of Major Toht, with one arm and even more psychotic shit in his bag. Here we see him assisting the Tribal Police with an investigation into why eyeballs are so much fun to pry out of people.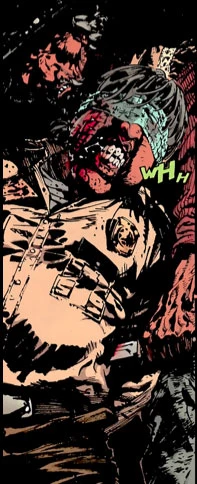 Catcher is definitely hard to figure. Is he a man tortured by visions, or just a drunk who blacks out and maims people? When he catches Officer Falls Down in his trailer, he kidnaps him, takes him out to the mountains, and sends him on a blindfolded test of strength that includes bear traps, venomous snakes, and spears that you just know haven't been disinfected. But because that's really just too easy, Catcher sticks a boning knife into Falls Down's side that probably goes all the way through to the kidney. At that point, shouldn't he at least take the blindfold off?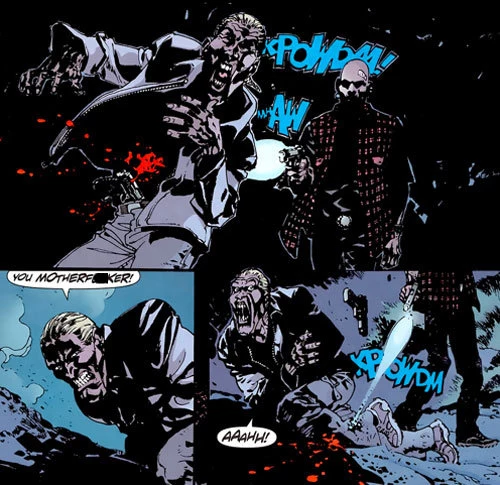 When Dashiell Bad Horse finally has Diesel right where he wants him, he intends to make it as long and painful as possible. Starting with a belly shot that ensures he's already done-for, Bad Horse slowly empties two full clips into Diesel's knees, elbows, shoulders, feet, legs, fingers, and balls, turning the "Baddest Injun' on the 'Rez" into the worst human shield on the 'rez. When Dash has finally had enough, he puts one through Don Johnson's face just for wearing white after Labor Day.
10. IF YOU SEE A CRAIGSLIST AD FROM A "MR. BRASS," DON'T ANSWER
Of course, the gnarliest moment in Scalped goes to Mr. Brass. Freshly-arrived at the casino, Brass intends to enjoy himself, live it up, maybe recount his exploits to a friend on a postcard made out of human skin. He hires two teenage prostitutes, a boy and a girl, meth-heads and runaways, and rapes and tortures them both. As Shunka later recounts, "He f***ed them and he stabbed them to death, all at the same time." Hey, what happens at the Prairie Rose Casino stays at the Prairie Rose Casino. Because it's dead.