 How to Make a Scott Pilgrim Halloween Costume
Halloween is nearly upon us, and if you're still looking for a comics themed costume, consider the mop-haired, sorta-heroic titular star of the most popular comics of the year:
Scott Pilgrim
. We've brought in cosplay expert
Bethany Fong
(who also authored our
Ramona Flowers tutorial
) to guide you through the process of making a Scott costume, explained step-by-step after the jump.

After college years of long hair and a disastrous salon haircut, Scott Pilgrim settled for an impeccably shaggy hairstyle that he manages to cut and style himself. For those of you who aren't blessed with a shaggy brown coif, Cosplay.com has a great brown wig that can help you achieve the look of a slacker hero. However, unlike Ramona's styling, Scott's look is extremely low-maintenance, which makes this costume relatively simple and comfortable to style and put together.
Step 2: The Wardrobe
Scott's wardrobe almost entirely revolves around his extensive graphic t-shirt collection, which he coordinates with casual basics and his beloved wristbands.
-- T-shirts: Scott's collection of graphic t-shirts often pay homage to his favorite bands, comics, and video games, which luckily means that many of the shirts featured throughout the series already exist. One of the most prominent shirts that I've spotted amongst Scott Pilgrim cosplayers and fans alike is the shirt for the band Plumtree, whose song served as the namesake of the man himself. Similarly, Scott is also prominently seen wearing one of two Smashing Pumpkins shirts: classic black Zero t-shirt and the green Heart Ringer Tee.
The release of the movie has also lead to the production of some of his other graphic t-shirts, such as the Air Quotes shirt (which also comes in women's sizes) and his bird shirt. For you craftier types, you can also stencil or create an iron-on transfer of one of the images seen on Scott's shirts throughout the series and create your own customized Scott Pilgrim shirt, such as the Subspace star shirt as seen in Scott Pilgrim's Finest Hour or perhaps even the infamous SARS shirt as seen in the film.

-- Parka: If you're looking to stay warm on Halloween night (and invest in a durable winter jacket), check your local army/navy surplus stores for a navy blue parka with a fur-lined hood (many stores will carry parkas with the bright orange lining as well). Don't forget to attach the X-Men patch on the upper left arm.
-- Accessories: Aside from his t-shirts, Scott's signature fashion accessories are his wristbands. In the graphic novel, he's seen with a few pairs of solid colored wristbands (that coordinate perfectly with his t-shirts), while in the film, Scott rocks black and white striped terrycloth wristbands. You can track down your own pair of wristbands at your local athletic goods store, costume shops, and fashion accessories stores.
-- The rest: Complete your outfit with your favorite jeans and sneakers.
Step 3: Leveling Up
Okay, so maybe you still have a while before you've earned the Power of Love. In case you're worried about encountering any Evil Exes at a Halloween party, we have a quick and crafty cheat-code for you.
Take a cheap plastic ninja sword and cover the handle in masking tape. Cut out two hearts (about 2-3" in width) out of cardboard with a craft knife or a box cutter and paint them dark pink (for added detail, you can paint a smaller lighter pink heart on the hearts after the first layer of paint has dried). Once dried, glue the hearts onto the front and backs of the bottom of the sword handle. +3 CRAFTINESS!
Bonus points: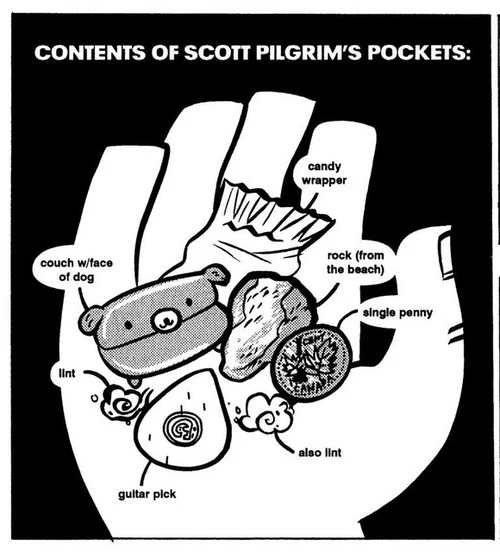 -- The sole contents of your pockets can only be comprised of small rocks, candy wrappers, a guitar pick, lint, Canadian pennies, and a dog-shaped couch figure from San-X.
-- As with the Ramona Flowers costume, make a large black placard name-tag out of black construction paper that lists off your name, age, role, and rating. Because everyone should know that 1) you're the hero, and 2) your rating is AWESOME.
-- If a girl dressed up like Ramona Flowers delivers you an Amazon.ca package sign for it. But only if she agrees to go on a date with you (EPIC WIN!).
-- Print out the Ramona scribble and carry it around with you all night. Ask everyone you talk to if they've seen this one girl with hair like this.