'South Park: Year of the Fan Experience' Creates a Pop-Up Town at Comic-Con [Video]
Comedy Central erected a spectacular recreation of the town of South Park just outside the San Diego Convention Center, home of Comic-Con International. The 1,500 square foot Ultimate Fan Experience includes a replica of South Park's main street, interactive "Create Your Own Avatar" stations with Internet connections for instant sharing, a museum of South Park artwork by fans and professionals, memorabilia, a stage for talent and costume contests and much more.
Check after the jump for more details, photos and a time-lapse video of South Park's construction.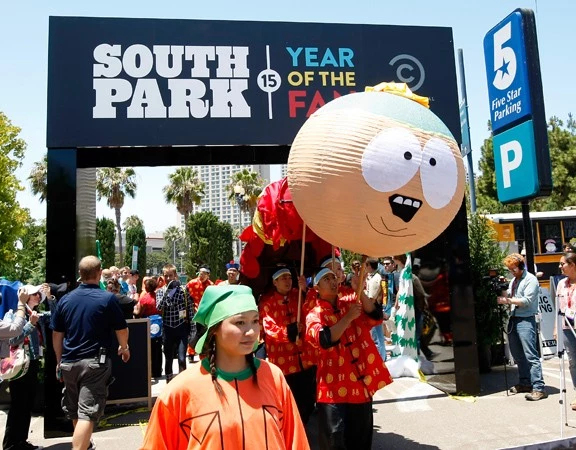 The "South Park" Year of the Fan Experience includes:

- A life-size replica of "South Park" Avenue.

- Interactive stations with social networking uploading capabilities including a Create Your Own Avatar station and an official badge by Foursquare (see below)

- A "South Park" photo booth and a face painting station featuring famous "South Park" characters including Mitch Connor.

- A museum with "South Park"-inspired artwork by Ron English and other curated artists on display, including fan-submitted artwork chosen by English as well as "South Park" staff artwork.

- Famous "South Park" memorabilia, including the gown Matt Stone wore to the Oscars in 2000 and the original cut-outs and story boards from the early seasons of the show.

- A screening of the original, un-aired "South Park" pilot and the "South Park Bigger, Longer & Uncut" movie on Friday night at 8 PM, followed by an informal Q&A with members of the production staff.

- A center stage with "South Park" karaoke, costume competition, trivia contests and more emceed by comedian Owen Benjamin.

- A Big Wheel pedal fan prix race track.

- A school cafeteria where special edition bags of Cheesy Poofs will be given away!

- A Voice of the Fan confessional booth where South Park will interview the fans about their favorite "South Park" moment, challenge them to sing the Cheesy Poof song or the "South Park" theme song. The best recordings may be used on COMEDY CENTRAL, South Park Studios.com or on the upcoming Year of the Fan DVD.

COMEDY CENTRAL has teamed up with foursquare to offer the official badge of San Diego Comic-Con. The badge will be "South Park" themed and available to everyone who checks in to San Diego Comic-Con. In addition, unlocking the badge will make fans eligible to receive a special gift from COMEDY CENTRAL and foursquare at the "South Park" Year of the Fan Experience.