Spider-Man's Public Service Announcement Comics Are Being Collected In Paperback. Really. All right. Guys. I need you to stop whatever it is that you're doing right now, because this week, Marvel has announced the single most important trade paperback collection of all time. It might take a little doing to see it, but if you look way, way down the list of December's collected editions from Marvel, it's there: A 456-page collection of Spider-Man Public Service Announcement comics, which inclues a story about Daily Bugle interns smoking pot, and another about Spider-Man getting molested as a child. Really.
Yes, the stories where Marvel's greatest characters battle against the real foes facing America's youth -- plaque, dudes who wear t-shirts with pictures of marijuana leaves on them and Canadian rodeos -- have been given the prestige treatment they deserve. And I am not even joking when I say that I'm more excited about them than any other paperback this year.Here's the full solicitation:
SPIDER-MAN: THE PSAS TPB

Written by VARIOUS

Penciled by VARIOUS

Cover by TODD MCFARLANE
The Spectacular Spider-Man does the Marvel Universe proud in a titanic tome that's both entertaining and educational! Swing along with Spidey and a gathering of his amazing friends - including Storm, Luke Cage, Power Pack, Jubilee and the Fantastic Four - as they take on a host of important social issues in the inimitable Mighty Marvel Manner!
Collecting SPIDER-MAN VS. THE PRODIGY; SPIDER-MAN, STORM & POWER MAN; SPIDER-MAN & POWER PACK; SPIDER-MAN AGAINST VERBAL ABUSE; SPIDER-MAN & THE NEW MUTANTS FEATURING SKIDS; ADVENTURES IN READING STARRING SPIDER-MAN; SPIDER-MAN: CHAOS AT THE CONSTRUCTION SITE; SPIDER-MAN: RIOT AT ROBOTWORLD; SPIDER-MAN BATTLES THE MYTH MONSTER; SPIDER-MAN: SKATING ON THIN ICE; SPIDER-MAN: DOUBLE TROUBLE; SPIDER-MAN: HIT & RUN; SPIDER-MAN: CHAOS IN CALGARY; SPIDER-MAN: DEAD BALL; SPIDER-MAN: HOW TO BEAT THE BULLY/JUBILEE: PEER PRESSURE; SPIDER-MAN: FATHERHOOD; FAST LANE #1-4; SPIDER-MAN ON BULLYING PREVENTION; HEROES VS. PLAQUE: WHEN PLAQUE ATTACKS; and SPIDER-MAN: YOU'RE HIRED!
That's right: When Plaque Attacks has now been preserved for future generations.
There are certainly some great creators involved in these comics, including Tom DeFalco, the Late Dwayne McDuffie, and, uh, Red Hood and the Outlaws writer Scott Lobdell, but let's be honest. The real draw here is entirely built around how strange Marvel's approach to serious issues could get. Especially in this one: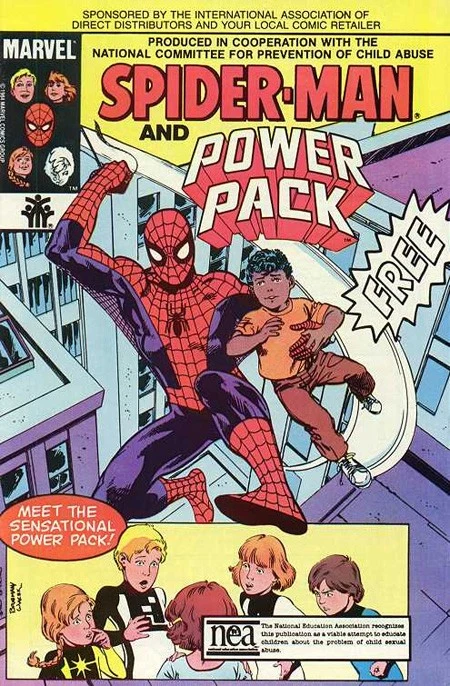 Mostly because this is the infamous story where you find out Spider-Man was molested as a child.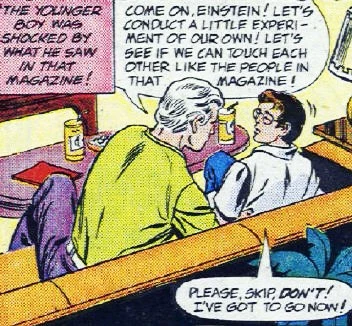 Despite the visual similarities pointed out by Unofficial Handbook writer Ronald Byrd, the guy in the picture above is not Uncle Ben. He's a prematurely gray high school student named Skip Westcott, who appeared once -- and only once -- in a PSA comic where Spider-Man talks about the traumatic experience in order to help a kid who went through something similar feel like he wasn't alone. He was then never, ever mentioned again.
To be fair, though, that was pre-Brand New Day continuity.
As weird as it is -- and it does get pretty weird when the Hobgoblin breaks off in the middle of a fight to share his own experiences with child abuse in a direct conversation with the reader -- the intent was noble and Marvel's heart was in the right place. I have no trouble believing that it could -- and probably did -- genuinely help someone.
Fastlane, on the other hand, is just hliariously awful.

Released in 2000 as a series of eight-page inserts that ran in every single Marvel comic for four months, Fast Lane is the all-time favorite comic story of ComicsAlliance contributor David Wolkin. He even once told me that he owned a copy that he'd had library bound in hardcover, and promised to give me one but never delivered.
Now, Marvel has saved him the trouble by collecting the entire saga of Hollywood Actor Zane Whelan, who used his fame to promote God's green herb to unsuspecting youth through the subtle manipulation of wearing a t-shirt with a giant pot leaf on it. As Wolkin explained the plot: "Daily Bugle intern Sam Exmore smokes pot because action superstar Zane Whelan smokes pot. Spider-Man disapproves of this. Mysterio shows up. All hell breaks loose. Everyone learns a valuable lesson: If you are falling out of a van off the side of a bridge, reach for something to hold onto instead of you danged reefer pipe."
I think Mysterio is out for revenge against Whelan for an incident when they worked on a movie together where Whelan unforgivably messed up the rotation, or something along those lines. Mainly, though it's notable for a) being almost indistinguishable from certain comics that it was bound with, leading to a very strange reading experience, and b) the fact that Zane Whelan was the first comic book movie role played by The Dark Knight's Christian Bale: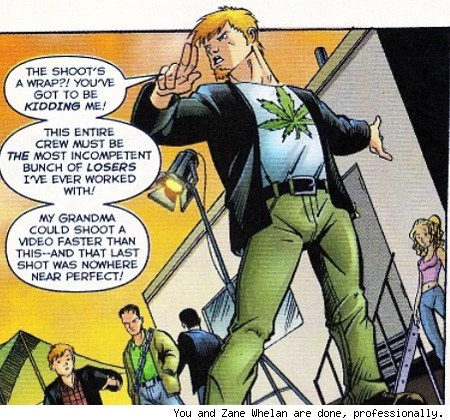 I'm pretty excited about seeing it collected. Of course, there is the downside that a bunch of comics that were originally produced to be given away for free are now being sold for a whopping $34.99 (no, seriously), which seems pretty outrageous. Then again, since there's at least one genius entrepreneur who slapped the eight pages he ripped out of a comic book onto eBay and labeled it as a "RARE" collector's item with an asking price of twenty bucks, it actually kinda seems like a bargain.