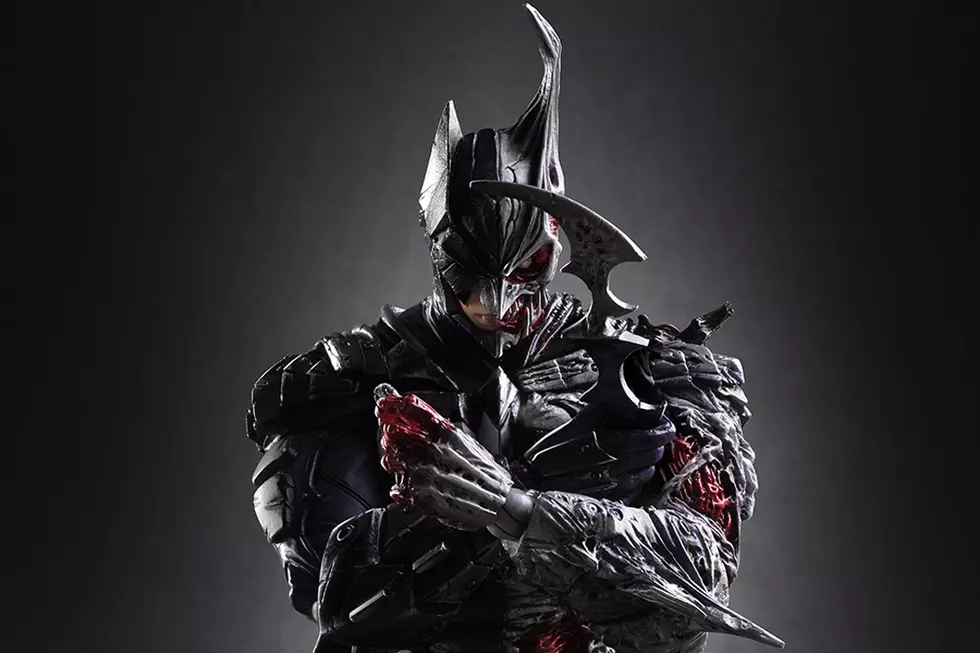 Two-Face Makes His Gnarly Debut in Square Enix's Play Arts Kai Batman: Rogues Gallery
Square Enix
While Square Enix didn't have a tremendous amount of new figures and collectibles on display at San Diego Comic-Con this year, the company did unveil a new wave of figures for its DC Comics Variant line. Originally filled with the heroes and villains of the DCU in designs that filtered them through Square's trademark Play Arts style, this latest wave took things to a whole new level.
Dubbed Batman: Rogues Gallery, this latest twist on the Dark Knight gives us a glimpse at what he'd look like if some of Batman's greatest enemies donned the cape and cowl instead. It's a line that lets Square's design team really go wild, which you can clearly see with the first figure in the wave, Two-Face.
You might recall my gushing over this figure after seeing it at SDCC 2016 last month, and now with all these better images, maybe you can get an idea of why this Two-Face is so cool. Batman and Two-Face have both been around for decades, and each has gotten numerous figures in the past. Heck, there have even been Batman/Two-Face mash-ups before --- like DC Collectibles' own Batman Reborn line. That figure was bound to a bit of comic book reality however, and looked more like a spin on Zur-En-Arrh than something wholly unique.
Designed by Hitoshi Kondo, the Rogues Gallery Two-Face has all these fantastic elements typical of Square's interpretation of Batman on one half of the figure, and some truly grotesque (but in a good way) sculpting for Two-Face on the other. The damaged portion of the body is what makes this figure such a standout release. You can see the sinew and musculature, and there's a lot of fine detail in creating that illusion. Not that the rest of the figures isn't detailed as well, but Square's armor crafting abilities was never in question. See what artists like Kondo can do when going beyond the more traditional Variant designs is what sets this one apart.
The paint app is equally impressive. You get a great classic interpretation on one half, with a lot more purple elements and highlights to differentiate that this is Harvey Dent rather than Bruce Wayne. As the transition from regular human to disfigured villain happen on the figure though, there's some impressive decaying and burnout coloring. Not to mention the fantastic work done on the muscle layer. Also, it's a bit hard to see in these images, but the disfigured eye has some translucent elements to give it a milky, deadened gaze. It's so gross but fascinating at the same time.