Superman Joins Nike's Zoom Huarache Trainer Superhero Line
Before we begin, let's make something very clear here -- unless you happen to be Arizona Cardinals wide receiver Larry Fitzgerald or a seven-year-old heading off to their first day of third grade, you're gonna have a really tough time pulling these off in public. Heck, even Supes himself would want to think twice before leaving the ol' Fortress with these on. Just sayin'.But if you're all like, "whatever, comic book blogger," and have a Man of Steel like confidence in your style, may we recommend these Superman inspired sneakers from the fine folks at Nike? The second in their Zoom Huarache Trainer Superhero limited edition series -- which were designed exclusively for the aforementioned NFL superstar receiver -- are due to hit specialty shoe stores this week, and feature a color scheme based on Metropolis' Big Blue Boy Scout (or, in other words, done totally in primary colors). They follow last month's Flash inspired shoes, and precede next month's Green Lantern kicks -- which are easily the coolest looking of the bunch.
The shoes are going for $115 each and should be hitting your local hipster sneaker store today. And before you DC fanboy fashionista action figure collectors get too excited here, no, the Superman toy in the pics do not come with the shoes.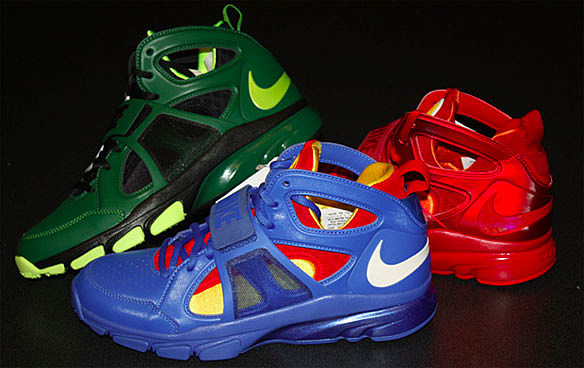 [Via Seenallover]