 'T-Rex Trying' Comics Show The Down Side of Being The Greatest Dinosaur
My love of dinosaurs in general and Tyrannosaurus Rex in paritcular has been pretty well documented here at ComicsAlliance, but I realize that being the king tyrant lizard of the Cretaceous Era isn't all fun. T-Rex's tiny, tiny arms, while undeniably hilarious, also present him with a lot of challenges in this crazy modern world of ours.
Fortunately, someone has finally decided to shine a light on this lesser-known aspect of the greatest dinosaur. In a series of comics called "T-Rex Trying," cartoonist Hugh Murphy has depicted the difficulties of T-Rex trying to tackle everyday tasks, and the result is quite possibly my new favorite thing on the Internet. Check out a few of my favorites after the cut!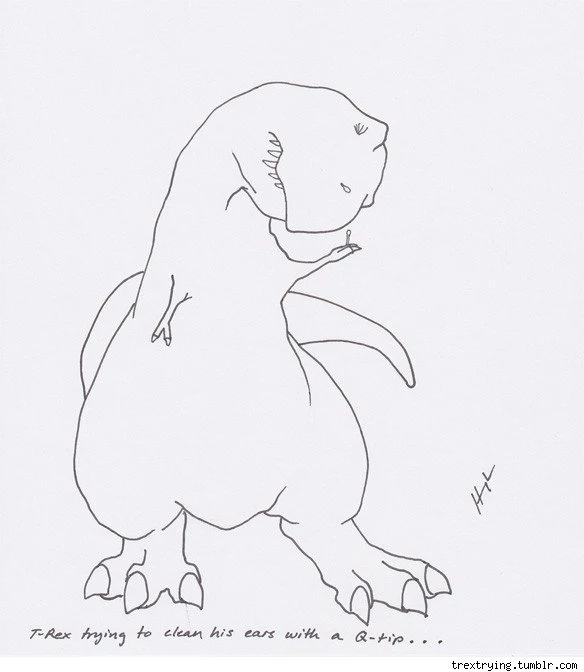 One of the things I really like about Murphy's depiction of T-Rex is how darn sympathetic he is, and the sheer number of cartoons that he's done over the past month have given him a can-do spirit. No matter how many times he's thwarted by his size or the tininess of his arms, Murphy's T-Rex never gives up.
That's why it's nice to see that occasionally, he even comes out on top:

I'm not even kidding when I say that for me, this is a thousand times more inspirational than a kitten poster telling me to hang in there.
Murphy has plenty more comics on his site, and he's been updating pretty frequently with new ones -- he's even taking suggestions for new problems for the erstwhile dinosaur on his Twitter feed, so check it out, and get inspired to conquer your own limitations!