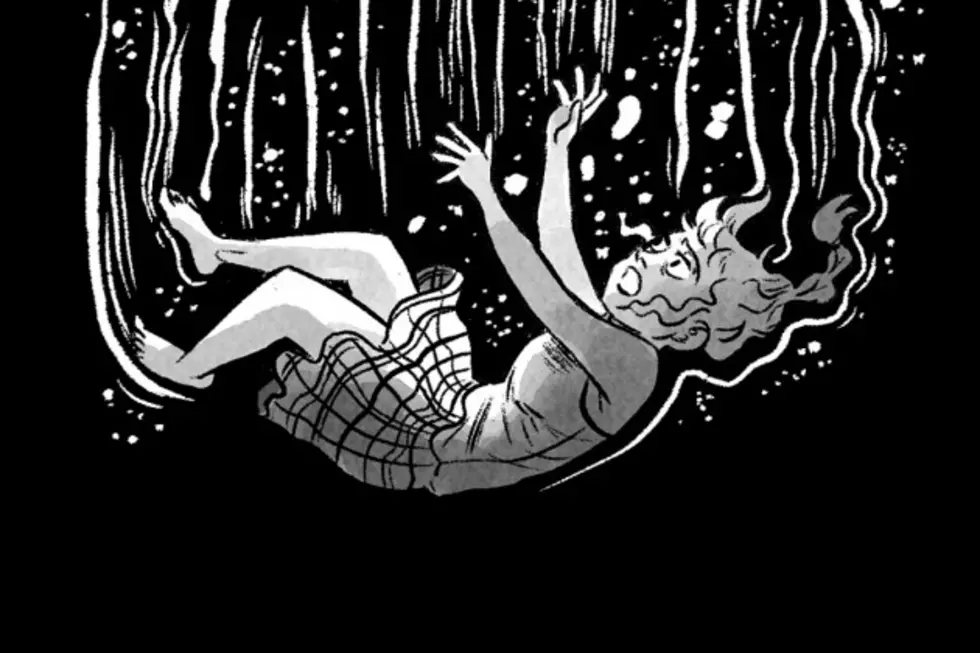 Organic, Flowing, and Very Ink-centric: An Interview with Tara O'Connor [Hire This Woman]
Hire This Woman is a recurring feature on ComicsAlliance that shines a spotlight on female comics creators, whether they're relative newcomers or experienced pros who are ready to break out. In an overwhelmingly male business, we want to draw your attention to these creators --- and to raise their profile with editors and industry gatekeepers.
Cartoonist Tara O'Connor has worked on a lot of self-published comics, as well as the comic In Your Wake from Sawdust Press, a short comic for Princeless: Tales of Girls Who Rock, and her forthcoming travelogue Roots. She primarily works on her own, doing everything from the writing to the coloring and lettering.
ComicsAlliance: What is your preferred form of creative output?
Tara O'Connor: I definitely prefer the drawing and the inking over everything else. While I do enjoy creating and writing stories for comics, I'd much rather focus on the drawing and designing.
CA: Do you work on paper or digitally?  Why?
TOC: I work in both, but more recently I've been working digitally. I love working on paper but it can be a messy and much longer process. Depending on the turnaround of a project I do find it's much easier and quicker working digitally, especially when it comes down to making last minute changes. Downside however is that even though there are some excellent digital brushes out there, replicating the look of a real brush can be tricky. In a perfect world I would do a mix of both.
CA: What's your background/training? 
TOC: Comics was always a passion of mine, but I never got a chance to actually focus my education in that direction. I went to school for Art Education and Illustration and comics wasn't really encouraged at my university. I would focus on webcomics more often than not, and it wasn't until 2010 that I started printing them.
CA: How would you describe your creative style?
TOC: It's certainly changed over the last few years, and I think now it's settled into a pretty organic, flowing, and very ink-centric style. I've been told that my style is kind of a hybrid of some of my favorite comic artists, namely Hope Larson, Craig Thompson, and Faith Erin Hicks, to name a few.
CA: What projects have you worked on in the past? What are you currently working on?
TOC: I've worked on many self-published projects, mostly on my own. More recently I worked on a single issue collaboration with Action Lab Entertainment for the Princeless series, and last summer my comic In Your Wake was published by Sawdust Press. I'm currently working on finishing up my comic travelogue called Roots, which is a recapping of my trip to Ireland last fall in an effort to find out a bit more about myself and my ancestry.
CA: Approximately how long does it take you to create a 20-page issue?
TOC: For my black and white, ink washed comics, a 20-page issue could be wrapped up in a month. If I'm working with color it might take a bit longer than that. More often than not, I'll add spot color to my comics rather than working in full color.
CA: What is your dream project? 
TOC: That's a tough one, I have so many projects of my own that I'd love to work on. Basically, if I could at some stage work with Image, First Second, or Oni Press I'd be thrilled! As far as specific projects, I'd say ever since I was 13 I've always wanted to do a graphic novel adaptation of 1984.
CA: Who are some comic creators that inspire you?
TOC: A couple of comic creators that have really inspired me in the last year or so have been Hope Larson, Lucy Knisley, Emi Lenox, Dan McDaid, Daniel Warren Johnson, and Shawn Daley. All prolific artists with some amazing skills, and I get inspired every time I see their work.
CA: What are some comics that have inspired you, either growing up or as an adult?
TOC: Growing up I mostly read Calvin and Hobbes, Bone, and Peanuts, somewhat religiously. They are a huge reason, if not the main reason, why I started drawing in the first place.
CA: What's your ideal professional environment?
TOC: My ideal work environment would probably be work in some kind of studio. I'm pretty much a loner currently when it comes to comics and I'm sort of shut into a tiny room to work away. I don't mind working on my own but there is something about working around other creatives that is fulfilling, energizing, and also inspiring.
CA: What do you most want our readers and industry professionals to know about your work?
TOC: I guess just that I work tremendously hard to make comics because I absolutely love doing it and I wouldn't want to do anything else. The majority of my work is indirectly personal, there's a lot of everyday occurrences in my comics but they're often paired with supernatural or magical elements.
CA: How can editors and readers keep up with your work and find your contact information?
TOC: You can find my contact information on my website along with current work. www.tarabba.com, you can also find lots of WIPs and comic creations being posted on my twitter, @TaraOComics.
If there's a woman who you think should be included in a future installment of this feature, drop us a line at comicsalliance-at-gmail-dot-com with "Hire This Woman" in the subject line.