The Amazing 1966 'Batman' Trading Cards by Norman Saunders

Surprising no one, I'm always on the lookout for strange and awesome pieces of Batman history, and rarely have they been better than in a set of trading cards from 1966 painted by Norman Saunders. While he might be best known for painting the infamously banned Mars Attacks cards, his work with Batman brings a level of shark-fighting, acid-throwing, sidekick-endangering action -- and a slightly off-model Joker -- that's just fantastic.I mentioned above that Saunders' version of the Joker is a bit off compared to his comic book counterpart. Rather than being a criminal who was scarred by chemicals, the Joker of the cards is clearly wearing makeup, as evidenced by the fact that he was too lazy to touch up his ears:
He did however manage to make off with Mr. Freeze's ice ray, and you can tell just by the facial expressions on this card that he's telling Batman to "chill out" before he puts him "on ice."
I'd be lying if I said that there wasn't a part of me that wished this card was exactly how the death of Jason Todd happened:
There are also some great shots of the Riddler, like the one that took place during what appears to be a surprisingly ticklish crime spree: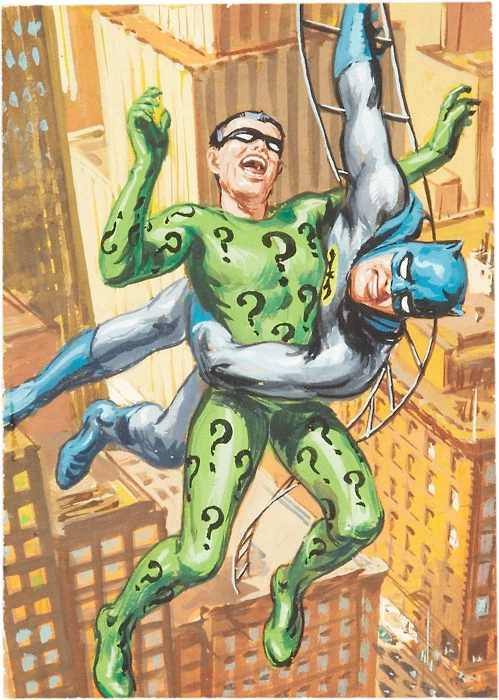 And this one, which hearkens back to the violence of the Mars Attacks set and manages to be actually pretty terrifying:

The Penguin shows up too, taking us back to that heady, pre-Mythbusters time when we all believed anything was possible with a tank of helium and a dream:
And Catwoman shocks everyone by revealing that her favorite Edgar Allan Poe story is not "The Black Cat." Who would've thought?
There's also an appearance from... well, as much as I hate to admit it, I'm not actually sure who this guy is, but I think it might be Wrex from Mass Effect:

But the set isn't all about the villains. There are plenty of shots of Batman in action, doing the things that we all love to see him doing, like fistfighting a submarine:

Rescuing an imperiled hiker in short shorts:
Relaxing on the couch after a hard day of crime-fighting:
Taking a fun trip to the state fair and winning a prize on the midway: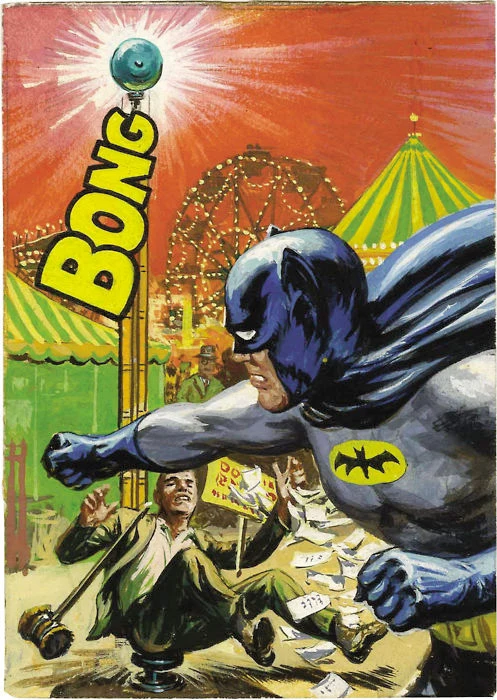 Taking time out of his busy schedule to learn a little bit about air travel -- statistically, it's the safest way to travel!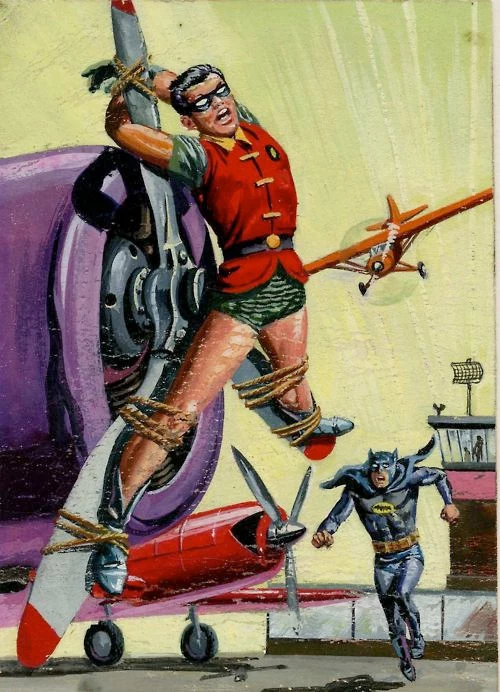 Or even arranging for Robin's usual six-month dental checkup: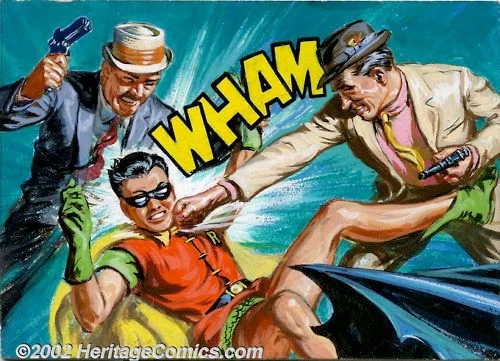 In a nice addition to the set, Heritage Auctions sold one of the cards and its original sketch back in 2002, which is notable because it looks like Robin is using his foot to fling a giant sound effect straight into a dude's jaw, and because the dude in question's expression is definitely less pain and more "oh this again?"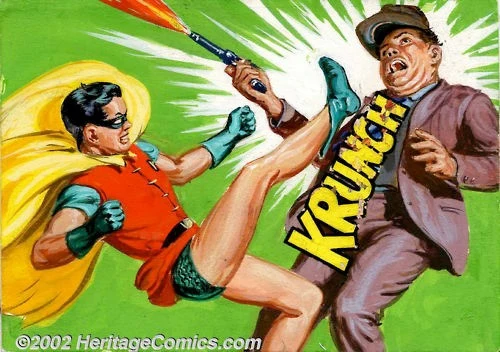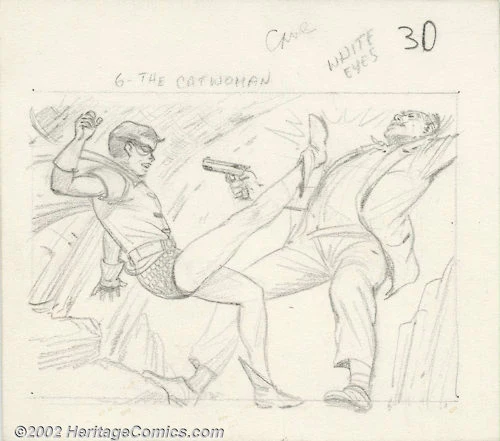 Pretty awesome stuff, and while I'm not much of a trading card fan -- aside from the Kirby Archives set, of course -- I'm pretty sure this one is ready to be reissued in some form or another. I admit that I'm more likely to buy a coffee table book of painted Batman art than most people, but c'mon. These are way too great to leave to obscurity.